Are the Market's Heavenly Apsaras Distracting You Too?
May 17, 2017
In this issue:

» Amazon Inc - The Agony of High Returns
» Indian Manufacturing Growth Impacted due to Demonetisation
» Market roundup
» ...and more!
We hope you attended our 'private class' with Professor Sanjay Bakshi.
We covered a lot of ground - the professor's views on stock ideas, averaging up, pattern seeking, and more. But it didn't stop there...
Last month, Professor Bakshi delivered a wonderful talk at the BSE conference hall. It was on one of the most pressing questions for investors: What happens after you buy a stock?
Rohan and I were fortunate enough to attend. Professor had the audience hooked from the beginning courtesy of crisp presentation and brilliant storytelling.
One of the points he made was about the psychological dangers of stock ownership - and how mythology can help us understand and defeat Mr Market and his daily distractions.
We think the story is worth sharing here.
Vishwamitra as a Long-Term Investor
Per Hindu mythology, Vishwamitra, a sage, was focused on tapasya (i.e. meditation).
To distract Vishwamitra from his meditation, an apsara (i.e. a celestial beauty) named Menaka was sent to Earth.
In the end, she managed to distract Vishwamitra from his tapasya.
Now, Mr Market and the stock prices he quotes have the same effect on long-term investors as the beautiful apsara Menaka had on Vishwamitra's meditation.
In today's hyperconnected market, many Menakas await to test the resolve of the market's Vishwamitras.
So how can we filter out the noise and focus on business fundamentals?
The Human Body as a Chariot
Professor Bakshi drew another example from mythology. Picture this:
Human body as the chariot.
Individual self as the owner of the chariot.
Intelligence (Buddhi) as the charioteer.
Mind as the wheels.
Five senses as five horses driving the chariot.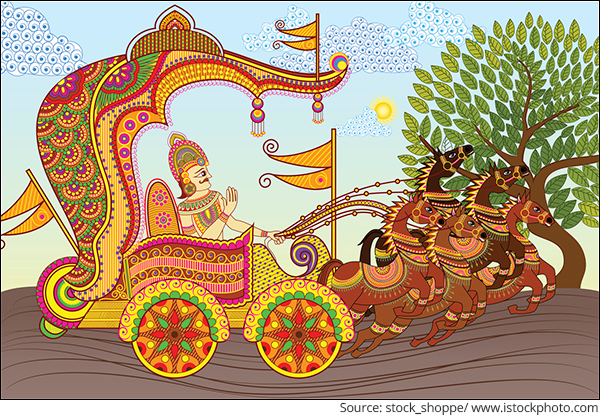 The pace and the direction of the chariot (our body) is dependent on the pace and direction of the five horses (our senses).
A person experiences the world with the help of these five senses. And as per Indian mythology, a person with control over his five senses is a 'Yog Purush', or balanced person.
Professor connected the mythological idea to equity markets. An investor who is free from the temptation of overaction is the functional equivalent of a Yog Purush.
Discipline and Focus
One of the biggest enemies of long-term wealth creation in equity markets is human psychology.
Our biases are particularly dangerous in investing. We must control them like a Yog Purush controls his senses.
The ability to control the mind...to control the emotions...to be in control yet detached from your stocks - that is the objective.
Professor Bakshi is clearly an authority on behavioural finance in India. And last month, we were privileged to have him in our virtual classroom. If you'd like to learn more from him, we recommend our new ebook - The Super Investors of India. It's a compilation of wisdom from the professor and other Indian 'super investors'.
--- Advertisement ---
17,000+ Copies Downloaded...

The Super Investors of India - our latest special guide, has already been downloaded by more than 17,000 readers...

And that number is going up rapidly as we speak. So, if you still haven't claimed your copy...do not delay.

It's absolutely FREE. Click here to download...
------------------------------
03:20

Chart of the Day

Despite knowing the dangers and shortcomings of human psychology/biases retail investors falls trap to them in the equity markets. Imagine a stock correcting 94% from the price you bought. In equity markets this kind of correction in stocks is termed as 'Drawdown'.

Maximum drawdown is a measure of the percentage change of a stock's high to its low. The Sensex during the year saw a maximum drawdown of 12% during Feb-2016.

Let's take example of Amazon.com. The stock has returned around 36% CAGR over last 20 years (Since IPO - 1997). In the hindsight, everyone regret not holding to the stock. Mind you, many bought the stock but failed to answer the important question:
What happens after you Buy a Stock?
Now, Amazon.com gave a stellar CAGR of 36% in last two years but this was not a plain ride. The stock witnessed two big drawdowns i.e. it corrected twice from its peak to the extent of 94% and 67%.
Roller Coaster Ride of Amazon.com Inc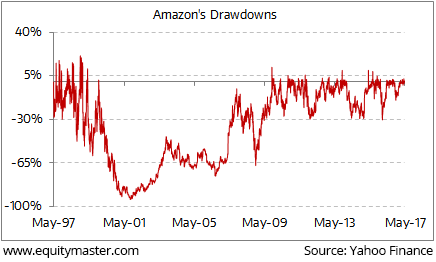 We believe these market drawdowns are like Menaka's of stock markets if the fundamentals of the business are intact.
This volatility that we saw once again indicated that volatility is central theme is the stock markets. It creates an opportunity for those who are willing to be patient.
Patience and a longer time horizon are crucial sources of sustainable advantages that one must employ to be successful in the markets.
India came out with a revised set of IIP numbers for the period of December-March 2017. With a revised base year of 2011-12 from the earlier 2004-05 primarily to align it with base year of other macro-economic indicators like Gross Domestic Product (GDP), Wholesale Price Index (WPI).
Manufacturing now make up for 77.6 per cent of the revised IIP with its base year and constituents as compared to an earlier 75.5 per cent. The manufacturing growth came in at a disappointing 1.6% during the last quarter. The big reason for this Vivek Kaul states it as:
The one-word answer to this is demonetisation. The Modi government announced demonetisation of Rs 500 and Rs 1,000 notes on November 8, 2016, and sent the economy into a tailspin. The interesting thing is that the average manufacturing growth between April 2016 and October 2016 had stood at 6.9 per cent. This signaled the revival of the manufacturing sector after having grown by around 3 per cent in 2015-2016 and 3.8 per cent in 2013-2014.
The bigger problem however, according to Vivek is the likely impact on unorganized sector during this period. Since the IIP only covers manufacturing form the organized sector. While, the government has been quick to highlight the benefits of its demonetisation program. It remains to be seen what steps the government plans to take to tackle this going forward.
Share markets in India have opened the day on a flat note. The BSE Sensex is trading lower by 24 points and the NSE Nifty is trading lower by 16 points. . Meanwhile, S&P BSE Mid Cap and S&P BSE Small Cap are trading up by 0.1% respectively. Losses are largely seen in pharma stocks, FMCG stocks and capital goods stocks.
04:55

Today's Investing Mantra

"Be Fearful When Others Are Greedy and Greedy When Others Are Fearful." - Warren Buffett
Today's Premium Edition.
FMCGs: Is Premiumisation the Way to Grow?
Can the premiumisation trend drive growth in the FMCG sector?
Read On... | Get Access
Recent Articles