A Trader's Nightmare. A Business Owner's Delight.
May 19, 2017
In this issue

» Trump worries pushes up Volatility Quotient
» Gold in spotlight again
» India Inc in restructuring mode
» Market Update
» And more...
00:00

Chart of the Day
Small caps have had a dream run in the past year. Tons of them have achieved the status of 'multibagger' in months.
If you are like most investors, you regret they aren't in your portfolio. Some of your investor friends, who tried their luck with trading tips, may have got lucky. And that makes you even more regretful.
The small-cap space, no doubt, looks enticing. But it's important to look at the other side of the story.
Of the hundreds of small caps hitting their upper circuits each day, many of them are actually losing money.
Take the case of Shilpi Cable Technologies.
The stock gained 2.5 times between May 2016 and April 2017.
For eleven months, the stock impressed traders. The fact that it moved up for weeks made its technical parameters stronger.
But in the past one month, the stock shed almost 74% of its market capitalisation. Such sudden change in fortunes is a trader's nightmare.
The Rise and Fall of Shilpi Cable Technologies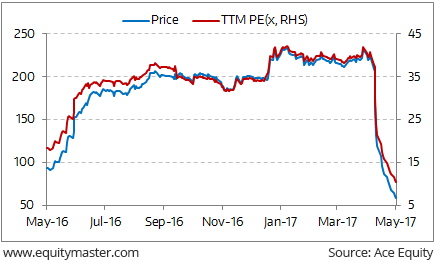 The good news is that not all small-cap investors see themselves as traders. Rather, they see themselves as business owners.
Richa, the editor of Hidden Treasure, spends weeks evaluating businesses even after having met the management. Her team encourages subscribers to think of themselves as part owners of the firm, which is exactly what they are. And therefore, business quality rather than price movement is their primary focus.
The logic is simple. Solid small caps typically take three to five years to become multibaggers. And that is the average holding period of a Hidden Treasure recommendation. So before you buy a business you plan to hold for years, why not be patient and invest in the best of the lot?
At times, Richa even recommends subscribers wait for better valuations before buying a great business. A possible correction to the price should, after all, delight a prospective business owner. It is an opportunity to buy more of it at a deep discount.
So rest assured that for every three mutibagger small caps in the market today, at least two have the potential to become the next Shilpi Cable.
Obsessing over share-price movement will only condition you to think short term. You should be spending that time assessing the quality of the business and its long-term prospects. A stock isn't a lottery ticket with a price graph. It's a proportional share in the fortunes (good or bad) of a real business.
Taking this approach is the best way to discover hidden, high-potential small caps.
--- Advertisement ---
18,000+ Copies Downloaded...

The Super Investors of India - our latest special guide, has already been downloaded by more than 18,000 readers...

And that number is going up rapidly as we speak. So, if you still haven't claimed your copy...do not delay.

It's absolutely FREE. Click here to download...
------------------------------
The jitters from the Trump political fiasco has ushered uncertainty in the global markets.
If reports are to be believed, then the US President Donald Trump is facing investigation for his alleged ties with Russia.
Whether this will result in his impeachment or not we do not know. But it certainly has unveiled a lot of volatility as reflected in the slump in the US stocks and the US dollar.
As the Indian markets feel the heat of the Trump turmoil, overvalued stocks of the likes of Shilpi Cable have become virtually sitting ducks.
While these stocks reached dizzying heights fuelled by irrational exuberance, they will be the biggest casualty if the markets were to now correct big time.
So the only way to immunize oneself from these shocks and build wealth is the bottom up strategy.
A special guide to tell you how the smartest investors do this is here - The Super Investors of India.
Even as the stock and the currency markets are facing the brunt of the political uncertainty in the US, gold is in the spotlight. With growing concerns over impeachment charges against the US president, doubts are being raised over whether the Trump administration's planned economic program will stay its course. Also future rate hikes by the Federal Reserve have come under a cloud.
Therefore, as equities stay on the edge, investors are clamouring towards safe haven gold. Resultantly, gold prices firmed up to a two-week high level of US$ 1,263 an ounce.
Back home, Indians' affinity for the yellow metal refuses to die down. Even the government's efforts to wean the public away from physical gold through its Gold Monetisation and Gold Bond Schemes seems to have met with limited success. As per a survey, the three main motivations that drive people to hold are security, scope of capital gains and liquidity, in that order of importance. And as long as the other assets fail to fulfil these safety criteria, gold will continue to remain the undisputed safe haven asset.
While volatility in the global markets is on the rise, the highly leveraged Indian companies back home are finally taking steps to cut the flab and focus on their Indian operations. Companies, that had gone on a shopping spree for foreign assets at the start of the 21st century and stretched their balance sheets, are on a mend.
Large costly acquisitions in Corus and Novelis made by Tata Steel and Hindalco were acting as a huge drain on their financial performance given the commodity and financial meltdown also exacerbated the losses in the acquired units. With an aim to pare down losses abroad, both the companies have been selling off stakes in the foreign subsidiaries. While Tata Steel would be selling 33% stake in its UK business, Hindalco wants to sell 50% share in the South Korea facility to Japanese company Kobe Steel through a joint venture. This restructuring exercise will not only help these companies reduce their debt burden but also enable them to focus on their domestic operations translating into improved earnings in future.
After opening the day on a strong note, Indian share markets have firmed up further. At the time of writing, BSE Sensex was trading higher by 221 points and NSE-Nifty was trading higher by 56 points. The mid cap index is trading up by 0.5%, while the small cap index is trading up marginally.
04:56

Investment Mantra of the Day

"Only when the tide goes out do you discover who's been swimming naked." - Warren Buffett

This edition of The 5 Minute WrapUp is authored by Tanushree Banerjee (Research Analyst).
Today's Premium Edition.
1,000% Gainers That We Are Glad to Reject for Small Cap Recommendations
Beware of These Ten Baggers.
Read On... | Get Access
Recent Articles