Takeaways from Super Investor - # Late Mr Parag Parikh
May 22, 2017
In this issue:

» Why Share Price Anchoring Could Prove to Be Fatal
» Impact of GST on India's Inflation
» Market roundup
» ...and more!
Last Saturday, I finally managed to watch the movie Poorna.
It depicts the journey of Poorna Malavath, a brave young girl who scaled Mount Everest. At 13 years and 11 months, she became the youngest girl to have reached summit of Everest.
This is a true story about success against all odds. Her parents were agricultural laborers who struggled to make ends meet. They enrolled Poorna in a public social welfare school that provides meals along with education.
It is during this difficult phase of her life that Poorna meets her mentor, her inspiration, and her role model - Dr Praveen Kumar, Secretary of the social welfare schools in the Telangana area.
Without giving them away, Poorna learns ten commandments from her role model. She imbibes to her core, and they form a checklist of sorts for her when she senses trouble.
In the end, young Poorna is able to tame Mount Everest because of her mental fortitude.
Here, we can draw a parallel with investing: After a certain level of skill mastery and deliberate practice, success is often about frame of mind - mental toughness.
Now, Kunal and I, like our new hero Poorna, too find inspiration from role models. The desire to learn from the best was the driving force behind our journey to meet the Super Investors of India.
Professor Sanjay Bakshi and Late Mr Parag Parikh are our role models when it comes to the psychology of investing...
After our journey to meet India's super investors came to an end, we wanted to share our learnings with Equitymaster readers. Our ebook - The Super Investors of India - received an overwhelming response with over 19,000 readers claiming their free copy.
And now today, for the benefit of 5-Minute WrapUp readers, we want to share our key takeaways from our meeting with an investor who gave us our own commandments, so to speak.
Here is what we wrote:
Many people drank the nectar of this contrarian value investor's generosity. - Professor Sanjay Bakshi in an obituary for Mr Parag Parikh
PPFAS mutual fund organises October Quest every year. The annual event brings together great minds and practitioners of value-style investing under one roof.
In 2013, the late Mr Parag Parikh was very generous in extending me an invitation to attend October Quest. The conference and meeting changed the course of my life.
Of course, Mr Parag Parikh is one of the most respected value investors in India.
We regret not being able to interview Mr Parikh for our super investor project (sadly, he died in 2015). However, Kunal and I both believe he is a super investor.
Both of his books - Stocks to Riches and Value Investing and Behavioral Finance - are gems.
Investment success comes from following the emotionally difficult path. - Parag Parikh
Mr Parikh was a firm believer in understanding the disastrous role emotion and human psychology can have on individual investors.
Our Key Learning from Mr Parikh - Loss Aversion and Sunk Cost Fallacy
What do we mean by loss aversion and sunk cost fallacy?
Loss aversion refers to our tendency to strongly prefer avoiding losses over acquiring gains.
While, per economics, a sunk cost is any cost that has already been incurred and cannot be recovered. It is our tendency to irrationally pursue an activity, even if it does not meet our expectations, just because of the time and money we already spent on it.
Mr Parikh offered a simple test to understand if you suffer from these biases:
You prefer fixed income securities over stocks
You are tempted to move out of the markets when prices fall
Your portfolio consists of a few winners followed by a long list of losers
You sell your winners fast and hold on to losers
You make important spending decisions based on your past spending
If any of these are true for you, you indeed suffer from loss aversion and sunk cost fallacy. However, there is a way out.
Here are several suggestions from Mr Parikh:
Understand you risk appetite before investing
Diversify within and across assets
Have a total portfolio vision in mind
Don't anchor yourself to your past decisions
Be a passive investor - don't follow the stock prices daily
This means understanding the behavioural side of investing. Controlling our human biases and emotions is the toughest part of long-term value investing.
Now, if you aren't already onboard, we want to invite you on a journey to learn from India's super investors. Along the way, you will come to understand the power of 'smart money' in the stock markets.
Claim your free copy of The Super Investors of India now.
--- Advertisement ---
Before You Buy The Next Stock, Read This...

Our special guide reveals the secret stock-picking strategies of some of the most reclusive and yet, successful investors of India.

We call it, The Super Investors of India.

More than 18,000 copies have already been downloaded in a matter of days...and that number is going up as we speak!

So, before buying the next stock, we would strongly recommend you download your copy and learn the art of stock-picking from the masters.

Click Here To Download Your Free Guide (No Credit Card Required | No Long Forms | Instant Download)
------------------------------
03:30

Chart of the Day

Since May-2011, MRF Ltd has been a steady compounder, giving an absolute return of 849% and has compounded annually at around 45%.

The critical aspect we want to talk about here is the importance of de-anchoring oneself from looking at only share price while making an investment decision.

An investment decision solely based on the share price of the company would have resulted in one missing out on this potential compounder i.e. MRF. Even if one manages get into such compounders early, keeping rules like selling when double the cost price or not to add more of the stock after it rises above ones Buy price could prove to be counterproductive.
MRF Ltd - De-Anchoring on Share Price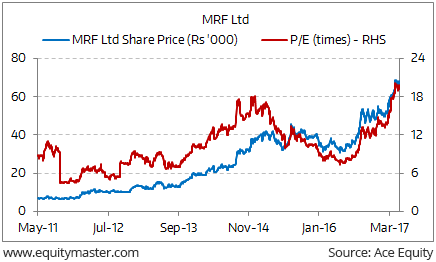 In this case, one would have been far better considering a fundamental factor like price to earnings multiple while evaluating an investment decision. While PE is not a sole factor that can be used to evaluate opportunities, there are a whole host of other fundamental factors involved in evaluating stocks.
One would be wise in thus not getting too influenced by the stock price of any company.
Last week the Goods and Service Tax Council declared the rates that would be charged across different sectors. The current regime will replace all the indirect taxes prevailing in India.
The GST Council last week assigned tax rates to more than 500 services and 1,200 goods by setting them in five broad rates of 5%, 12%, 18% and 28% plus additional cess in some cases.
The current tax regime involves cascading effect of taxes i.e. double taxation, which ultimately increases the price burden on the final consumer.
With the emergence of the GST, the double taxation will come to an end. This would allow input tax credit across states and across services/goods, which will directly help in reduction of the final cost of the goods/services.
As per the Business Today Article, Mr. Hasmukh Adhia, the revenue secretary of India expects the goods and service tax would reduce inflation by 2%.
Here is Mr. Adhia:
I don't think inflation will at all go up because of GST. We have taken special care to ensure inflation does not go up. Our internal estimate is that after the rates are decided, inflation should come down by 2 per cent.
It would be interesting to see how the GST is executed. And if it really leads to reduction in the inflation then it can result in further interest rate reduction by the RBI.
We believe, if implemented properly GST can be a big boost to the Indian economy.
Share markets in India have opened the day on a negative note. The BSE Sensex is trading higher by 208 points and the NSE Nifty is trading higher by 61 points. Barring healthcare stocks, all sectoral indices have opened the day in green with FMCG stocks and realty stocks leading the gains.
04:55

Today's Investing Mantra

"Someone's sitting in the shade today because someone planted a tree a long time ago." - Warren Buffett

This edition of The 5 Minute WrapUp is authored by Rohan Pinto (Research Analyst) and Kunal Thanvi (Research Analyst).
Today's Premium Edition.
How Peter Lynch Helped Us Discover This Multibagger
Long term growth story still intact for this market leader.
Read On... | Get Access
Recent Articles