It's Okay to Be Late to the Game If There's a Lot of Game Left to Be Played
May 25, 2017
In this issue:

» The Top Five Performers of the BSE 500 Over the Last Five Years
» Modi government Clears Buy Indian Policy
» Market roundup
» ...and more!
'Would you invest in the company XYZ based on the following storyline?' I asked my friend.
'Company XYZ is from the X sector. The sector has grown at 20% CAGR for the last five years. The company, on the other hand, grew much faster at 35% CAGR. Many are calling XYZ "the next big thing".'
My friend: 'This looks exciting. Equity markets have risen to new highs. This company will outperform the market.'
He was disappointed when I told him this was just a hypothetical example.
But that's the problem.
Everyone wants to find the next big multibagger.
What do they look for?
Strong sales growth and profitability in recent quarters. And, of course, a management who can paint a rosy big picture of the future.
But that could be a recipe for disaster.
What happens when company XYZ suddenly finds new competition? Or if there were disruption to the industry?
Like much of life, corporate profits are driven by economic, social, and technological trends. And the pace of such changes has only accelerated in recent times.
Such are the challenges of finding stocks for The India Letter. The service aims to identify the most profitable Megatrend opportunities in India. Here, the key is to identify a lasting macroeconomic trend - one that will outlast a market cycle - and then identify companies that will benefit from this trend.
In the last two and half years at The India Letter, we have found many Megatrend opportunities. In fact, recently, one recommendation became a four-bagger in a little more than two years (Subscription Required). Three stocks have given more than 100% return (point-to-point) in a similar time frame. Not to mention we've successfully closed two positions.
Although these companies are from different industries and have different business models, they have many things in common. Chief among them is a long runway for growth supported by a key underlying megatrend.
Megatrend opportunities could be low penetration of goods and services, the emergence of a new market, increasing consumption, and so on.
Another common thread is a strong business model. Either a company has some unique offering for which it commands a premium price or it distinguishes itself by targeting a different audience or focusing on a niche segment.
Furthermore, all of these companies have proven themselves with strong past performances.
With consistent performance, they've been able to create barriers that prevent competitors from eating their market share. This helps give good visibility going ahead.
Now, you might say you have to catch these companies when they're young, else they'll be too expensive.
But we say it's okay to be late to the game if there's a lot of game left to be played.
Of course, valuations are still crucial. But to reap Megatrend rewards, you have to be patient. If you want to nab a multibagger, expect to hold for a number of years.
Ultimately, though, it all comes down to a strong process. This is the key to big, long-term returns. Investors without one will do poorly despite the Megatrend.
--- Advertisement ---
Your Chance to Invest Like the Super Investors of India

Our special guide reveals the secret stock-picking strategies of some of the most reclusive and yet, successful investors of India.

We call it, The Super Investors of India.

More than 19,500 copies have already been downloaded...and that number is going up as we speak!

So, this is your once-in-a-lifetime chance to invest like a Super Investor...

Just by downloading your copy and learning the art of stock-picking from the masters.

Click Here To Download Your Free Guide (No Credit Card Required | No Long Forms | Instant Download)
------------------------------
02:45

Chart of the day

Talking of multibaggers and being patient and holding stocks for a number of years to reap large rewards, we took a look at the top five performers in the S&P BSE 500 index over the last five years. Today's chart of the day pegs the point to point returns delivered by these companies over this period.
The Top Five Performers of the BSE 500 Over the Last Five Years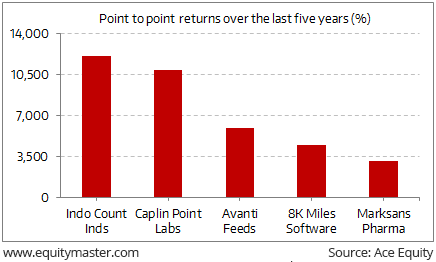 On a compounded annual basis, these returns come to a staggering 161% for Indo Count Industries, 156% for Caplin Point Laboratories, 127% for Avanti Feeds, 115% for 8K Miles Software Services and 100% for Marksans Pharma.
To our pleasant surprise, two of these five stocks happen to have been recommended at different times in our service The India Letter. The India Letter is an effort aimed at guiding its subscribers to make money from what we call The Golden Decade Megatrend, which takes the view that India is going to grow rapidly in the decades to come. We have identified 7 key signals which will help us in identifying companies that are best positioned to benefit from this Megatrend and hence hold the potential to deliver big returns in the years to come.
And in what may add to the long runway for growth for Indian companies, the government yesterday cleared a national government procurement policy which aims at giving preference to locally made goods and services.
The policy involves purchases of over Rs 2 trillion annually. Among others, it covers autonomous bodies, government companies and other government controlled entities.
The procurement policy defines local goods and services as those where at least 50% of the value addition has been done in India. This does not make a distinction based on whether the producing company's ownership is foreign or domestic. In turn, it focuses on manufacturing locally, which may encourage even foreign companies to manufacture in India. If implemented well, this could indeed be a shot in the arm for local production.
The Indian stock markets were trading positive at the time writing on the back of sustained buying activity across most index heavyweights. At the time of writing, the BSE-Sensex was trading up by around 160 points. Gains were largely seen in IT and PSU stocks.
04:56

Investment mantra of the day

"Only buy something that you'd be perfectly happy to hold if the market shut down for 10 years." - Warren Buffett

This edition of The 5 Minute WrapUp is authored by Sarvajeet Bodas (Research Analyst).
Today's Premium Edition.
Can this Market Leader 'Plough' Its Way to Long-Term Growth?
Increased need for Farm mechanisation points to a great future for this company.
Read On... | Get Access
Recent Articles