Stocks that Could Double Due to the US-Iran Tensions
May 28, 2019
Editor's note: Dear reader, I have just published a very important free guide for you - How to Profit from Sensex 100,000. Download it here.
---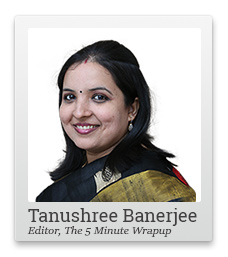 In the last five years, Iran supplied almost a sixth of India's oil imports.
So, it's obvious to conclude that the US-Iran tensions would affect India's oil prices. This in turn could impact inflation, interest rates, and corporate earnings.
That is what the newspapers, talking heads, and experts are telling you.
What are they not telling you?
The US-Iran tensions could be a catalyst for one of the most ignored category of stocks in India.
Which is it? I'll come to that in a bit.
There are very few countries in the world, like Iceland and Vatican City, that have no military.
The rest aspire for peace even as they keep their armed forces well-greased. Both, to stave off unexpected intrusions and altercations and to keep citizens and businesses assured of their safety.
---

Advertisement

---

How Modi Could Take The Sensex from 40,000 to 100,000

A few days ago the Sensex hit 40,000…for the first time ever.

This was right after the election results revealed that the BJP-led NDA was on course to secure a large majority in the Parliament.

Sensex 40,000 seemed like a distant dream until not too long ago…but we have breached it.

And now, we're confident that over the course of the next few years, the Sensex is headed to 100,000.

Here's how you could profit from the journey…

NOTE – As the Sensex scales new heights and inches towards 100,000…there are 4 stocks we believe will perform exceptionally well, and potentially multiply investors' wealth. Here are the details.
------------------------------
Keeping peace is certainly the motive of global armed forces.
But in times like these, trade wars have the potential to spill over into actual wars. Thus, the need to buy defence equipment is imminent.
As I write this, India has tweaked rules to allow friendly countries to use soft loans given to them to buy Indian defence equipment.
In a recent order, the ministries of defence and external affairs offered the concessional funds to friendly countries.
The first ones in line are Afghanistan, Sri Lanka, Vietnam, and Bangladesh. Also, they can buy made in India equipment like Offshore Patrol Vessels (OPV) at the same price as the Indian armed forces.
India itself has been a big importer of defence equipment in the past decade. In fact, as a percentage of GDP, India has been among the top four countries in terms of allocation to defence. In absolute figures, only Saudi Arabia, Russia, US, and China spend more on their armed forces.
But the alarming fact is that India accounts for 12% of the global arms imports.
We had confrontations with both Pakistan and China recently. This has made India's need to be self-reliant in defence more urgent than it ever was.
And the change in India's arms procurement rules could change the fortunes of India's defence sector.
But the US-Iran tensions could be a big catalyst. It could force smaller countries to up their defence preparedness.
---

Advertisement

---

7 Stocks Likely to Benefit Greatly From Modi's Policies In The Coming Years…

We believe that thing that set Modi apart from the first day he took office in 2014 was his ability to take difficult policy decisions.

We believe his policies have helped a number of companies grow in the last 5 years.

And now, our Co-Head of Research, Tanushree Banerjee, has identified 7 stocks that could benefit greatly during Modi's second tenure and beyond also.

Full details of these 7 stocks are included in Tanushree's special report.

Click here to know how you could get this report for FREE now…
------------------------------
And in turn, help India export indigenously manufactured defence equipment to them.
It is a little-known fact that India's defence exports have doubled in the past two years, albeit on a low base.
And if the DPP-2018 policy document's targets are anything to go by, the exports could triple in next six years.
Defence Exports Doubled in the Last Two Years and May Triple in Next Six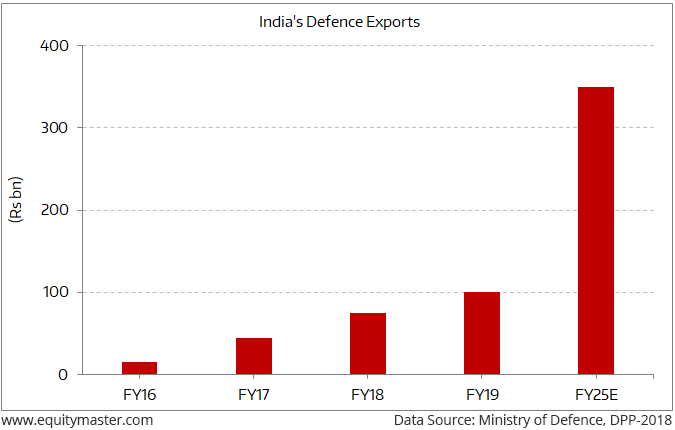 India's defence sector and few of the best defence stocks are currently among the most ignored by investors.
I believe, a few of them could even double from current levels within three years.
And they could be at the heart of a transformation, I call - Rebirth of India.
You see, the companies that can latch on to this trend will create multibagger opportunities for investors.
And the good news is that you don't need to wait, dear reader.
I've identified seven actionable stocks you could consider buying right away...and 2 of them are defence stocks!
I recommend you take advantage of this opportunity right now!
Take action by signing up for my 7 stocks special report - Seven Stocks to Profit from the Rebirth of India.
Warm regards,



Tanushree Banerjee
Editor and Research Analyst, The 5 Minute WrapUp
PS: Dear reader, Modi's victory is, once again, a resounding one and it is very good news for the markets. More importantly, I believe 7 stocks could be among the biggest gainers as the Modi government implements its policies. Read more about these 7 stocks here...
Recent Articles