'Ferrari Ki Sawari' and the Unfortunate Habit of Selling Too Early
May 29, 2017
In this issue:

» Indian Auto has created great wealth for shareholders
» Perception of risk vs actual risk in today's markets
» ...and more
Have you ever sold a good quality stock only to see it go substantially higher? As value investors, I am sure we all have. Heart-wrenching, isn't it?
Even the most successful investors are guilty of this. Mohnish Pabrai is perhaps the latest example.
(Pabrai is one of the super investors we track, but unfortunately, Rohan and Kunal weren't able to interview him for their super investor project. We hope that will change soon!)
Mr Pabrai rues the day he sold his stake in Ferrari.
Pabrai, who received Ferrari shares courtesy of its spinoff from parent company Fiat, promptly sold his stake once the stock achieved what he believed was 90% of its fair value.
And now he's kicking himself. Pabrai:
Ferrari is a unique asset. It is one of the widest moat businesses on the planet. The cars appreciate after they are sold. Incremental margins on their higher-end cars likely exceed 70%. More importantly, Ferrari is led by Sergio Marchionne, who is simply one of the best CEOs on the planet. May god give me the wisdom to not sell another share of Fiat Chrysler or Ferrari as long as Sergio runs them. Ferrari is an incredible asset, and when it is managed by one of the top 100 all-time greatest CEOs to come along, it is pure stupidity to sell.
Now, while Pabrai did invest the proceeds in another companies, and while they have done well, Ferrari has done better and has a much wider moat.
This is a typical error of cheapskate value investors. They tend to overvalue undervaluation and undervalue business quality. Pabrai happily tucked into a low PE but a narrow moat business and gave up a slightly more expensive business that had a huge moat.
Ferrari has doubled since its spin off with Fiat. And to make matters worse, in a few years' time, its world-class CEO is capable of making the current stock price look like a bargain.
I am not saying we've been any better at avoiding this error.
Hidden Treasure, for example, our small-cap recommendation service, has had its own Ferrari moments. But we learn and try not to repeat them - hard as that can be.
Unless a good quality stock is egregiously overvalued, we recommend investors hold and not rush to book profits.
Page Industries is the obvious example here. Even though it's nearly a 50-bagger from our recommendation price, it still has pride of a place in the service.
But even with this example looming large over the Hidden Treasure team, they recently had an intense debate about another good quality stock that has moved up a lot but is in no way egregiously overpriced.
Thankfully, better sense prevailed and we kept the position open.
Good quality stocks don't always trade cheap. But when they do, and once you get your hands on one, don't be in a hurry to sell until it's egregiously overvalued or there is a clear deterioration of the business.
After all, why would you ever give up a Ferrari?
--- Advertisement ---
EXCLUSIVELY Published For Our Readers...Claim Your Copy Today!

You will never find this in a bookstore...

Nor will it be available on Amazon...or anywhere else.

Our Latest Special Guide has been published EXLCUSIVELY for our readers and it can ONLY be claimed through this invitation.

It is a must-read guide that reveals the secret investing strategies of India's Super Investors.

And today, you can get instant access to an Absolutely Free Downloadable Copy.

Click Here To Download Your Free Guide (Worth Rs 950) More than 20,000 readers have already downloaded their copies...Hurry
------------------------------
03:00

Chart of the day

Ferrari has a deep moat alright, but what about Indian auto companies? Do they have a moat? More importantly, have they created wealth for shareholders over the last 10 years? If today's chart of the day is any indication, they certainly have. As the chart highlights, most of the big auto manufacturers in India have beaten the benchmark index by a substantial margin over the last 10 years. The biggest gainer by far has been India's largest car manufacturer Maruti. At 24% CAGR, the stock the outperformed the returns generated by the Sensex by a factor of 3x.

Indian auto manufacturers have not only benefited from the long term structural India growth story, the returns have also been a function of the market share these players enjoy in their respective segments.

Almost all the companies are either number one or number two in the respective markets and have a share much higher than the next competitor on the list. This has given them the requisite economies of scale and reach, parameters that are extremely crucial to earning profits and creating wealth over the long term.
Has Indian Auto Created Wealth for Shareholders?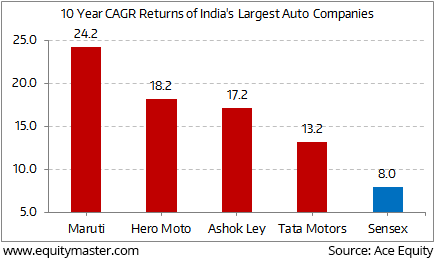 While Pabrai is ruing selling his Ferrari, Seth Klarman, another noted value investor is warning investors of the big risks that lie ahead. He is of the view that investors are misperceiving risks in the markets at a time when the markets are hitting historic highs.
Comparing the current situation to the 2008 financial crisis, Klarman goes on to add that while the perception of risk was very high in 2008, actual risk was much lower because the markets were attractively priced from a long-term perspective. In contrast, the perception of risk is quite low in the current markets but the actual risk is quite high because stocks are trading at record highs.
He couldn't be more right in our view. Even in India, although the benchmark indices have hit record highs and people are cheering, the actual risk has gone up because of the steep valuations that the benchmark indices are trading it. At current levels, the Sensex trades at a trailing twelve-month price to earnings ratio of close to 23x.
This is much higher than the long-term average of 18x. Having said that, the risks may not be as high as the US stock markets because of the high growth rates in our economy and also the possibility of improvement in profit margins of Indian firms. Still, investors would do well to look at stocks on an individual basis and be wary of paying very rich valuations.
Indian stocks are trading mixed today as while the Sensex is marginally higher, BSE Mid Cap and Small Cap indices are out of favor and trading weak currently. While Sensex is up 50 points, Mid and Small Cap indices are down 0.7% and 0.9% respectively. Amongst sectoral indices, FMCG and consumer durables are bucking the trend and trading strong currently.
04:55

Investment mantra of the day

"It's far better to buy a wonderful company at a fair price than a fair company at a wonderful price." - Warren Buffett

This edition of The 5 Minute WrapUp is authored by Rahul Shah (Research Analyst).
Today's Premium Edition.
Page Industries: The Expensive Market Darling and Why We Still Own It
A disciplined approach to gauge the attractiveness for a fast growing but high valued stock.
Read On... | Get Access
Recent Articles