The Day I Bought My First Jockey (Yes, the Innerwear...)
May 30, 2017
In this issue:

» The value migration megatrend in India
» The astronomical rise of a new asset class
» This factor is going to drive Indian markets even higher
» Market roundup
» ...and more!
I have a confession. And I pray to God that my wife doesn't read this.
I hate accompanying women on their shopping. It's mostly never-ending, tiring, and frustrating.
But I'm sure you will understand that free will is a myth. And that every so often I get dragged to the shopping malls in the suburbs of Mumbai.
Last Saturday, it was my sister. She just finished college, cracked her maiden interview, and got her actuarial internship with a large insurance company.
She wanted a brand-new line of formal clothes for her new office. And she didn't want to go back to the old shops where she'd been buying her clothes.
So we went to a fancy, big-brand outlet in a fancy mall, and she got herself fashion-ready for her new job.
Seeing her stylishly carry the shopping bags, my colleague Kunal's words rang in my ears...
Value migration! That's a case of value migration...
This is how Kunal describes value migration:
The flow of economic and shareholder value away from obsolete business models to new, more effective designs that are better able to satisfy customers' most important priorities.
If that sounds like mumbo-jumbo, forget it. And concentrate on my story...
My sister is probably not aware. But a mutation...a radical shift...occurred in her consumption pattern. I can bet from everything I have seen and learnt, this shift in consumption style is unlikely to revert to the old ways.
It reminds me of the first time I bought my Jockey innerwear more than a decade ago. Between that day and today, I have never switched to any other brand. It's a very sticky habit. That's value migration at work. And it's also the secret behind the Hidden Treasure team's 47-bagger stock - Page Industries. (In yesterday's issue of The 5 Minute WrapUp Premium, my colleague Girish Shetty explains why we let this compounding machine run despite the steep valuations.)
I also remember my mom getting me my first pair of Nike shoes. It wasn't just another pair of shoes. It was an experience that changed the way I felt the ground under my feet. There was no going back to the cheap brands!
Last year, I bought my wife a Speedo swimsuit (the swimwear super brand is marketed by Page Industries in India). She's a big fan already. And I bet she's never going back to the local swimsuit brands.
I can go on and on about this. From the way we buy things, to the way we dine, commute, and travel, to the way to we fulfill our aspirations...
I see the value migration concept playing out in a big way in and around my life.
I'm sure you too can identify these patterns around you.
What's exciting is that if you truly understand how big this transformation is...and the immensity of the opportunity it presents for large, branded, organised businesses in India...you will see there are truckloads of money to be made by investing in stocks at the forefront of this value migration megatrend.
And then, accompanying your wife or sister to the shopping mall might not be as painful as before.
P.S: Kunal just informed me that over 22,300 readers have downloaded our free special report - The Super Investors of India, that he and Rohan have co-authored. I'm also told that if you claim your (absolutely) free copy before 3rd June, you will get a special gift worth over Rs 4,000...So, hurry up and download our free special report NOW.
--- Advertisement ---
EXCLUSIVELY Published For Our Readers...Claim Your Copy Today!

You will never find this in a bookstore...

Nor will it be available on Amazon...or anywhere else.

Our Latest Special Guide has been published EXLCUSIVELY for our readers and it can ONLY be claimed through this invitation.

It is a must-read guide that reveals the secret investing strategies of India's Super Investors.

And today, you can get instant access to an Absolutely Free Downloadable Copy.

Click Here To Download Your Free Guide (Worth Rs 950) More than 22,000 readers have already downloaded their copies...Hurry
------------------------------
02:00

Chart of the Day

Heard of bitcoins? I'm sure you have. The cryptocurrency has been hitting headlines following its phenomenal rise. On 25 May 2017, bitcoin hit an all-time high of US$ 2,754 following news that Japan has legalised it as a payment method.

Bitcoin is now up over 129% so far this year... and over 345% over the last 12 months.

But imagine you had invested US$ 1,000 in bitcoin in 2010. At the prevailing exchange rate at the time, that would have meant an investment of approximately Rs 45,000.

What would that investment be worth now?

Rs 195 crores.

Yes, Rs 45,000 to Rs 195 crores in just seven years!

According to technology analyst and early bitcoin enthusiast Sam Volkering in our London office, the gains aren't over... nor are they just limited to bitcoin...

There are more than 800 cryptocurrencies in existence today. The biggest in terms of market share are bitcoin, Ethereum, Ripple, NEM, and Litecoin, in that order.
The Astronomical Rise of a New Asset Class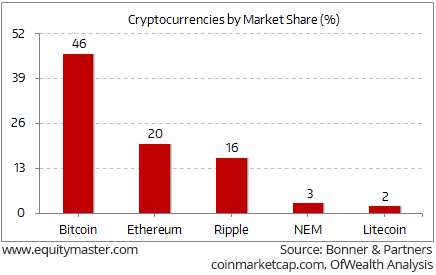 There is a boom in the global cryptocurrency market right now. Is this manic bubble about to pop? Have we missed the bus already? Or is this just the beginning of a massive boom?
To get our answers, we connected with our thinktank in the US, Europe and Australia. And if their findings are to be believed, the cryptocurrency boom hasn't even warmed up yet. Despite the furious growth over the last year - cryptocurrencies account for just 1.2% of the global currency market.
Our global intelligence network believes that this not a passing fad. This is the birth of an entirely new major asset class. And that's what makes this such a compelling situation.
To know everything about bitcoins and the cryptocurrency boom from our global intelligence network, I strongly recommend you read our latest issue of Vivek Kaul's Inner Circle (Subscription Required).
A new development that conspired over the weekend is set to bode well for the Indian stock markets.
As per The Economic Times, retirement fund body EPFO agreed on the proposal for raising exchange-traded funds (ETF) investments from 10% to 15% of investible deposits.
How big is that going to be?
Sample this...
In August 2015, the EPFO started investing up to 5% of its investible deposits in ETFs. In that financial year, they invested Rs 65.8 billion in ETFs. In 2016-17, the investment jumped up to Rs 149.8 billion.
In the ongoing financial year, the investment is expected to increase further to Rs 200 billion.
We believe that factors such as this, along with the government's focus on formalization of the Indian economy, digitisation, fighting black money are likely to channelise more funds into the Indian stock markets.
Indian share markets opened the day on a mixed note. Among sectoral indices, while healthcare sector, IT sector, and banking sector stocks are trading on a positive note, stocks from the realty sector, capital goods sector, FMCG sector and telecom sector are trading on a weak note.
The BSE Sensex is trading higher by 31 points (up 0.1%), while the NSE Nifty is trading flat. The BSE Mid Cap index is trading higher by 0.1%, while the BSE Small Cap index is trading lower by 0.2%.
04:55

Today's Investing Mantra

"So we think in terms of that moat and the ability to keep its width and its impossibility of being crossed as the primary criterion of a great business. And we tell our managers we want the moat widened every year." - Warren Buffett
Today's Premium Edition.
This Packaging Company is Seizing Value in An Otherwise Commoditised Business
A packaging company that has gained from value migration by changing the product mix.
Read On... | Get Access
Recent Articles