The RBI Policy Just Confirmed Our Megatrend Bet
Jun 9, 2017
In this issue

» Our First Super Investor Stock Pick
» The Growing Problem of Unemployment
» Market Update
» And more...
00:00

Chart of the Day
Housing finance stocks are on fire. Some of them are even trading near lifetime highs.
The latest RBI policy brought back the limelight to these stocks after they were dumped post demonetization. The central bank has relaxed the risk provisioning norms for home loans. This means home loans are to get cheaper and housing finance companies are to grow faster. So, most investors are just beginning to identify and tap into the potential in mortgage finance companies.
The truth is that the Megatrend in housing finance started nearly a decade back. And by 2014, the multiple tailwinds for the megatrend became evident.
First of all, the government set an ambitious target to plug the acute housing shortage. The aim was to create an enabling environment for lenders and set the tone for growth in affordable housing. The 'Housing for All' scheme, targets to build 20 million houses in urban areas by 2022. Rural areas are to have 30 million houses. But steep land prices have, so far, kept houses far from being affordable. The cost of affordable housing should ordinarily not exceed four times the annual family income. But land costs alone account for at least half of the total housing costs in metros and Tier-I cities.
Realty Prices in India remain sky-high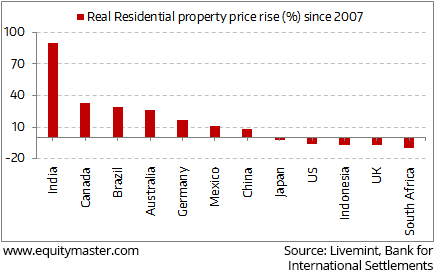 So, while housing finance companies may grow, lending to the borrowers with poor repayment capacity can backfire. And cheap capital for the lending companies may only add to the problem.
Therefore, despite the RBI's sops, one may go horribly wrong in buying stocks with the housing finance theme. Hoping to make money from any and every mortgage finance stock could eventually disappoint. The businesses that could reap the real dividend of the housing finance megatrend are entities with niche presence.
Here is what The India Letter team wrote to subscribers way back in 2014...
High risk of lending, low ticket size and inability to appraise people with no income proofs are prime hindrances to capitalize on India's rural housing boom. However, over the years Gruh Finance has proven its expertise in low ticket lending to self employed and salaried individuals belonging to the economically weaker sections. Just to give an idea of Gruh Finances rural reach - 50% of the properties financed by Gruh till date are in locations which have a population of less than 50,000! Such a wide reach gives Gruh an unparalleled edge over banks and other Housing finance companies. It would be a natural proxy to ride on India's rural housing boom.
The India Letter team, which focuses on megatrend stocks, identified the tailwinds to the housing finance megatrend years back. But the stock selection has been very careful. The team has only recommended two stocks in the housing finance space. And both the businesses are likely to grow irrespective of the government meeting its housing targets and the RBI making home loans cheaper.
The RBI policy has confirmed our megatrend bet. And apart from Gruh Finance there are several other stocks that could ride this tailwind. But one should be extremely selective in buying the megatrend stocks.
Even as I write, The India Letter team is busy scheduling meetings with companies that are making some clear headway in India's Megatrend 2.0. The record private sector capacity addition in power, deals for OEMs in defense, approvals and allocation of funds for smart cities and transformation in retailing are the trends that the team is following closely. And as long as the long term fundamentals and management of the company merit the Megatrend bet, the short term performance will not change our views.
Our colleagues Rohan and Kunal have been busy over the last few months. Their 'super investor' project has consumed them. But it was worth it.
The result of their efforts? Smart Money Secrets
An exceptional stock recommendation service where the team is tracking more than 40 of India's Top Investing Gurus to identify solid investing opportunities.
Essentially this is Equitymaster's first ever service to track India's super investors - that is, the 'smart money' in India.
The team has a strategy in place that will help it catch super investors in action early. And Equitymaster's Smart Money ScoreTM, the proprietary stock screening tool, will further help it to zoom-in on fundamentally strong businesses.
Rohan and Kunal are confident that this two-pronged approach will ensure the stocks recommended are not only strong businesses but have also caught the attention of some of the most successful investors of India. Their goal is to get in early and then 'ride sidecar' with these investing gurus.
As you know, these forty super investors in India are some of the smartest minds in the stock markets. So Rohan and Kunal recently introduced our subscribers to one of them. They wrote...
We love the stock picks and performance of this super investor. One of the things that impresses us most about him is, despite his success, you'll see almost zero coverage of him in the financial media. Why? When the Economic Times asked him for an interview, he said:

I am a private person. Bull markets create heroes and bear markets create zeroes. So, I'd rather stay anonymous

Super Investor Ashish Kacholia of Lucky Securities has a long list of successful stock picks. His stake in Ashiana Housing is a good example. He first bought the company in March 2013 and continues to hold 1.26% of the company. In a little more than four years, this investment has compounded annually at more than 40% CAGR for an absolute return of 324%. Phenomenal returns by any standard.

Kacholia has also had success with stocks like DFM foods, Kei Industries, and Shaily Engineering. Over the past three years (June 2014 - June 2017) these stocks have returned 339%, 691% and 921% respectively. We like his philosophy of seeking out strong businesses and able managements and then remaining patient until his thesis is proven.
What's more, with the help of their Smart Money tool, Rohan and Kunal recently flagged a company in which Kacholia has increased his stake for the past two quarters.
Like Rohan says...the company is showing early signs of success patterns that super investors.
The promoter of the company, directly and indirectly holds around 60% of the company. He has approximately 31 years of experience in the industry company is present. Here, we believe we have a promoter who understands his business very well and has 'soul' in the game.
Yes. The company is one of the market leaders and has recently pared down debt in their balance sheet. We believe our super investor catalyst will result in value discovery of the stock.
And right now, you can get instant access to full information on this extremely promising business.
The ONLY way to get full information on this stock is through your special Smart Money Secrets Founding Member Invitation. It's an invitation we have designed exclusively for this launch and, in addition to our first BUY Recommendation report, it comes with additional benefits worth more than Rs 4,000. So, if you like what we have shared with you today and are interested in getting many more such opportunities in future, I would recommend that you click here to read all about the Founding Member Invitation.
It is a well known fact that the Narendra Modi government has not been able to address the problem of rising unemployment in the country. And notebandi has dealt a further blow to the job market. As per a survey conducted by Reserve Bank of India, the pessimism surrounding the job market is yet to recover from the notebandi blues. The survey shows that nearly 39.2% of the people believe that the employment situation has worsened and this is the highest level in the last four years.
Vivek Kaul has highlighted the malady in his Diary. This is what he had to say,
A recent report titled OECD Economic Surveys India puts the rate of unemployment among India's youth between the ages of 15 and 29 at more than 30 per cent. These youth are neither employed nor in education or training. Indeed, this is a very worrying factor for the Indian economy. Of course, the official rate of unemployment is at a very low 5 per cent. But as I had explained in a Letter in October 2016, this number cannot be taken seriously. There is an inherent flaw with the way it is calculated.

The larger point here is that the way things are currently going on, India's much talked about demographic dividend is likely to turn into a demographic disaster.
Even as there is a dearth of new jobs, the existing jobs in IT/BPO are facing the axe due to automation. This is expected to further compound the unemployment problem unless the government addresses it on a war footing.
Indian equity markets opened the day on a firm note. At the time of writing, BSE Sensex was trading higher by 92 points and NSE-Nifty was higher by 23 points. Both the mid cap and small cap indices are trading up marginally.
4:56

Investment Mantra of the Day

"If you don't feel comfortable owning something for 10 years, then don't own it for 10 minutes." - Warren Buffett

This edition of The 5 Minute WrapUp is authored by Madhu Gupta (Research Analyst) and Tanushree Banerjee (Research Analyst).
Today's Premium Edition.
Does PNB Housing Finance Qualify as an India Letter Candidate?
How is PNB Housing Finance placed in the housing finance industry? Does the stock's risk-reward ratio indicate strong upside?
Read On... | Get Access
Recent Articles