The Only Two 'Top' Investors to Beat the Benchmark Index
Jun 12, 2017
In this issue:

» Farm loan waivers could disrupt India's micro lending business model
» Profiting from the IPO rush in 2017
» Market roundup
» ...and more!
00:00

Chart of the Day
Have you heard of Sohn Investment Conferences?
These conferences bring together top fund managers to present their best investing ideas.
Last year, for the first-time, a Sohn Investment Conference was held in India. The event was as big success.
Unfortunately, we can't say the same for the fund managers' stock picks!
Shockingly, most of them have underperformed the benchmark NIFTY index.
Except for two...
Super Investors Sohn India Picks Outperformed the Nifty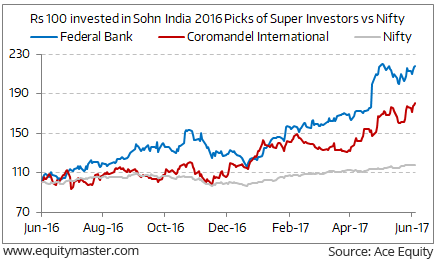 An investment in Federal Bank and Coromandel International could have made you a lot of money.
So, you're probably wondering: Who are the fund managers behind these stock picks?
Aakash Prakash recommended Federal Bank, and Kenneth Andrade was behind the Coromandel International pick.
You may recall those names from these pages right here at The 5 Minute WrapUp.
Aakash and Kenneth are part of an elite group of fund managers, promoters, and investing gurus we call The Super Investors of India, our proprietary list of the top forty stock pickers in India.
Now...of all the 'top' fund managers at the Sohn India conference, Aakash and Kenneth were the only two on our super investor list.
Coincidence? I think not.
As you know, Rohan and I have been busy with our 'super investor' project.
We travelled the country to meet some of them in person.
We back tested and perfected the art of 'sidecar' investing.
And we developed our own propriety tool - Equitymaster's Smart Money ScoreTM.
The result of our efforts?
Enter the world of Smart Money Secrets - our new stock recommendation service that tracks the investments of India's best investing minds.
The goal is to get in early and then 'ride sidecar' with these super investors.
Now, imagine riding sidecar. You wouldn't want to ride with an inexperienced, erratic driver, would you?
Of course, not.
You want a driver who you can trust to get you where you want to go safely. And despite bumps along the way (not much even an expert driver can do about those), you want to enjoy the ride.
That's why we want super investors shifting the gears and steering us through these manic markets.
So, what exactly is a super investor?
On the surface, they are distinguished by their returns.
Think of historical returns as a driving record. You won't see many crashes or legal infractions on a super investor's driving record.
But what really makes an investor a super investor is a defined process. Investors with a proven process, over the long term, invariably have far superior track records than undisciplined investors.
Which brings me to why I'm writing you today...
Our tools indicate that one of our super investors, Ashish Kacholia, is already onto his next stock...
It happens to be a stock we like too.
This company, a market leader in a niche garment business, ticks many of the boxes our super investors look for. And most encouragingly, the business passed Equitymaster's Smart Money ScoreTM with flying colours.
In fact, we just released our report on this stock. Check it out here...
The government of Maharashtra has announced a farm loan waiver. It is not the first state to do so. Neither do we think it will be the last. While this move applies only to marginal and genuine farmers as per the government. We think on the whole, the farm loan waivers across the country could result in a moral hazard.
Vivek Kaul, in his diary too found the idea of farm loan waiver incredulous. He discussed the long term impacts of such loan waivers from the lenders' point of view.
There are several ways in which farmers who have taken on the benefit of defaulting on bank loans, are denied loans in the time to come. As N Srinivasan, a rural finance consultant writes in the College of Agriculture Business magazine: "The experiences of the past show that there are many ways of denying credit to farmers who chose to benefit from default of bank loans. Delay in sanctions, high collateral requirements, reduction of quantum of loans, lengthy and complex documentation requests, etc. are some of the well-known methods of denial of credit. These would be employed to good effect in the post- waiver situations by banks to cut their exposure to farm sector." And this is possibly not good news for the farmers. If banks deny them credit in the future, they will go back to the local moneylender.
We wrote to you regarding this moral hazard during the recently announced UP farm loan waivers. According to us, loan waivers set a bad precedent over the long run as such an act will only incentivize borrowers to default on their loans since they expect the loans to be waived off in future. Micro finance business models are based on unsecured lending to mostly the unbanked. These institutions play a critical role in bringing financial inclusion to the masses. In future these loan waivers set the path towards an explosion in non-performing loans and potentially disrupt their business model.
The IPO rush seems to continue in the year 2017 as well. Four companies are reportedly ready to tap the secondary market in the June month itself. The frantic mad dash of road shows seems to be in full swing. According to reports from livemint, eight companies have managed to raise Rs 63 bn through their public listings so far in 2017. Last year saw 26 companies raised around Rs 265 bn through this route. Tejas Networks and Eris Lifesciences will be coming out with their IPOs in this week itself. Watch out for our detailed analysis and report on these IPOs.
With the flurry of IPOs on the line. we have come out with a special report titled, How to Get Rich with IPOs. It is a comprehensive report that aims to cut through all the hoopla surrounding IPOs. It also talks about spotting the rare good profitable companies. It also talks about in great detail on tell-tale signs of IPOs that need to be avoided. Claim your free copy of the report here.
Share markets in India opened the day on a negative note. The BSE Sensex is trading lower by 164 points and the NSE Nifty is trading lower by 51 points. Sectoral indices are trading on a mixed note with stocks in the and stocks in the trading in green, while stocks in the are leading the losses.
04:55

Today's Investing Mantra

"The difference between successful people and really successful people is that really successful people say no to almost everything." - Warren Buffett

This edition of The 5 Minute WrapUp is authored by Kunal Thanvi (Research Analyst) and Rohan Pinto (Research Analyst).
Today's Premium Edition.
The Art of Stealing Stock Ideas
In conversation with Rohan Pinto and Kunal Thanvi about their new service and how they mastered the art of stealing stock picks...
Read On... | Get Access
Recent Articles