Read this Before You Pick Your Next Hot Stock
Jun 13, 2017
In this issue

» Retail Inflation on a Downward Trajectory
» Notebandi Continues to Impact Industrial Growth
» Market Roundup
» and More!
A couple of months ago, when the Sensex closed above 30,000 for the first time ever, it became a massive 300-bagger over 38 years.
That's a neat CAGR of 16% - a proud record indeed.
However, this extraordinary achievement was hiding an anomaly...
Only a few companies accounted for a sizeable chunk of the Sensex's gains since its inception in 1979 when it was rebased to 100.
I knew this was true for the Sensex and benchmark indices around the world. However, as I read a New York Times article about the US markets, I was shocked by the sheer lopsidedness of it all.
From the article:
Professor Bessembinder found that a mere 4 percent of the stocks in the entire market - headed by Exxon Mobil and followed by Apple, General Electric, Microsoft and IBM - accounted for all of the net market returns from 1926 through 2015. By contrast, the most common single result for an individual stock over that period was a return of nearly negative 100 percent - almost a total loss.
This leaves the Pareto 80:20 principle in the dust. If a mere 4% stocks account for almost all the gains in the entire market over its entire history, do individual stock pickers have any chance over the long term?
Even Warren Buffett, arguably the best picker of individual stocks of all time, swears by passive index investing. After all, if your odds of rightly identifying the next hot stock are just 4%, you might as well invest in the entire index. Why take the trouble identify those 4% winners?
Well, for one, it sure would make the world of investing a boring place. You'd no longer get that thrill of doing some great research, unearthing a great stock, and seeing it soar over the next few years.
So the million-dollar question is: How can we reconcile these opposite dimensions of investing?
How can we keep the thrill of individual stock picking without sacrificing long-term returns?
Two ways...
One, create a strategy yourself and then back test it over at least fifteen years to see if it works across both bull as well as bear markets.
The second option is to implement a strategy that's already been identified by a guru and back tested over a period as long as fifty years.
That's the approach we took with Microcap Millionaires.
The results have been phenomenal to say the least. The strategy is outperforming the benchmark index nearly 3x in a little more than three years.
Benjamin Graham, the guru behind this strategy, believed it works because it has three very important ingredients - sound logic, simplicity of application, and a supporting track record.
So if you find index investing boring but still want to achieve great long-term returns through individual stock picking, the Microcap Millionaires service may be for you.
02:00

Chart of the Day

Retail inflation, measured by the Consumer Price Index (CPI), slowed to 2.18% in May from 2.99% in April. Food prices entered a deflationary zone in May, with the consumer food price index at negative 1.05% as against an increase of 0.61% in April and 7.47% in May last year.
Retail Inflation on a Downward Trajectory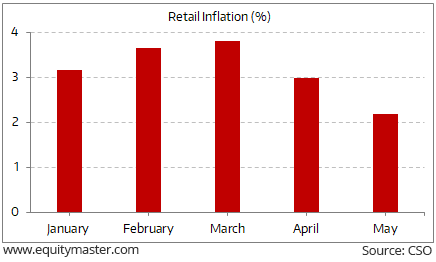 It is important to note that May's retail inflation is the lowest since the government began issuing data based on the CPI in 2012. The Reserve Bank of India (RBI) kept interest rates unchanged last week. A good monsoon is expected to keep a lid on food prices and overall inflation.
Lower inflation may put pressure on the RBI to change its policy stance to accommodative from neutral.
The Notebandi impact is still showing as India's factory output slowed in April. Data released by the Central Statistics Office (CSO) showed the Index of Industrial Production (IIP) rose by 3.1% against a 6.5% increase in April 2016. This growth was led by robust growth in electricity generation. The data shows that manufacturing, which constitutes more than three-fourths of the index, grew marginally by 2.6%. This is mainly on the back of a rise in consumer non-durables, which increased by 8.3% and newly introduced construction goods, which rose by 5.8%. However, capital goods segment, which is generally taken as an indicator of industrial activity, fell by 1.3%. In terms of industries, 14 out of the 23 industry groups in the manufacturing sector have shown positive growth in April 2017.
Clearly, the impact of notebandi persisted on industrial production, particularly manufacturing. Besides, investments are yet to pick up.
By the way, Eris Lifesciences IPO is opening this Friday. The company is into developing, manufacturing and commercialising branded pharmaceutical products in select Therapeutic areas within the Chronic and Acute categories of the Indian pharmaceutical market. Our in-house pharma analyst, Girish is busy working on the IPO report, which is expected to go live on Thursday.
Keep an eye on 5 Minute Premium section!
In the meantime, if you want to know about more about IPO,s whether they are right for you, I strongly recommend you download our special report - How to Get Rich with IPOs.
The Indian markets opened the day on a positive note. Sectoral indices are trading on a positive note with stocks in the auto, banking and capital goods sectors leading the gains. At the time of writing, the BSE Sensex is trading higher 64 points (up 0.2%) and the NSE Nifty is trading up 17 points (up 0.17%). The BSE Mid Cap index is trading up by 0.46%, while the BSE Small Cap index is trading up by 0.7%
04:55

Today's Investing Mantra

"You pay a very high price in the stock market for a cheery consensus." - Warren Buffett

This edition of The 5 Minute WrapUp is authored by Rahul Shah (Research Analyst) and Sarvajeet Bodas (Research Analyst).
Today's Premium Edition.
My Meeting with the Zen Master of Equitymaster
And how he quietly, almost boringly, beats the Sensex 3:1.
Read On... | Get Access
Recent Articles