Should You Have Followed Rakesh Jhunjhunwala into Delta Corp?
Jun 20, 2017
In this Issue:

» Air Passenger Traffic Surges in May 2017
» Indian Energy Exchange (IEX) files IPO Papers with SEBI
» Market Update
» And more...
Well, it's up 180% in the last sixteen months.
And Rakesh Jhunjhunwala is probably India's most famous investor. He holds more than an 8% of Delta's shares, for instance.
To be honest, we did have a look at the stock just around the time it began its meteoric rise. It didn't quite fit our criteria and was outside our circle of competence.
Have things changed? Nope. Growth continues to be lackluster with topline at 4.5% and bottomline at 2% annually between FY12 and FY17.
And forget the presence of a moat. The company hasn't even managed to earn capital returns expected of an average Indian corporate. Its return on invested capital as well as net worth average in the high single digits.
All of this at a staggeringly high PE in the range of 40x made absolutely no sense to us.
Of course, the past financial history is not everything. The company may still have a great future and could well be on the cusp of a magical transformation.
However, this is a game we choose not to play. Besides, we don't fancy jumping over seven-foot bars. We prefer one-foot bars we can step over. And Delta Corp certainly looked like a seven-foot bar to us. We'd rather wait for it to show a definite improvement than invest in the promise of a rosy future.
Maybe Mr Jhunjhunwala knows something that we don't. Great. We prefer to stick with what we know and execute well.
Don't get us wrong. Relying on an expert's judgement is often the best thing to do. It saves time and energy. You get all the benefits without any of the mental heavy lifting. Would you rather take your doctor's advice or spend years at medical college?
But investing is a slightly different ball game. While you can borrow ideas, you will need a high degree of conviction in them irrespective of the quality of the source.
And you can't borrow conviction. It's something within that evolves over years of successful investing.
Kunal and Rohan of Smart Money Secrets know this only too well.
With their new product offering, they borrow investment ideas from the forty-plus super investors they track.
But they don't copy their ideas blindly. They employ a homemade screening tool to help develop their own conviction on super-investor stock picks.
They call it the 'Smart Money Score'. They designed it to rate the stock on parameters they consider most important for long-term, potentially multibagger, returns.
The higher the score, the higher their degree of conviction and the more likely they are to recommend a stock.
It's what all investors should do. Don't follow a big investor blindly into a stock. Only when you are convinced yourself should you pull the trigger.
Editor's Note: Speaking of conviction, how convinced are the Equitymaster analysts about the CDSL IPO? In yesterday's 5 Minute WrapUp Premium, (Subscription Required) Ankit has updated readers on the IPO note. Tomorrow is the last day of application...
India's aviation industry is on a high-growth trajectory. According to International Air Transport Association (IATA), India has moved up two places to become the fourth largest aviation market in terms of passenger number. It's expected to become the third-largest by 2020.
Indian Aviation Spreading its Wings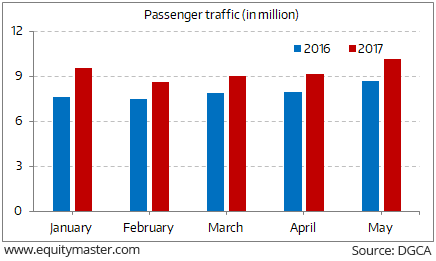 The latest DGCA data support the growth story. Domestic air passenger traffic surged nearly 17.4% YoY to 10.2 million in May 2017. In May 2016, this figure was 8.7 million. The aviation industry has reported passenger traffic growth of 17.6% during the first five months of the current calendar year.
Interestingly, the state-run carrier Air India, which is in the news for likely privatisation, improved its market share marginally in May 2017. The carrier's share rose to 13% from 12.9% in April, though still below 14% that it had in January.
Airlines are maintaining healthy load factors backed by low fares. Load factor is a measure of airline capacity utilization, generally used to assess how efficiently a transport provider fills seats and generates fare revenue. The passenger load factor in the month of May 2017 has shown an increasing trend compared to previous month primarily due to the beginning of tourist season.
Although greater air travel is becoming a new normal, investors need to understand the industry dynamics before buying up aviation stocks.
One hot trend in the stock market these days is definitely that of initial public offerings (IPOs). In the last ten days, we have seen three IPOs, namely, Eris Lifesciences, Tejas Networks, and CDSL. To know our view on IPOs, you can visit our IPO page.
There is one more addition to this list. Today's paper reports that Indian Energy Exchange (IEX) has filed draft papers with the Securities and Exchange Board of India (SEBI). IEX is India's first power exchange providing automated trading platform for electricity and renewable energy certificates.
Whenever the IPO details are out, expect us to review the same and publish our recommendation. In the meantime, if you want to know more about IPOs, whether they are right for you, I strongly recommend you download our special report - How to Get Rich with IPOs.
The 5 Minute Wrapup just completed nine years. As a thank you gift, for being with us, we have hand-picked and collated some of our best issues of The 5 Minute Wrapup.
Here's our sincere invitation to stick with us on this wealth-compounding journey...
Five minutes a day...
One day at a time.
Download The Best of The 5 Minute WrapUp - 10th Anniversary Special Edition.
After opening the day marginally higher, share markets in India have continued their momentum. Sectoral indices are trading on a positive note with stocks in the Consumer durables and IT sector witnessing maximum buying interest.
The BSE Sensex was trading up 56 points (up 0.18%) and the NSE Nifty was trading up by 15 points (up 0.15%). The BSE Mid Cap index was trading up by 0.5%, while the BSE Small Cap index was trading up by 0.48%
04:55

Today's Investing Mantra

"You pay a very high price in the stock market for a cheery consensus." - Warren Buffett

This edition of The 5 Minute WrapUp is authored by Rahul Shah (Research Analyst).
Today's Premium Edition.
Could This Beaten Down Sector Be on the Verge of Reversal?
Apurva's technical indicators suggest this could be the last stage of the downtrend in this sector.
Read On... | Get Access
Recent Articles