As the House Burns, the Party Continues
Jun 21, 2017
In this issue:

» Cement companies increasing leverage
» Automobile sector jittery for the third quarter in a row
» Market roundup
» ...and more!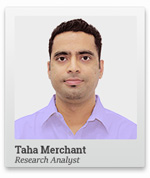 Look around you and what do you see...
The share markets on a one-way northbound street, near all-time highs. Investors in good cheer. New IPOs every day.
Mr Market hasn't been in this good a mood in years.
From the gloomy days of the last few years, it's hard not to get the feeling things have gotten much better for Indian companies.
Yet, a business daily headline dares point out: 'Financial stress spreads among Indian companies'.
Business Standard highlights that, based on its sample of 761 frontline companies that constitute the major indices, companies that couldn't even make enough operating profits to cover their interest costs is up significantly in FY17. While this number averaged 68 in the four years until FY16, it's up to 85 companies in FY17.
These 85 companies racked up an interest bill of Rs 600 billion in FY17. To cover this, their operating profits were just Rs 120 billion! Woefully inadequate by all measures.
Mind you, that's before even subtracting depreciation costs - a non-cash but nonetheless very real cost for companies.
This is serious stuff. Being able to pay interests costs is as basic as it gets for a company. If it can't, things can get very nasty very fast.
And considering that many banks and financial institutions are already at their wits end trying to deal with their non-performing asset (NPA), any further shocks have the potential to quickly turn into a systemic problem.
A big part of corporate India needs to clean up its act, urgently.
But investors are in no mood to for grim headlines and mood-souring data. They're too busy enjoying the positive side of the coin. They've got to look for reasons great days lie ahead for India Inc.
How else could they justify buying stocks at such high prices?
While most investors seem confident the party will rage on, if you look hard enough, you may see that the near future could bring the harsh light of daybreak.
Remember, every coin has two sides. And no party lasts forever.
02:30

Chart of the Day
Cement Companies Increasing Leverage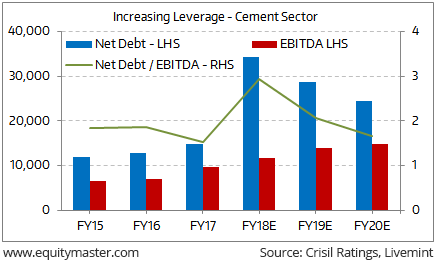 Cement companies have started the year on a good note. Big-wigs like Ultratech (Ultratech cement share price), ACC (ACC share price), and Ambuja (ambuja cement share price) have seen a 20-25% increase in their stock prices in 2017. A major reason for the rise is the wave of consolidation sweeping across the sector. Two of the top-five biggest mergers and acquisitions (M&A) took place in the cement sector in 2016. While Dalmia Bharat acquired Odisha Cement for US$2.54 billion, Ultratech Cement had to pay US$2.38 billion to acquire Jaypee Cement.
The cement sector was always in a need of revival considering its importance role in India's growth story. The logical route seemed to be consolidation. India, with 550 companies, is the second-largest producer of cement in the world. However, 70% of the cement is produced by the top twenty companies. The other companies used to dump cement at low prices creating havoc in the market. Consolidation is expected to increase the pricing power of the top producers and lead to better margins.
There's been one downside though. All this consolidation has weakened the balance sheet of these top cement companies. The net debt-to-equity ratio of the 26 companies rated by Crisil is likely to increase to 2.9 times in 2018 as compared to 1.5 in 2017. Debt funded 78% of the acquisition cost in FY17. However, once the synergy benefits kick in, debt levels are expected to reduce from FY19. This will provide respite to cement producers who have been engaged in price wars with small players for a long time.
The Automobile industry has been on a rough ride since the second half of 2016. Notebandi affected vehicle sales in Q3 of FY17. Once they recovered from the shock, another roadblock emerged in the form of BS-IV compliance. Once they managed to maneuver these obstabcles, a third hurdle in the form of the Goods and Services Tax (GST) hit in Q1FY18 and has been a problem since.
Management of most automobile companies expect growth to be muted in the Q1 FY-18. Most are experiencing de-stocking from dealers. Dealers are trying to cut down on losses since they cannot claim credit on CST and other taxes for vehicles sold after 1 July. Dealers can claim input tax credit only up to 60%, which means they stand to lose out on the balance 40% credit.
Some auto manufacturers are trying to mitigate this problem by compensating dealers based on sales performance. Although this will help increase sales volume, margins are likely to take a hit. One bright spot has been that manufacturers have not cut down majorly on their production schedule. It indicates that demand for vehicles will eventually catch up in the second half of the year.
Although most manufacturers agree that GST is likely to benefit the organised players in the long run, it is important to note that short-term fluctuations in the sector are likely. With valuations of most companies close to all-time highs, investors would be nervous to see muted growth considering the price that they've paid for these companies.
In such a situation, it is always important to look at the long-term picture. Identify stocks that are a part of the Megatrend, a trend that ignores short-term fluctuations and looks at the bigger picture.
The Indian stock markets were trading lower at the time of writing on the back of sustained selling pressure mainly in the energy and IT sectors. At the time of writing, the BSE Sensex was trading down by around 78 points. Gains were largely seen in realty stocks.
04:56

Investment Mantra of the Day

'When you combine ignorance and leverage, you get some pretty interesting results.' - Warren Buffett

This edition of The 5 Minute WrapUp is authored by Taha Merchant (Research Analyst) and Girish Shetty (Research Analyst).
Today's Premium Edition.
GTPL Hathway IPO - Our View
The entry of Reliance Jio and its aggressive pricing strategy remain a lingering threat to GTPL Hathaway and can affect its pricing power and revenues.
Read On... | Get Access
Recent Articles