The Coming Golden Decade of Multibaggers and Megatrends
Jun 23, 2017
In this Issue:

» Growth Stocks in Limelight
» Transparency of Banks Under Scanner
» IPO Boom Gets Further Shot in the Arm
» Market Update
» And more...
Once that momentary pleasure was enjoyed, however, no more could be expected. - Warren Buffett
What's your idea of value investing?
Betting on ignored stocks that trade below their intrinsic value and offer huge margin of safety?
These stocks, as Warren Buffett famously compared them, are like smoked cigar butts: 'Though the stub might be ugly and soggy, the puff would be free.'
Warren Buffett started his journey as a conventional value investor - buying cigar butts, following Graham's principles.
That sounds like logical strategy. However, such bargains are few and far between in current markets.
Buffett would not be the icon he is today had he restricted himself to conventional cigar-butt investing. And if you stick solely to this approach, you too may lose out on potential multibaggers.
What made Buffett a legend was a twist in the strategy. He switched to investing in excellent companies at a fair price rather than a fair company at an excellent price. That is, he started to give growth and business quality due weightage.
Many call it 'growth investing' to distinguish it from value investing. Buffett believes the distinction is crazy.
Growth, he believes, is an important aspect of a company's intrinsic value.
Not many value investors acknowledge this though. They just focus on valuation multiples, ignoring the growth to come. And in turn incur huge opportunity losses.
The returns from BSE 200 stocks are a stark reminder of these missed opportunities.
From January 2014 till date, the BSE 200 Index has outperformed the Sensex by 20%.
Some of the key gainers that have delivered returned in the range of 450% to 1,400%, were trading at a PE of up to 40 times.
A typical value investor would have skipped them, ignoring the huge earnings expansion and re-rating potential.
While one should always be wary of expensive valuations, simply using past earnings is not the right way to jump to conclusions. One needs to factor in the growth potential.
Is it too late to follow this approach?
With the economy on the cusp of multiple structural changes - GST, digitisation, regulatory reform - The India Letter team believes opportunities will abound for true value investors in India.
According to Tanushree Banerjee, 'India is going to grow rapidly in the decades to come. A golden decade megatrend is on its way.

Companies that have the potential to ride the key signals of the Megatrend are here to stay. That said, it is important that one keeps patience to invest in phases over a long period. Investors should not attempt to put in all their money at one go. There will be few peaks and troughs in each of the seven signals before the full benefits of the Megatrend are realized. Hence even the best stocks should be bought in phases over a long period, so one gets the opportunity to invest at attractive valuations.'
02:30

Chart of the Day

After RBI's rap, mandatorily asking banks to disclose bad loan divergence of more than 15% (as compared to RBI's assessment) more skeletons are tumbling out. According to rating agency ICRA, more than 60% of the banks that have published their annual reports so far have reported a steep divergence from the RBI numbers. The total divergence of 15 banks stands at Rs 327.4 billion accounting for 14.3% of the gross bad loans for FY16.

Amongst them, Yes Bank showed the highest under-reporting of 85% in its gross bad loans for FY16. Jammu & Kashmir Bank, Bank of Maharashtra and ICICI Bank were the other banks that had a divergence of more than 15% in their reported gross bad loans. Although the level of divergence in the bad loans reported by several public-sector banks was low, the bigger concern is the continued slide in their asset quality. With many of them already having weak balance sheets, the rising slippages are expected to drain them further, thereby increasing dependence on the government for capital infusions to stay afloat.
Yes Bank leads in Under-reporting of Bad Loans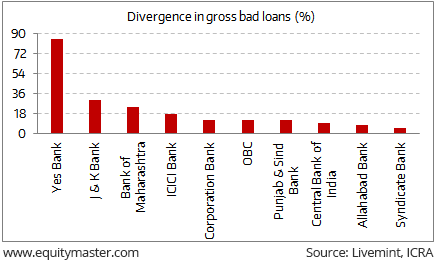 Yesterday, I wrote to you about the upcoming boom in the IPO market.
The recent decision of SEBI to ease alternative investment fund (AIF) norms will further boost the trend. The rule will allow private equity funds and real estate funds to sell their shares any time after the IPO. Till now, the norm has been to hold the shares for minimum one year.
What this will do is relax the lock in provision, make exit flexible and broaden investor base available to raise capital. As suggested in Livemint, more than two thirds of the companies that came up with IPOs were backed by private equity funds.
Readers must bear in mind that most of the IPOs are driven by offer for sale, to provide an exit route for existing investors rather than raising funds.
Those getting lured by IPO boom should keep in mind the following quote by Warren Buffett:
"It's almost a mathematical impossibility to imagine that, out of the thousands of things for sale on a given day, the most attractively priced is the one being sold by a knowledgeable seller to a less-knowledgeable buyer."
That said, it's a space one cannot afford to ignore. For every Reliance Power-like issue, there have been issues like Maruti, TCS, and Jubilant Foodworks Ltd (with returns over 4,000%, 1,000% and 500% respectively) that have made investors rich. A careful selection with focus on fundamentals and valuations can help you spot next multibagger stock. To learn how to navigate the treacherous world of IPOs, do read our special report on finding money-spinning IPOs.
Indian equity markets slipped in the red after opening the day on a flat note. At the time of writing, BSE Sensex was trading lower by 86 points and NSE Nifty was down by 36 points. Both the mid cap and small cap indices are trading down by 1.3% and 1.7%, respectively. Stocks from the realty and metal sectors are the major losers.
04:56

Investment Mantra of the Day

"We don't have to be smarter than the rest. We have to be more disciplined than the rest." - Warren Buffett

Editor's note: There will be no issue of The 5 Minute Wrapup on 24th June 2017 and 26th June 2017.

This edition of The 5 Minute WrapUp is authored by Richa Agarwal (Research Analyst) and Madhu Gupta (Research Analyst).
Today's Premium Edition.
Time to Start Accumulating This Pharma Stock?
This stock has the potential to emerge successful from the ongoing downtrend in Indian pharma stocks.
Read On... | Get Access
Recent Articles