What Happens When We Apply Elon Musk's 'First Principles' to Indian Stock Markets?
Jun 29, 2017
In this issue:

» Muted growth prospects for Auto Ancillaries
» Recent US FDA policy to increase competition in the Pharma sector
» Market roundup
» And more!
In investing, you need to think for yourself, with your own mental models.
No one makes the importance of original mental models as clear as Elon Musk. Musk is one of the best entrepreneurs of the 21st century - the founder of Paypal, CEO of Tesla Motors (electric cars), and CTO of SpaceX (space exploration and tourism) and Solar City (solar energy).
He revolutionised online payments. You could call him the father of the electric car revolution...and perhaps one day the destroyer of the oil mafia.
With ingenious thinking, he managed to build rockets for 2% of the typical price. He refused to buy expensive rocket parts from the market (the typical way). Instead, Musk and his team found a way with much cheaper raw materials.
Here's an excerpt from an interview that gives insight into Musk's mind...and the secret of his success:
I think it is important to reason from first principles rather than by analogy. The normal way we conduct our lives is we reason by analogy. [When reasoning by analogy] we are doing this because it's like something else that was done or it is like what other people are doing - slight iterations on a theme.

First principles is kind of a physics way of looking at the world. You boil things down to the most fundamental truths and say, 'What are we sure is true?'...and then reason up from there.
Applying First Principles to Indian Stock Markets
Now investing is not a hard science like Physics. Yet, there are some rules that come close to fundamental truths. One of them is that stock prices vacillate. They can go well below and above intrinsic values, thus giving buying and selling opportunities respectively. Second, investing with a margin of safety invariably pays off in the long run......
If you can look at markets with this approach and keep herd mentality, analogies, and assumptions aside, markets are likely to make you rich in the long term.
What does the data suggest about margin of safety in Indian stock markets?
The Sensex has touched lifetime highs. It is trading 22.5 times its trailing earnings. Liquidity, positive sentiments, and expectations of an earnings recovery are keeping valuations up.
Despite strong expectations of a recovery since the Modi government came to power, it hasn't happened. Of the BSE companies with a market cap of Rs 1 billion or more, only 6% can boast of a 14% annual growth rate (CAGR over last five years). We have excluded companies with very high debt (barring banks and finance companies) and poor return on capital.
What We Are Sure Is True
Earnings will recover and grow at a healthy rate - but only for select companies.
The market, however, is pricing in healthy growth for most stocks. Valuations are going north because money is flowing into the market. It does not seem to be about what a company will offer...but what others are ready to pay for it. This is a purely speculative and analogy-driven approach (paying up because other people are) that Musk warns against.
Here is Warren Buffett on the matter:
The line separating investment and speculation, which is never bright and clear, becomes blurred still further when most market participants have recently enjoyed triumphs. Nothing sedates rationality like large doses of effortless money. After a heady experience of that kind, normally sensible people drift into behavior akin to that of Cinderella at the ball. They know that overstaying the festivities, that is, continuing to speculate in companies that have gigantic valuations relative to the cash they are likely to generate in the future, will eventually bring on pumpkins and mice. But they nevertheless hate to miss a single minute of what is one helluva party. Therefore, the giddy participants all plan to leave just seconds before midnight. There's a problem, though: They are dancing in a room in which the clocks have no hands.
Reality Check
As per the leading financial dailies, more than seventy stocks have hit fresh 52-week lows, even as the Sensex hits lifetime highs. The mid-cap index is down 4% from its high in May 2017. Many mid-cap stocks have lost more than 30% in the last few sessions.
SEBI, sensing the speculation in stock markets, especially in mid and small caps, has asked stock exchanges to collect up to 200% of the purchase value up front from investors (in addition to the transaction value) for 670 stocks. It has also approached the cybercrime investigation cell to counter the threat of fake investment tips.
We are not predicting gloom and doom. The earnings recovery will happen. But so will disruptions as the Indian economy undergoes significant structural changes...Changes that will consign many existing businesses into oblivion.
Do not get carried away by market sentiments lifting good, bad, and ugly businesses alike. Only a few firms that are ahead in the curve will see actual growth and sustained valuations. It is crucial you place the right bets.
Our latest Hidden Treasure recommendation is one such bet we believe. A well-managed business with a solid business model, this company is well placed to make the most of digitization trend in a niche industry. Refer to the Hidden Treasure recommendation report (Subscription Required) to know more about this actionable opportunity.
02:15

Chart of the Day

One of the sectors facing some disruptive changes is auto ancillary.

The recent inclusion of Amtek Auto in the Reserve Bank of India's list for insolvency proceedings has brought the sector into the limelight. While Amtek Auto is the only auto company maker in the twelve-company list dominated by infrastructure and steel companies, it makes sense to look at the future of the sector overall.

Recent rise in input costs has dented the long-term prospects for auto ancillary manufacturers. According to a report by credit rating agency ICRA, operating margins of the sector are expected to be around 12-14% over the next few years, down from 16% recorded by the top 48 companies in FY16.

Export markets have also proved to be a letdown. While the US truck market has witnessed a slowdown, Europe has also suffered due to Brexit issues. Growth in exports has slowed down from around 35-40% in FY12 to 8-10% in the last two years.

On the domestic front, there are concerns of counterfeiting post GST implementation.

More than 50% of the products fall in the 28% bracket. Auto ancillary manufacturers feel this might force small players to cut rates by under-invoicing, leading to a price gap between the original and counterfeit products.

Listed companies with high debt may see their margins suffer.
Auto Ancillaries' Muted Growth Prospects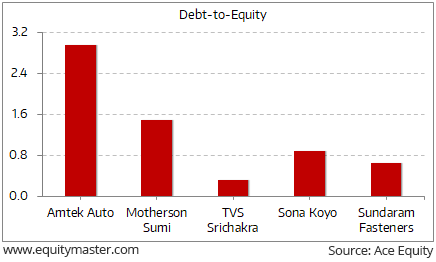 Things are not all that great for Pharma as well...
Recent steps by the US Food and Drug Administration (USFDA) to quicken the availability of generic drugs adds to a long list of challenges already faced by the Pharma sector. The USFDA has implemented a new policy wherein the review of generic drug applications will be expedited in case of limited competition for that generic drug.
This is likely to intensify competition in the sector. Earlier, a pharma company would target drugs with limited competition to gain market share and obtain higher margins till the entry of new players in the market. This differentiated the top pharma companies from the average ones who could crack complex molecules due to their strong R&D capabilities. With the new policy, the time for players to enjoy a high market share and high prices would reduce considerably with quicker entry of new players.
The sector is already witnessing a spate of mergers and acquisitions in the US healthcare supply chain. Consolidation of the distribution channels has given the supply chain better bargaining power over the drug companies.
Apart from these, regulatory challenges due to stringent plant inspections by the USFDA and strengthening of the rupee versus the dollar has led to a dismal year for the pharma sector. The projection for FY18 is far from encouraging.
As a result, most pharma companies are looking at complex therapies like oncology and a shift to new formulations like injectables to differentiate themselves from the pack. While short term pain is bound to be there, companies with strong R&D capabilities, plants with regulatory compliance will do well over the long term. The uncertainties also make it important to be stock specific in the sector. It is important to look only for companies that have the competence and staying power to overcome the challenges facing the sector, outdo their competitors, and emerge eventual winners.
In our latest report of The India Letter (Subscription Required), we have identified one such pharma stock which we believe will outlast others in the long run.
The Indian stock markets were trading higher at the time of writing with and leading the gains. At the time of writing, the BSE Sensex was trading up by around 220 points while the NSE Nifty was up by around 70 points.
04:55

Investment Mantra of the Day

"Only buy something that you'd be perfectly happy to hold if the market shut down for 10 years." - Warren Buffett

This edition of The 5 Minute WrapUp is authored by Richa Agarwal (Research Analyst).
Today's Premium Edition.
Will CDSL Have a D-Mart-Like Listing?
If CDSL does not list at a significant premium tomorrow, a lot of grey market speculators and HNIs will lose money.
Read On... | Get Access
Recent Articles