And the Company that Wants to Buy Air India Is...
Jun 30, 2017
In this issue:

» Plenty of Hiccups Post GST Rollout
» CDSL's Listing Gains
» ...and more!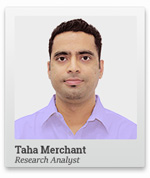 About a year back, Civil Aviation Minister Ashok Gajapathi Raju said Air India's 'books are so bad. I don't think that even if it is offered anybody would come for it'.
What the minister was saying was that nobody in their right mind would buy Air India in its current state.
And he was right. As Vivek Kaul, editor of the Vivek Kaul Diary, highlighted recently, between FY11 and FY16, the airline made total losses of Rs 347 billion. That is quite a lot of money!
Further, the airline has Rs 520 billion in debt. A major part of which has helped the airline meet its expenditure. Yes, the company doesn't even earn enough to even meet its expenditure.
It doesn't end there. Over and above the debt the airline took on, until March 2017, the government had poured equity of Rs 240 billion into Air India to keep it going.
The aviation minister is right. Who would want to buy Air India?
Well, turns out, InterGlobe Aviation - the company that operates IndiGo Airlines - would. As per Livemint, the first formal expression of interest after the Union cabinet formally approved the privatisation of Air India came from IndiGo.
What would you call this move from the management of InterGlobe? Ambitious? Aggressive? Arrogant?
You decide.
For our part, we recommended staying away from InterGlobe when its much-hyped initial public offering (IPO) hit the markets in late 2015. This was despite the fact that big investors like Rakesh Jhunjhunwala were backing the stock.
We felt there was downside risk to the earnings as well as the valuation multiples....
At the time, we said we wouldn't mind having another look at the firm once valuations came down to reasonable levels and we felt confident about the management's treatment of minority shareholders.
The current move does nothing to help our confidence.
And though the current InterGlobe Aviation share price is higher than its issue price, it also vindicates our need for a margin of safety while evaluating the IPO. For unexpected moves such as these have the potential to destroy value much faster than it can ever be made.
Editor's Note: Kunal and Rohan of Smart Money Secrets understand only too well when to follow big investors and when to not. With their new product offering, they borrow investment ideas from the forty-plus super investors they track. But they don't copy their ideas blindly. They employ a homemade screening tool to help develop their own conviction on super-investor stock picks. They call it the 'Smart Money Score' and designed it to rate the stock on parameters they consider most important for long-term, potentially multibagger, returns.
02:30

Chart of the Day

2017 started off on a brilliant note for aviation stocks. Crude prices had crashed. And lower cost of air turbine fuel suddenly changed the economics of the aviation business. In India, fuel costs account for a lion's share of operating expenses for companies like Spicejet and Jet Airways. Lower costs therefore meant the possibility of the companies reporting profits at least at the operating level. The stock of Spicejet, in particular, soared on the expectations of a turnaround in profitability.

To add to that, Buffett did something in the last quarter of 2016 that Buffett aficionados would consider unimaginable. He poured upwards of US$ 2 billion a piece into the four largest US airline stocks - American Airlines Group Inc, Delta Air Lines Inc, Southwest Airlines Co, and United Continental Holdings Inc. This took his total investments in these companies to a mammoth US$ 9.2 billion as of December 2016.

The interest in aviation stocks has dimmed since then. And with the only profitable airline in India, Interglobe Aviation (Indigo) showing the willingness to take humungous amount of debt on its books, we wonder if aviation stocks will continue to find takers.
A Good Year For Aviation Stocks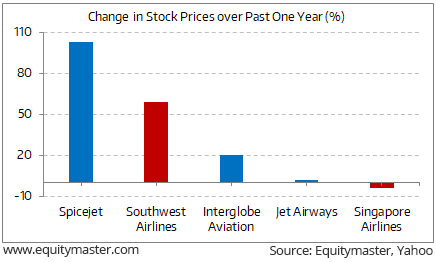 We are just a few hours away from the roll-out of the Goods and Services Tax. This is being touted as India's biggest tax reform since Independence.
Yes, GST is a much needed economic reform. It should eventually expand India's narrow tax base and increase government revenues. But it will have its fair share of chaos in the coming months. Protests and industrial strikes across the country over tax rates and compliance burdens will puncture the smooth functioning of the economy.
To add to that, the impact of GST on consumer price inflation (CPI) will hardly be benign. As much as companies would like us to believe that costs will not go up post GST, data from Australia, Canada, Japan, Malaysia and Singapore shows otherwise. The data from Bloomberg, published by Economic Times shows that each of these economies witnessed steep consumer prices in the months after GST. Of course, this will be a short term pain for a long term gain. But there is no denying that there will be quite a few hiccups on the way until GST gets fully operational.
Ankit just predicted yesterday, in The 5 Minute Premium, that CDSL could have Avenue Supermarts (D-Mart)- like listing gains.
And guess what? His prediction has come true. The stock is trading nearly 80% higher than the listing price.
Of course, the IPO of CDSL witnessed 170 times over subscription last week. And as Ankit explained was fetching a lot of interest in the IPO grey market as well.
Now, neither Ankit nor anyone else in our team considers themselves experts at predicting listing gains. Which is why we stick to a long term view on IPOs. And which is why our 'Apply' view on the IPO of CDSL was based on its fundamentals and valuations, rather than the possibility of listing gains.
Check out Ankit's views in today's The 5 Minute Premium, about what this means for retail investors.
And those of you still wondering whether to invest in IPOs, help is at hand.
Download our guide - How to Get Rich with IPOs
Indian stocks traded marginally lower today with the Sensex lower by 32 points at the time of writing. The BSE Mid Cap and Smallcap indices, however, were trading slightly higher and were placed higher by 0.1% each. Pharma, banking and commodity stocks elicited the maximum buyer interest.
04:55

Today's Investing Mantra

"One thing we haven't done is participate in auctions. I get books occasionally and the projections are just plain silly. Maybe that's why they don't sign them. I'd love to make a bet with the investment bankers about whether the companies achieve the earnings in the pitch books." - Warren Buffett
Today's Premium Edition.
Did CDSL Have a D-Mart-Like Listing?
Is it bad to invest in IPOs for listing gains?
Read On... | Get Access
Recent Articles