A Simple Trick to Protect Your Wealth When the Markets Correct... Sit on Your Hands
Jul 5, 2018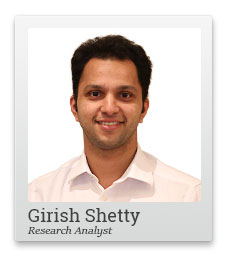 In the 80s, Pablo Escobar was the drug kingpin of Colombia and one of the richest men in the world.
I'm thinking about him now because I've been watching 'Narcos' on Netflix - a series based on the real life story of Pablo Escobar.
The series shows his rise... and subsequent fall... as one of the most notorious and feared criminals of all time - from bombing airplanes to killing civilians and cops alike, Escobar had done it all.
Escobar's growing stature and influence enabled him to approach the government and strike a sweet deal.
According to this deal, all his major criminal activities would be pardoned - apart from one petty crime - for which he would serve a jail term of five years. Escobar's 'jail' - was more like a resort, which he built for himself.
Unable to capture him or curb his ruthless violence any other way, the government agreed to his terms.
Imagine killing thousands of people and getting off so easy... All he had to do was lay low in that resort jail for five years, and he would have walked a free man...
But did he?
No. He couldn't stop himself, and killed some of his own men inside. He left the government of Colombia no choice but to go after him.
That was the beginning of the end for Escobar.
--- Advertisement ---


Proven Way to Get Cherry Picked Investment Ideas from 8 of Our Best Research Services…

Equitymaster Insider, one of our most popular services gives its subscribers around 1 cherry-picked investment idea from 8 of our premium services, every week …

That makes it around 48 investment ideas every year!

And for a limited time, you can join in at a special discount…

Click here for immediate access…
------------------------------
The difficulty in staying put - and constantly feeling the need to do something - is a commonly-felt human experience.
We are conditioned to be busy, look busy.
People associate doing nothing with being lazy.
It is wired in our behaviour to be doing something all the time.
We encounter this in the investing world as well.
When there is a correction, we feel the need to constantly monitor and do something with our portfolio - and end up making irrational decisions.
That's why we see people tuned into financial news channels 24/7 - waiting for updates on the stocks they hold; watching the tickers and charts and talking heads like they're lives depend on it.
Often, we tend to do the exact opposite of what we need to do.
Try going to someone for advice on a stock - just to see what happens. If the person says 'Do nothing' almost every time, he might just be the right person to guide you. On the other hand, someone who is giving you the latest 'hot stock pick' every day of the week is just the guy to avoid.
In the StockSelect service I focus my research on - we believe in the philosophy of 'Do Nothing When Nothing Needs to be Done'.
Recommending stocks just for the sake of it is just NOT something we do.
Here is what we did in the last one year when markets were at their peak...
| Recommendation Month | Recommendation |
| --- | --- |
| Jul-17 | Buy at Lower |
| Aug-17 | Buy at Lower |
| Sep-17 | Buy at Lower |
| Oct-17 | Buy at Lower |
| Nov-17 | Buy at Lower |
For five consecutive months, we did 'nothing'. We sat on our hands, basically, to prevent ourselves from doing something when nothing needed to be done.
We met managements, evaluated companies, studied financials, and then we asked subscribers to wait.
It was important to do nothing when nothing needed to be done.
News channels and brokerages were shouting 'buy' from their rooftops.
Our subscribers were pelting us with letters - Can we buy now? why aren't we giving a buy when the whole world is?
But we stayed put, and for good reason... Markets have promptly corrected since then.
And now we see value in some good quality stocks.
This year, then, we have a whole boatload of recommendations to go out and buy. Including some fantastic stocks where we had asked subscribers to wait.
But, we reiterate for you here, that employing this strategy is a must - do nothing when nothing needs to be done.
Or you might meet an end like Pablo Escobar in the investing world.
Chart of The Day
While, BSE mid and Small cap indices have seen a healthy correction, large caps have remained almost intact during the same period.
The recent weakness in the rupee versus the US dollar indicates further trouble for the market ahead. As seen from the below chart, when the Sensex corrected to its multi-year lows in March 2009, the rupee had also weakened by 21% in the past 9 months. Similarly, when Sensex hit an all-time high in January 2018, the rupee had been gradually strengthening over the past year.
Change in the Rupee and Sensex in the Past 10 Years
Post January, the rupee has been on a constant decline versus the dollar.
Increase in US bond yields has made it attractive for foreign investors. This has resulted in capital outflows from the Indian market. Past history has shown that any further weakening of the rupee will adversely impact the market.
But for investors, is it a matter of concern? If you have a horizon of 10 or more years, it shouldn't. As we can see from the chart, despite the rupee weakening by over 60% in the past decade, Sensex has also been up in the same period.
Regards,



Girish Shetty
Research Analyst, ValuePro
PS: Whether the market is up or down, when you are struggling with what you should do, Ankit Shah, the Equitymaster Insider, is with you ever day guiding you through stormy markets. To make sure you are never caught unawares, sign up for Ankit's daily premium newsletter. Click here.
Recent Articles