Why Super Investors are Underperforming in This Market
Jul 8, 2017
In this issue

» Capex Growth at the Lowest Since 1992
» One of the Biggest Insurance IPOs on its Way...Get Prepared
» Weekly Market Update
» and more!
We often mention Mohnish Pabrai in the context of checklists and coattail investing.
Pabrai has long been an advocate of adopting the strategies of acclaimed value investors. And since he's a fund manager himself, the litmus test lies in the performance of his fund.
A quick look at the numbers and Pabrai's investment strategy is a clear winner. During the sixteen years since inception in June 2000, his fund has yielded stellar returns of more than 400%, beating the benchmark indices by a wide margin (the S&P index was up 90% over the same period).
But it's worth noting Mr Pabrai has suffered years when the fund's gains were nearly wiped off. Yes, even super investors have periods of underperformance - not just weeks or months but years and decades!
It may be hard to believe, but with the exception of Warren Buffett, most super investors have underperformed 28-42% of the time.
Super Investor Underperformance (% of time)
| | |
| --- | --- |
| Warren Buffett | 7.7 |
| Walter Schloss | 28.3 |
| Tweedy Brownie | 31.7 |
| Charles Munger | 35.7 |
| Sequoia Fund | 40.0 |
| Pacific Partners | 42.1 |
Source: Superinvestors of Graham and Doddsville
Part of being a value investor means understanding that your portfolio will underperform at times.
The problem is most investors can't withstand these periods. They revert to chasing glamour stocks and the investing fads of the day. Especially in rising markets, like the current one, underperformance for even a few weeks or months tends to unnerve investors. And they give up on the most tried and tested value investing strategies.
Pabrai, however, has good news for value investors prepared suffer the pain needed to outperform...
Asked whether some investment strategies stop working as they reach a certain level of popularity, Pabrai offered this classic response:
As long as humans vacillate between fear and greed, there will be mispriced assets. Some will be priced too low and some will be priced too high. Mr. Buffett has been talking up the virtues of value investing for 50+ years and it has made very few folks adopt that approach.

So if the #2 guy on the Forbes 400 has openly shared his secret sauce of how he got there for all these decades and his approach is still the exception in the industry, I don't believe I'll have any effect whatsoever.
Rest assured that the proven value investing strategies will not stop working no matter how popular they get. And don't fret over periods of underperformance. Patiently sticking to the strategy will not only help recoup but multiply gains over the long term.
So, in an ironic twist, underperformance in the current market may well be the secret to long-term outperformance.
Now is not the time to give up on value.
Editor's note: Kunal and his team at Smart Money Secrets have noticed a period of relative inactivity among the Super Investors they track. Meanwhile, they are meeting some very niche and relatively untraced companies. These are the select few companies that have caught the attention of Super Investors in the midst of these heady markets.
02:10

Chart of the Day

Talking about market underperformance, there is no golden strategy to beat markets day in and day out.

This is because asset classes and strategies tend to wax and wane through periods of out and underperformance.

As a matter of fact, Warren Buffett's Berkshire Hathaway has lagged the market in one out of every three years. And many a times, the underperformance with the index fund was more than 10% and lasted for a significantly longer period of time. But the fund has emerged as a strong outperformer over the long term.

Berkshire Hathaway has consistently earned 20% for the last 51 years, compared to 10% returns earned by S&P 500 during the same period.

The secret to Warren Buffett's spectacular long-term run-rate is his ability to stomach short term under-performance.

In his own words,
The stock market is a no-called-strike game. You don't have to swing at everything - you can wait for your pitch. The problem when you're a money manager is that your fans keep yelling, 'swing, you bum!
In essence, he means that you don't have to do anything if you don't want to. Rather the focus should be on waiting for the perfect opportunity to strike big.
Today as the stock markets are scaling new highs each day, the need for such an emotional discipline is more than ever.
Warren Buffett's Long Term Returns Immune to Volatility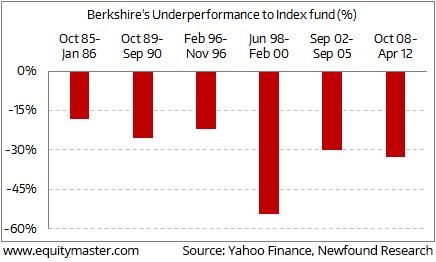 As I write this, the latest data on corporate capex that just came in, shows fresh investments hit a new low in fiscal year 2016-17. The combined capital expenditure (capex) by the country's top 1,000 non-financial firms, in terms of revenue, was up just 5.8% in FY17. So, the capex growth in FY17 was at the slowest pace since 1992. The previous low of capex growth was in financial year 1999-00, after the dotcom bubble in year 2000.
What this does is that it reconfirms our thesis of corporate earnings growth having literally bottomed out. Not that any and every company will soon see an earnings surge. But the best and the most resilient companies, with solid fundamentals and managements, certainly have a huge upside in earnings. We had highlighted few of the stocks that could lead the earnings wave in our Sensex 40,000 report last year.
Read more about Sensex 40,000 here.
After ICICI Prudential Life Insurance Co. Ltd, another major insurer may be about to hit the initial public offering (IPO) market soon. As per reports, insurance regulator IRDA has approved SBI Life Insurance Company's application for an IPO.
The company may be looking to raise in the region of Rs 70 billion by selling about a 12% stake, making it the largest such share sale by a life insurer in India. Note that SBI Life is a joint venture between State Bank of India (SBI) and BNP Paribas Cardif with the former owning a majority 70% stake and the later 26%.
It remains to be seen how the issue is priced, more so in light of the market expecting brisk growth from the company. And considering that the insurance business is quite a different beast compared to most other companies, valuation tends to be a tricky affair.
To understand this terrain, you may want to download our report - Handbook of IPO investing, which has a special section on valuation of insurance companies. This will help you demystify the complexities of the industry before you attempt to invest in insurance IPOs.
Crude oil prices fell by 4.5% during the week. The correction took place post the US government data reflecting that the production of crude oil and rig counts had risen.
This data comes at a time where the oil production of Organization of the Petroleum Exporting Countries (OPEC) have hit a 2017 high. The world economy is facing a situation of oil oversupply. An increase in production by the US, will not bode down well for the crude oil prices.
To keep a tab on the movements in crude oil and other commodities, you can read the stock market commentary from the Daily Profit Hunter team. Their commentary tracks the developments in the global economy as well as stock, currency and commodity markets.
Benchmark indices in the US ended the week marginally higher by 0.3%. Minutes from the Federal Reserve's last meeting released showed a lack of consensus on the future pace of US interest rate increases. Fed policymakers were increasingly split on the outlook for inflation and the economic growth in the US.
The US Federal Reserve's rate hikes generally have a negative impact on emerging economies. But India is currently seen as better equipped than other emerging markets to ride the impact of higher US interest rates. That's largely because of its stronger economic growth and impressive foreign exchange reserves of more than US$300 billion.
Only time will tell whether the Fed will increase their interest rates further or not. Meanwhile, we'll keep you posted on the latest developments on this front.
Apart from the Fed, the European Central Bank (ECB) also released the minutes of their latest meeting on Thursday. As per the minutes, ECB policymakers are open to a further step toward reducing their monetary stimulus. However, they are likely to move slowly on this decision out of fear of causing market turmoil. The stock markets in Germany and France gained by 0.5% and 0.5% respectively during the week.
Back home, S&P BSE Sensex gained 1.4% during the week. Major sectoral indices ended the week on a positive note with realty sector rallying the most and gaining 5.5% during the week.
Performance During the Week Ended 7th July, 2017
04:55

Weekend Investing Mantra

"It's far better to buy a wonderful company at a fair price than a fair company at a wonderful price." - Warren Buffett

This edition of The 5 Minute WrapUp is authored by Tanushree Banerjee (Research Analyst).
Today's Premium Edition.
Today being a Saturday, there is no Premium edition being published. But you can always read our most recent issue here...
Recent Articles