Sensex 300,000 by 2035?
Jul 11, 2017
In this issue

» GST Effect: Passenger Vehicle Sales Drop in June
» Robust Investment Inflows from FPIs and Domestic Mutual Funds in 2017
» Market Update
» And more...
Is India the USA of 1964 or the USA of 1981?
The answer holds the key to decoding the long-term returns of Indian equities.
If it's the US of '64, we better start praying. The period between 1964 and 1981 was one of the darkest for US equities. The US benchmark index spent this entire seventeen-year period going nowhere.
All that the stock market had to show for itself was a big fat zero. Meanwhile, the US economy grew nearly 5x!
So what's going on here?
Interest rates and corporate profits were mostly to blame.
Anyone who's done a bit of valuation analysis knows what interest rates do to valuations. They act on valuations like gravity acts on matter. The higher the interest rates, the lower the valuations. The impact on equities is not as visible as it is on bonds, but there is still an impact. A rising interest rate scenario is a big negative for every asset class.
Interest rates were really nasty in the US from 1964 to 1981. Government bonds, against which all interest rates are benchmarked, moved from just over 4% at year-end 1964 to more than 15% by late 1981, causing huge downward pressure on stock prices.
If this wasn't enough, by 1981, corporate profits as a percentage of GDP had tumbled to the bottom of their long-term band. Corporate profits tell you what portion of the GDP ends up with the shareholders of US Inc. And by 1981, they were the lowest in years.
So that's why US stock prices did what they did in the US for seventeen years starting in 1964.
Now, on the other hand, if the India of today is the US of 1981, then it's time for rejoicing.
It was this year that both parameters turned positive for US stock prices. While interest rates began their descent and settled at record low levels, corporate profits as a percentage of GDP went the other way and ruled at the upper part of the band.
And even though the economy grew just 3x, stock markets went up 10x from 1981 to 1998!
Moral of the story?
The economy does not have to be very strong for stock prices to go up. Even a moderately strong economy can support soaring stock prices - if there are structural changes in the economy that take interest rates lower and send corporate profits higher.
Which way do you think interest rates and corporate profits are headed in India?
Most of us probably agree that a flat stock market for the next seventeen years is a remote possibility. Interest rates aren't likely to go substantially higher from here. Nor are corporate profits likely to go significantly lower.
But what about the other scenario? Can interest rates head lower and remain there on a sustainable basis? Can corporate profits inch higher?
It would require structural reforms...an alteration of the basic landscape of the Indian economy. And there are some positive developments on this front in our view - GST not being the least of these.
With more structural reforms coming our way, could Indian markets do an encore? Could they go up 10x in the coming years?
Sensex 300,000 by 2035 anyone?
Don't count it out.
02:00

Chart of the Day

Uncertainties with regard to Goods and Services Tax (GST) pulled down sales of passenger vehicles (cars, utility vehicles and vans) in June. Domestic passenger vehicle sales declined by 11.2% to 198,399 units in June from 223,454 units in the same month last year, according to data released by the Society of Indian Automobile Manufacturers (SIAM). This is the first decline in six months as dealers avoided picking up fresh stocks from companies ahead of GST implementation with a view to avoid transitional loss. Similarly, this decline was the steepest fall in 51 months, since March 2013, when sales declined by 13%. Most players, including Hyundai, Mahindra & Mahindra, Toyota and Tata Motors, reported a decline.
Car Sales Hit GST Bump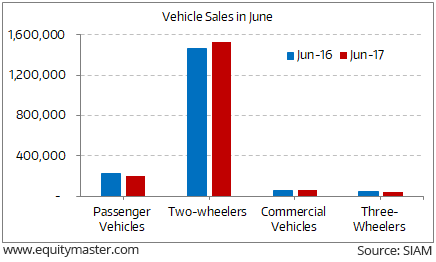 For many vehicle manufacturers, all of June went into stock rationalisation, especially at the dealer end, with most dealers focusing on liquidating their existing inventory so as to not carry it forward into July.
However, a 4% growth in two-wheelers helped the industry remain in the green. Three-wheelers have been weak since demonetisation and sales declined 25% in June to 36,491 units. Commercial vehicles also saw a muted performance and grew at just 1.44%
The overall automotive industry witnessed some volatility during the first quarter of FY18, as the market experienced uncertainty post the BS-IV transition issues and prior to GST implementation, and automakers, besides offering pre-GST discounts, made efforts to re-align inventories.
Nevertheless, the blip is expected to be temporary. With vehicle prices coming down post GST, low interest rates, attractive discounts and expectation of good monsoons will provide support to the industry.
As per an article in Business Standard, foreign portfolio investors (FPIs) and domestic mutual funds' investments in the equity market increased by 3.4 times at Rs 97,705 crore during the first half of the current calendar year (CY17). During the same period last year, FPIs and mutual funds pumped Rs 28,811 crore. Interestingly, mutual funds have been net buyers in the equity segment for the eleventh straight month, beginning from August 2016.
This has resulted in markets touching all time high with the BSE Sensex and the NSE Nifty trading at a PE of 23.3 and 24.9 times respectively. Not to mention, the benchmark indices rose more than 19% in 2017 thus becoming the best performing market globally on a year-to-date (YTD) basis. The continued flow of funds will further push markets into the overvalued territory, as fund managers will have to buy stocks even at higher levels, which will increase risk in the absence of earnings support.
With overseas money pouring heavily into these markets, there is no doubt that they will be negatively impacted by foreign fund selling. Similarly, if earnings don't recover soon enough, investors might start losing patience and the increasing participation of retail investors could get tested. India remains one of the few exciting economies in the world, but investors should consider if the valuation at which they are buying shares is justified.
After opening the day on a strong note, share markets in India have continued their positive momentum. Sectoral indices are trading on a positive note with stocks in the Auto sector and IT sector witnessing maximum buying interest.
The BSE Sensex is trading up 115 points (up 0.4%) and the NSE Nifty is trading up 40 points (up 0.6%). The BSE Mid Cap index is trading up by 0.44%, while the BSE Small Cap index is trading up by 0.1%.
04:50

Investing Mantra

"Great investment opportunities come around when excellent companies are surrounded by unusual circumstances that cause the stock to be misappraised." - Warren Buffett

This edition of The 5 Minute WrapUp is authored by Rahul Shah (Research Analyst).
Today's Premium Edition.
Fundamental View: This Small-Cap IT Company Is a Buy
How about investing in a steady, dividend-paying, small-cap IT company that has negligible exposure to the US markets?
Read On... | Get Access
Recent Articles