What's the Difference Between Direct and Indirect Plays? Answer: 882% Gains
Jul 13, 2017
In this issue:

» Retail Inflation Drops to Record Low
» Improvement in Financial Health of DISCOMs
» Market roundup
» And more!
These are exciting times for the Indian economy and stock markets.
As the economy stabilises after the wave of structural reform, we see no reason Indian markets can't go up 10x.
The question is: Which stocks will lead the way?
Don't count on current index stocks or large-cap companies to multiply your wealth ten times. Market cap and popularity have nothing to do with longevity and growth. Just look at the history of the Sensex's constituents.
The list of behemoths that have fallen from grace is long. And while some of these elephants may enjoy a smooth journey, they won't gallop fast enough to help you make the most of the bull wave in Indian equity markets.
Nor can you count on big trends (or themes) and direct plays on them. Think of aviation. India has seen a phenomenal rise in domestic air travel. The trend captures the essence of India's story - rising middle class, huge working age population, urbanisation, and consumerism.
Had you predicted this trend early and bet on the prominent players...you wouldn't have much to show for it. One of the most direct plays - Jet Airways - has averaged a mere 10% annual return over the last five years, underperforming Sensex.
What could you have done differently with this advance knowledge?
943%.
That's the return an indirect play on the aviation industry has offered over the last five years.
The company is Accelya Kale - a small-cap company you've probably never heard of unless you're a Hidden Treasure subscriber (recommended in March 2014).
Accelya Kale's stock has offered an average annual return of 61%, beating the returns of Jet Airways (10% CAGR), SpiceJet (29% CAGR), and the Sensex (13% CAGR) by a wide margin.
This is just one instance. As multiple positive changes sweep the economy and new-age businesses disrupt conventional business models, the prospects for indirect plays look great.
That said, with the kind of money that's entering Indian equity markets, these plays may not remain hidden from big investors for long, which would limit the upside. So you'll need to act fast.
To know more about these opportunities before everyone else catches on, refer to our special report, Backdoor Profits - The Small-Cap Way to Big Returns.
02:45

Chart of the Day

Let's now look at what's happening in the economy...Retail inflation measured by the Consumer Price Index (CPI) dropped to a record low of 1.54% in June. The drop was mainly on the back of a sharp drop in the prices of vegetables and pulses. Does this call out for a rate cut?
Retail Inflation on the Decline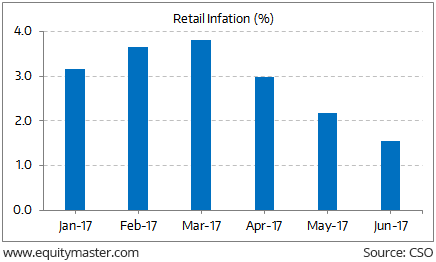 Food inflation has dropped from a high of 7.46% in June 2016 to a negative 1.17% in June 2017. The main reason for the fall was a bumper crop that led to an oversupply situation. This in turn has lowered the prices of the farm produce. No wonder farmers are protesting to increase the minimum support prices (MSPs). Rising imports too played a role in the falling food prices.
However, the number the RBI looks at is core inflation. Core inflation excludes food and fuel inflation. The positive sign is that this number too is on a declining trend. Components of core inflation such as health, amusement, education, and transportation have witnessed a consistent fall.
Falling core inflation bodes well for a rate cut in the upcoming monetary policy meeting on 2 August 2017. Subdued factory output data for May could also encourage the RBI to cut rates.
But a 25-basis point rate cut is not a given. The RBI, in its previous monetary policy meeting, raised concerns about the impact GST could have on inflation. It also cited fiscal risks from farm loan waivers. These risks still prevail.
At Equitymaster, we do not attempt to predict how and when macroeconomic developments will unfold. Instead, we focus all our energy on understanding the underlying business strength of companies. In fact, the ValuePro team is always on the lookout for all-weather stocks whose fortunes are not tied to economic cycles.
In a positive news on economic front, Central Electricity Authority (CEA) is drafting a plan for the power distribution companies (DISCOMs) to ensure an uninterrupted 24/7 power supply and improve the financial health of the DISCOMs.
The finances of certain DISCOMs have improved considerably post the implementation of the Ujwal Discom Assurance Yojana (UDAY) scheme. AT&C (aggregate, technical, and commercial) losses have reduced considerably. Not only this, many DISCOMs have taken tariff hikes leading to an improvement in their operational performance. Further, reduced interest costs, thanks to transfer of loans to their respective state governments, also improved cash flows.
As a result, DISCOMs are in a better financial position to purchase power from the power generation company. This would benefit the entire power sector.
Will CEA's new plan further improve the financials of the state distribution companies and help India achieve its goal of 24/7 uninterrupted power supply? Time will tell...
At the time of writing, S&P BSE Sensex hit the 32,000 mark. All sectoral indices are trading in green, with stocks in the FMCG & capital goods sector witnessing maximum buying interest. The BSE Mid Cap and BSE Small Cap index are trading higher by 0.3% & 0.4% respectively.
04:55

Today's Investing Mantra

"... it's a huge structural advantage not to have a lot of money. I think I could make you 50% a year on $1 million. No, I know I could. I guarantee that." - Warren Buffett

This edition of The 5 Minute WrapUp is authored by Richa Agarwal (Research Analyst) and Parth Parekh (Research Analyst).
Today's Premium Edition.
Urgent: Apurva Just Made a Bold Prediction
Is this the best contrarian trading opportunity right now?
Read On... | Get Access
Recent Articles