What It Takes to Pick Stocks Like Ambika Cotton Today
Jul 17, 2017
In this issue:

» The Rally in Commodity Companies Could Just Be Getting Started
» Is There an Opportunity with PSU Banks Looking to Consolidate
» Market roundup
» ...and more!
Every sentence...
Every word...
Every syllable...
...that comes from the mouth of the 'Oracle of Omaha', Warren Buffett, is considered gospel truth.
But sometimes this excessive hero worship can result in missed opportunities.
Let's take this Buffett quote for example...
When a management with a reputation for brilliance tackles a business with a reputation for bad economics, it is the reputation of the business that remains intact.
What is Buffett implying here?
In most circumstances, regardless of management competency and efforts, an inherently poor business will remain poor; managements come and go.
Well, he is right...under most circumstances.
Under what circumstances isn't he right?
When Mr Market labels a business a commodity company - when, in fact, that business possesses non-commodity characteristics - and he mistakenly assigns it a poor valuation.
Take the case of Ambika Cotton Mills. We recommended it in ValuePro in February 2016 (subscription required) because we believed it was mispriced. We called it The Textile Business Even Buffett Couldn't Resist.
Here was a company with competitive advantages. For example, the company possesses supply advantages for its raw material, a unique and superior variety of cotton that it uses to make high quality yarn.
However, Mr Market valued the company as a commodity company.
Unless you accept there are exceptions to what Buffett says...you would have missed the opportunity to create long-term wealth alongside this company's fabulous owner-operator.
Super Investor Howard Marks provides us with a useful construct to evaluate stock ideas.
If your behaviour and that of your managers is conventional, you're likely to get conventional results - either good or bad. Only if your behaviour is unconventional is your performance likely to be unconventional... and only if your judgments are superior is your performance likely to be above average. - Howard Marks
My solution for fanatical hero worship is to have a wide range of role models. What would Benjamin Graham do? What would Buffett do? What would Marks do? Asking these questions for a number of super investors can keep you from becoming a blind devotee.
Although Kunal and I are in full agreement on the merits of coat-tailing Super Investors, we know even these extraordinary individuals have their flaws and blindsides.
That's why we look for stocks in which a Super Investor has taken a contrarian bet and then deep dive into the investment idea with independent research.
It's also why we follow Super Investors with different investment styles and philosophies. This helps us avoid fanatical hero worship and authority bias. To that end, we also developed our own framework for assessing opportunities in the markets.
Our proprietary filtering tool, the Smart Money ScoreTM, forces us to assess each opportunity individually and act only when the odds are loaded in our favour.
Come join us in our mission to get in early and 'ride sidecar' with these investing gurus.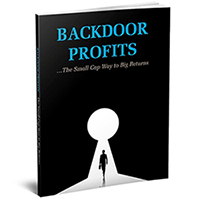 Editor's Note: Kunal and I are assessing a potential third Super Investor stock recommendation for our Smart Money Secrets subscribers. If it clears their stringent filters, we could recommend the stock soon. Stay tuned.
My colleague Richa Agarwal, Editor, Hidden Treasure has come out with a special report that looks at potentially lucrative stocks that are equivalent to companies benefitting from industry tailwinds. These are proxy plays on select industries. The project is titled Backdoor Profits. A recommended read. Claim your copy of the report now.
03:10

Chart of the Day

The markets are at a life time high. They have been overlooking the short term negatives and are continuing their upward trend. Now, if we look at the current GST regime it has created a lot of uncertainties, at least for the time being.

The GST implementation may impact the near term earnings of the companies however, the street expectations are that earnings are expected to go back to the normal and benefit from this structural change. In fact, it is expected to be a big support to the depressed earnings of the organised listed Indian companies.

One of the biggest advantages GST is expected to offer is the shift of the market share from the un-organised players to organised players.
Is the Recovery in Commodity Businesses Just Getting Started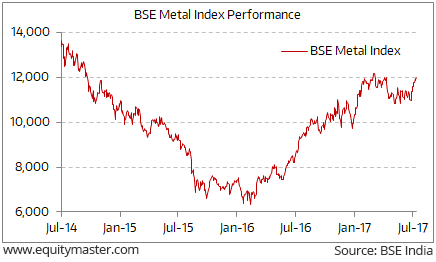 One of our Super Investor, Kenneth Andrade expects organised players in the commodity sector to benefit from this trend. In one of his interviews with Quint. This is what he had to say:
One of the things that has been talked about is the transfer of market share from the informal, unorganized business to the organized business. You see a disproportionate amount of that coming through in commodity businesses where you have a lot of MSMEs or small scale businesses, as they struggle to deal with compliance. So, a lot of these companies may not grow capacities to address the market in the near term and that's the opportunity left for the organised business.

This is one segment of the market where you will see high growth in volumes relative to industry. You will also see profitability surpassing historical trends.
Now, if we look at the BSE Metal Index after a decline in 2016 it has recovered and majority of the participants have given exceptional returns from their lows.
However, now with the GST and the tailwinds for the organised listed players the big question is - Is the recovery in such commodity plays a temporary phenomenon or just the beginning?
The government is making focused efforts in improving the performances of many of its Public Sector Undertakings. It has also come out with numerous initiatives such as the consolidation of some of the smaller state bank of India undertakings into one large State Bank of India. Now, after this Merger, the government is looking to further consolidate its 21 public sector banks into 10-12 in the medium term.
According to live mint, the government is also working on a consolidation agenda with a view to create 3-4 global-sized banks so as to thus reduce the number of state-owned lenders to about 12.
Now, the consolidation in the PSU banking sector, the mega merger in the Oil and Gas Sector and the possible sale of Air India has infused some positive activity in the lurched PSUs. With the subdued valuations and the support of consolidation across sectors, the PSUs may see some re-rating. While, this seems like a good opportunity to buy into these PSU. However, we believe, a thorough research and further clarity is warranted on how the government would tackle the biggest issue plaguing these banks. i.e. bad loans. This would be necessary to separate the proverbial wheat from chaff.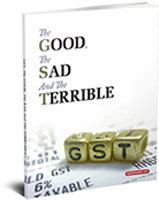 The Goods and Services Tax (GST) became the order of the day at the start of this month. And all these months we have been subjected to a relentless propaganda by the government and the supporters of the GST, on how it will change our world, only for good.
Our colleague Vivek Kaul, has studied the finer aspects of the GST and predicted what could go right and wrong. The report is titled The Good, the Sad and the Terrible (GST). Claim your own copy of his special report now.
After opening the day on a positive note, have continued their positive momentum. All sectoral indices are trading in green, with stocks in the information technology sector & metal sector leading the gains.
At the time of writing, BSE Sensex is trading higher by 57 points (up 0.2%) while the NSE Nifty is trading higher by 20 points (up 0.2%). The BSE Mid Cap index is trading down by 0.1% while BSE Small Cap index is trading up by 0.1%.
04:55

Today's Investing Mantra

"I insist on a lot of time being spent, almost every day, to just sit and think. That is very uncommon in American business" - Warren Buffett

This edition of The 5 Minute WrapUp is authored by Rohan Pinto (Research Analyst) and Kunal Thanvi (Research Analyst).
Today's Premium Edition.
The Fundamental Side of Our Latest Pharma Pick
This bluechip pharma stock has corrected 46.5% from its peak. Should you buy now?
Read On... | Get Access
Recent Articles