When a Dart-Throwing Monkey Beats a Great Value Investor
Jul 18, 2017
In this issue:

» India's Trade Deficit Widens
» GST Council Raises Cess on Cigarettes
» Market Roundup
» And More...
If you are a bottom-up stock picker and proud of your portfolio's performance in recent years, here's a sobering fact: A dart-throwing monkey has done significantly better than you.
This is according to a study I recently conducted. No, I didn't use a monkey. I used automation...namely, Microsoft Excel. Call it the tech equivalent of a dart-throwing monkey.
Here's the result...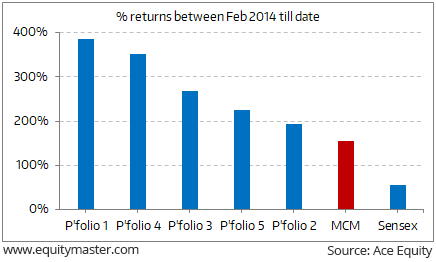 We created five random portfolios of twenty stocks each. And lo and behold, all of them outperformed the Sensex by a big margin.
These were all buy and hold portfolios. The only condition was a minimum company topline of Rs 2 billion.
Why did we choose February 2014 as the start date? To sync it with the inception of our Microcap Millionaires service.
Tell you what, Microcap Millionaires stands exposed.
While the service has done exceedingly well vis-à-vis the Sensex, even the worst performing of the five random portfolios outperformed the service.
Adhering to Graham has backfired. The Father of Value Investing is no match for a dart-throwing monkey.
So what's going on here?
Blame it on the ongoing small-cap bull market on steroids. Small and mid-caps have done so well over the past three to four years that it was almost impossible not to make lots of money betting on small caps.
It's been a one-way street for these stocks. The BSE Small-Cap Index itself is up 150% since February 2014.
Now, before you throw the Microcap Millionaires rulebook into the dustbin, a couple of very important points...
First, the random portfolios have no sell rules. So when markets or individual stocks correct, chances are the portfolios will give up all their gains.
You need to sell before the gains disappear. And a definite sell rule ensures those huge paper profits turn into real portfolio gains.
Point number two: The random portfolios assume a 100% exposure to equities from start to finish. However, a portfolio's equity exposure could be anything from 0% to 100%.
Unless you know how much equity exposure to take and when, you could well miss a bull market of a lifetime. Market sentiment in 2014 was so negative that many investors would have been entirely out of equities.
Microcap Millionaires takes care of these issues. It has a definite sell rule, and it tells you exactly how much stock exposure to take at any given point.
A bonus point: Unlike the random portfolios, Microcap Millionaires' profits are already booked. Our subscribers have already converted much of their paper profits into real wealth.
There's no denying Microcap Millionaires is underperforming. But it has a well-defined, battle-hardened process that the random portfolios lack. And this is what gives us confidence it will beat its monkey-brained brethren over the long run.
If your heart too is swelling with pride over your stock picks in recent years, consider that your winners could be more luck than genius. And do implement a sell rule soon to convert that luck into profits and ensure you are not significantly overexposed to equities should a bear waiting around the corner for these unsuspecting monkeys.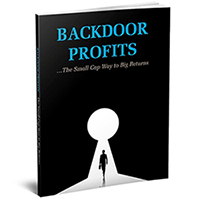 PS: Our colleague Richa also believes in a well-defined process. Her phenomenal track record in in the small-cap space over an entire market cycle - not just since 2014! - is proof enough.
With her latest project, she is looking at stocks that are benefitting from industry tailwinds. She calls them 'perfect proxy plays'. Claim your copy of her new free report - Backdoor Profits - today.
02:00

Chart of the Day

Benchmark indices are trading at a record high. The NSE Nifty touched 9,900 mark for the first time ever on Monday. However, earnings growth and other high-frequency indicators don't quite match the optimism in the stock markets. First, manufacturing PMI data slipped to a four-month low in June. As per the survey report, challenging economic conditions and the implementation of the GST reportedly hampered growth.

Now, we have import-export trade data. As per June data, India's exports slowed to a four-month low in June. Exports grew 4.4% to US$23.5 billion. On the other hand, imports rose faster at 19% to US$36.5 billion. Higher imports widened the trade deficit to US$12.95 billion in June 2017 from US$8.11 billion in June 2016.
Trade Deficit Widens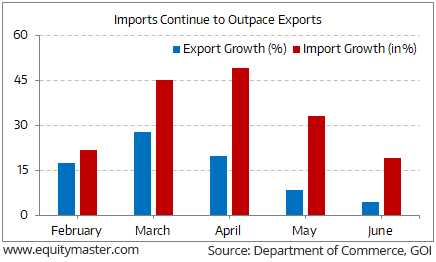 The currency impact in terms of a stronger rupee is hurting exports. Not to mention, GST also added to decline with exports stuck due to confusion over customs rules under the GST. As per Ganesh Kumar Gupta, President of Federation of Indian Exports Organisation (FIEO), export growth in June 2017 is of concern as 15 out of 30 major product groups showed a fall. Sectors such as pharmaceuticals, leather and gems & jewellery witnessed a fall in exports.
On the contrary, Petroleum, electronic goods, coal, gold, pearl as well as precious and semi-precious stones drove up June's imports and contributed to higher trade deficit in June.
It is important to note that exports are a means to finance imports while keeping the trade deficit and external borrowing within manageable proportion. Similarly, exports provide an external market and is considered as a driver of economic growth. India cannot aspire to sustainable high growth without a dramatic transformation in its export performance.
Weeks after the Goods and Services Tax (GST) was implemented, the prices of cigarettes are set to go up. The GST Council headed by Finance Minister Arun Jaitley on Monday decided to increase the cess on cigarettes.
There are three components of tax on cigarettes - a 28% GST rate plus a cess that has an ad valorem rate of 5% and a fixed rate depending on the length of the cigarette. While the first two components remain unchanged, the third is being tweaked. The revision in the tax rate will lead to Rs 50 bn gain to the government on an annual basis. With this, the GST Council meeting has shown its inclination and flexibility to take quick decisions.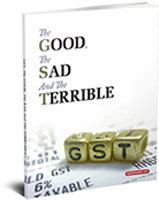 The GST became the order of the day at the start of this month. The overall impact of it is going to be a little bit more nuanced than what is being written and talked about currently in the mainstream media.
Our colleague Vivek Kaul, has studied the finer aspects of the GST and predicted what could go right and wrong.
Download his special report - The Good, the Sad and the Terrible (GST).
Today's paper reports that SBI Life Insurance, a joint venture between the State Bank of India (SBI) and BNP Paribas Cardif, filed its draft red herring prospectus with the Securities and Exchange Board of India (SEBI).
According to the offer document, SBI holds 70.1% and BNP Paribas 26% in the life insurance company. SBI, the country's largest bank, is selling up to an 8% stake, or 80 million shares, in the unit as part of the IPO. BNP Paribas group is selling up to 4% stake.
Whenever the IPO details are out, expect us to review the same and publish our recommendation. In the meantime, if you want to know more about IPOs, whether they are right for you, I strongly recommend you download our special report - How to Get Rich with IPOs.
Indian equity markets opened the day weak and continued to slip deeper in the red. At the time of writing, the BSE Sensex was trading lower by 240 points and the NSE Nifty was lower by 53 points. Both the mid cap and small cap indices are trading down by 0.1%. The sectoral indices have opened the day on a mixed note with auto stocks and pharma stocks leading the gainers while FMCG stocks and Oil & Gas stocks in the red.
04:55

Today's Investment Mantra

"The stock market is a no-called-strike game. You don't have to swing at everything - you can wait for your pitch." - Warren Buffett

This edition of The 5 Minute WrapUp is authored by Rahul Shah (Research Analyst) and Sarvajeet Bodas (Research Analyst).
Today's Premium Edition.
A Proven Strategy to Lose Everything in the Stock Markets
These three rules of investing are simply non-negotiable. Period.
Read On... | Get Access
Recent Articles