How to Beat Sensex 3x in a Bull Market (And Protect the Downside)
Jul 20, 2017
In this issue:

» Are the Solar Developers Being Way Too Aggressive in Their Bids?
» ONGC - HPCL Deal : The Road Ahead
» Market roundup
» And more!
Yesterday, Taha wrote to you about how - despite the ongoing bull run - investors are getting less earnings per rupee invested in stocks.
However, with the economy emerging from major structural bottlenecks, earnings may at last be reverting to the mean. And for companies that can make a smart comeback, it could mean a new stage to this long bull run.
But what about the businesses where earnings may not revive? Do you know for sure if the stocks you have selected are the perfect turn around or growth candidates?
The Indian economy is undergoing a massive structural change. Technology is changing in a blink. Everyone is gung- ho about the new opportunities these changes are creating. However, they are ignoring the complete picture.
The complete truth is that the wave of disruption will be equally devastating for a lot of existing businesses. While markets may go from 30k to 40k and eventually 300k, not every business that exists today will thrive...or even survive. No sustained bull market will support the valuations of the ones that don't. Eventually, they will have a nasty fall.
Have you priced in this disruption and uncertainty?
If you think your stock selection is disruption proof, here is a reality check...
Kodak was one of the twentieth century's most dominant brands. But starting in the late 1990s, it struggled to contend with digital disruption and finally went bankrupt in 2012.
Just Dial is facing a similar challenge today from the onslaught of smartphone applications.
We are consuming more, buying more, travelling more. Financial inclusion too has improved. Yet, the ground is shifting below the companies that would have been clear beneficiaries a decade ago. Organised retailing is facing disruption from ecommerce. Traditional banking is facing competition from Paytm, payment banks, and even mobile operators. Oyo and asset-light players are taking on traditional hotels. And so on...
The wave of disruption is engulfing everything.
So how can you invest to make the most of the bull run and yet protect your capital in uncertain times?
This objective is the heart and soul of Rahul Shah's Microcap Millionaires.
Rahul does not believe in forecasting earnings, which he says offers a false sense of security.
Rather, he is much more interested in knowing whether the business offers a sufficient margin of safety based on its existing business model, existing earnings.
He is not looking for the next 10-bagger. He is looking for the next 2-3 baggers that don't do much harm to the overall returns even if some of them go down.
Here's Rahul:
Microcap Millionaires' results aren't only the result of stock picking. It's a combination of factors that, together, give the service its power.

Apart from the stock to be bought by itself, it's also about the suggested proportions in which the stock has to be bought. These proportions are designed to ensure that stocks that end up being money losing positions don't do too much damage. Dynamic fixed deposit exposure is another important feature that drives the service's results.

...

Doing things right is no guarantee of a gain every single time. What the service ensures is that over the course of numerous stock picks, we will be more right than wrong. And the net result will be positive.
Since inception (in February 2014), the service has offered strong 152.4% returns, beating Sensex by a fabulous 101.1%. With a well-defined process, Rahul is confident he and his subscribers can navigate the bull run and the disruptions for outstanding gains.
02:45

Chart of the Day

Of the many industries facing disruption, energy sector tops the list. It's not just the oil and gas prices. The rise of renewable energy, especially solar energy, is an emerging threat for conventional energy companies.

Does this mean every direct player in solar sector stands to gain?

We don't think so. In India itself, solar tariffs are dropping to record lows. Solar developers recently bid a record low tariff of Rs 2.44 per unit. With average tariffs for thermal plants hovering at Rs 3.2 per unit, solar tariffs are nearly 25% cheaper.
Will the Solar Energy Revolution Benefit Direct Players at These Tariffs?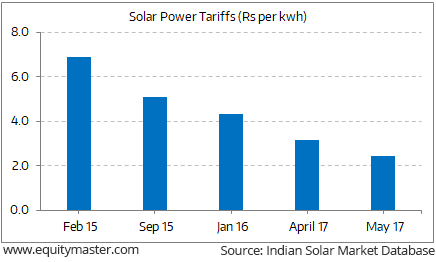 As the solar developers get aggressive to win bids, we wonder if the projects are even viable at these ultra-low rates.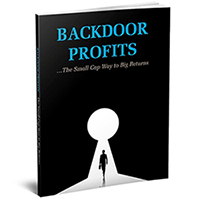 This is another example where rise in an industry may not benefit the direct players. That said, there could be some indirect players that could gain from the government's ambition to add 100 GW of solar power capacity till 2022.
These indirect companies, that stand to gain from supplying to a rising trend or direct players are what Hidden Treasure team hunts for. In a recent report, we have uncovered a batch of small caps that could lead to what we call 'backdoor profits'. Download a copy of our new FREE report, Backdoor Profits - The Small-Cap Way to Big Returns, to know about these stocks.
In another interesting development in the energy sector, decks have been cleared for the creation of an oil giant as the cabinet has approved the merger deal between Oil & Natural Gas Corporation (ONGC) and Hindustan Petroleum Corporation Ltd (HPCL). As per the deal, HPCL will become a subsidiary of ONGC (the latter will acquire a controlling stake in the company from the government).
The stake sale will swell the government's coffers by nearly Rs 300 billion. This will help government achieve its divestment target of Rs 725 billion in the current fiscal and maintain the fiscal deficit at the desired level of 3.2% of gross domestic product (GDP).
But what lies ahead for the merged entity?
One must know that ONGC is mainly in the business of oil exploration, while HPCL is engaged in refining of crude oil and marketing of petroleum products.
A fall in the oil prices has dented the profitability of oil exploration companies such as ONGC. The merger with a downstream company will help ONGC de-risk its business. ONGC will also benefit from the huge fuel retail network of HPCL.
Not only this, the merged entity will be better placed to face the competition from the private players. It could improve financial muscle and risk-taking ability as the merged entity bids for international projects and acquisitions.
For a consolidated entity, the volatility in oil prices would be automatically hedged (low oil prices hit revenue of producers and higher prices hurt fuel refiners). Further, from a fuel pricing point of view, this could mean a less competitive environment.
That said, the move, if not executed well, could lead to complexities and integration issues instead of synergies. Most importantly, its success will depend on the kind of autonomy and operational freedom the merged entity is given.
At the time of writing, Indian share markets were trading below the dotted line. Losses were largely seen in metal stocks, software stocks, and auto stocks. While, capital goods stocks and bank stocks traded in green.
04: 55

Investment Mantra of the Day

"Risk comes from not knowing what you're doing." - Warren Buffett

This edition of The 5 Minute WrapUp is authored by Richa Agarwal (Research Analyst) and Parth Parekh (Research Analyst).
Today's Premium Edition.
One of Rahul's Microcap Millionaires Picks Has Caught My Attention
And I want to reveal it to you. Before I do, I want you to know fully well how Rahul's Graham-style stock-picking system works.
Read On... | Get Access
Recent Articles