Two Sectors Offering Value Right Now
Jul 24, 2017
In this issue:

» Wider Tax Base Due to GST Could Mean Higher Future Tax Revenues
» IMF Expects India's GDP growth to Accelerate in 2018-19
» Market roundup
» ...and more!
In these heady markets, stocks seem to going only in one direction - up. FOMO pervades the street. And the consensus seems to be factoring in more than just steady earnings growth. The narrative being spread around India is that the opportunity is huge and future consumption comparable to advanced economies.
While the narrative is true, most businesses right now are priced beyond the comfort zone of a cautious stock picker. The best businesses are not offering the best prospective returns.
So where do you go from here?
One option is to prune your holdings and remain in cash. But that's easier said than done when you see stocks shooting up 10-20% on daily basis. It takes an emotional toll.
Enter Sir John Templeton, one of our Super Investors and a champion of investing in stocks at the 'Point of Maximum Pessimism':
'People are always asking me where the outlook is good, but that's the wrong question,' Templeton explained to Forbes in 1995. 'The right question is: 'Where is the outlook most miserable?'

In almost every activity of normal life people try to go where the outlook is the best. You look for a job in an industry with a good future, or build a factory where prospects are best.

But my contention is if you are selecting a publicly traded investment, you have to do the opposite. You're trying to buy a share at the lowest possible in relation to what that corporation is worth. And there is only one reason a share goes to a bargain price. Because other people are selling. There is no other reason. To get a bargain price, you've got to look for where the public is most frightened and pessimistic
The principle at work here is mean reversion. Rather than chase price momentum, look for temporary setbacks or an unwarranted negative consensus and make selective bets.
And where might you find such bets in the Indian markets right now?
They are most visible in the IT and pharma sectors.
But be forewarned: Some of the depressed prices in these sectors are due to genuine business model failure and serious regulatory issues. You still need to be extremely choosy.
That's what a number of the Super Investors we track are doing.
They are betting on stocks where uncertainty abounds. Where the headwinds seem to be temporary. And where Mr Market has been overly harsh.
The Smart Money Secrets team is about to recommend a company that seems to be at the point of maximum pessimism and set for mean reversion.
Join Smart Money Secrets before midnight tonight to avail of our special offer, we will send you the recommendation report for our new 'pessimism pick' once it is ready.
Don't Miss it...
03:10

Chart of the Day

The current GST regime has created a lot of uncertainties, at least for the time being. On the corporate earnings front, the GST implementation may impact near term earnings of the companies however, over a long run, the market expectations are that earnings would normalize. In addition, it is expected to be a big support to the depressed earnings of the organised listed Indian companies.

Already, there are some interesting changes visible on the ground. According to an article by Livemint, the number of registered tax payers under the goods and services tax (GST) till date is set to exceed those in the previous indirect tax regime of value-added-tax etc. Reportedly, around 7.95 million applicants have sought GST registration. That is 99.3% of the 8 million tax base under the earlier system comprising of assesses of state value-added tax (VAT), service tax and central excise duty.
India's Tax Revenues to Get a GST Boost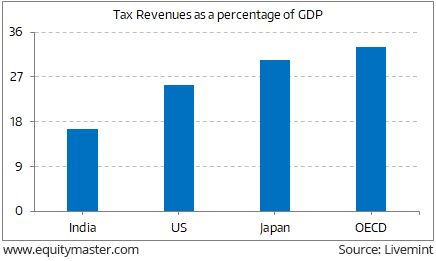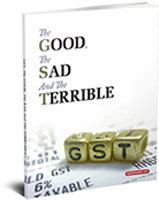 Implications of this increase in tax compliance and widening of tax base is clear. India's tax revenues will get a much needed boost in the coming future. This augurs well for the country that has one of the lowest tax revenue as a percentage of GDP compared with other countries. We believe this higher tax revenue receipt will help bolster the country's financials and also provide further ammunition for the government to spend on social welfare and providing additional infrastructure to its citizens.
A wider tax base will also allow the government to lower its tax rates in future. After studying these and other finer aspects of GST, our colleague Vivek Kaul, has penned his views on what could go right and wrong. Get a balanced perspective on the entire GST saga from Vivek. The report is titled The Good, the Sad and the Terrible (GST). Claim your own copy of his special report now.
As the macro story for India seems to be changing for the better, the economy is getting vote of confidence from the global agencies. International Monetary Fund (IMF) has retained growth estimates at 7.2% for India. This compares to a growth rate of 7.1% per annum. While this may look lower than 8% growth in 2015-16, one must consider the impact of demonetization.
In comparison, China's economy is projected to grow by 6.7% in 2017 and 6.4% in 2018.
IMF expects India to grow at a faster rate than China. While this sounds good, Indian economy cannot afford to be complacent at this stage.
You see, the global economy is facing the battle between machine and man. And it is automation that is taking a clear lead. The nations that harbor the ambition to grow well in future will need to have the technological muscle to participate in the race.
And India cuts a sorry figure in this regard.
While we may gloat over our edge over China when it comes to low-cost labour, China is in a different league altogether when it comes to automation. In fact, India is lagging way behind compared to other developing economies. Compounding these issues are the infrastructure and logistics deficit.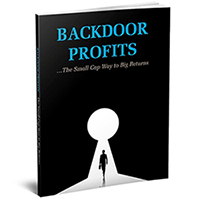 As analysts, rather than focusing on these macro projections, we are interesting in spotting businesses that will not only withstand the wave of automation, but emerge stronger.
Our latest report on Backdoor Profits includes one such small cap company that is taking full advantage of robotics. It is not just keeping pace, but setting new trends when it comes to using technology to stay way ahead of the curve.
After opening the day on a positive note, share markets in India traded marginally higher. All the sectoral indices traded in green with consumer durables' stocks and software stocks leading the gains.
At the time of writing, BSE-Sensex is trading higher by 54 points and NSE-Nifty is trading higher by 15 points. S&P BSE Mid Cap and S&P BSE Small Cap are trading up by 0.1% and 0.4% respectively.
04:55

Today's Investing Mantra

"Only when you combine sound intellect with emotional discipline do you get rational behavior." - Warren Buffett

This edition of The 5 Minute WrapUp is authored by Rohan Pinto (Research Analyst) and Richa Agarwal (Research Analyst).
Today's Premium Edition.
Three Things You Must Know Before Investing in Bitcoin
Cryptocurrencies have seen a phenomenal rise in price and popularity. But would you like to throw caution to the wind?
Read On... | Get Access
Recent Articles