Insider Reveals Everything: What's Your Verdict?
Jul 29, 2017
In this issue:

» Equitymaster's All Time Top Five Stock Picks
» Crude Prices Firm up to Two-Month High
» A Round up of the Week's Market Action
» ...and more!
This week has been full of drama.
My latest project has made me the subject of allegations, scandal...
Rahul Shah accused me of sneakily 'leaking' Equitymaster stock ideas to my readers.
Richa said I'd 'gone rogue'.
Tanushree called my project straight up 'daylight robbery'.
But I don't mind...
You see, I strongly believe I've pulled off the greatest 'jugaad' of my career.
Bear with me for just 60 seconds, and I'll explain everything. And then let you decide...
So here's my side of the story...
As I explained on Thursday, I come from a value-conscious bania family. Since I was born, I've literally been programmed to seek out value.
What can I tell you folks? My genes demand more bang for the buck.
For me, value investing is not just about picking stocks...
It's about who I am and how I live...
It guides everything I do.
Nothing more so than my latest project.
But I must say, it hasn't been easy. When I first presented my idea, my colleagues were, shall we say, skeptical.
My CEO was downright annoyed.
It took a lot of explaining, convincing...pleading...to finally get them on board...
But in the end folks, value always wins! Remember that.
And now that they see the value of my 'bania buddhi', they're changing their tune. No longer the 'rogue' analyst, I'm now some kind of financial Robin Hood!
Maybe...
The fact is I won't stop providing my readers with the best stock ideas I have access to.
So here is the best 'jugaad' of my career...
Introducing Equitymaster Insider...
Yes, that's the name of my latest project.
It's very fitting...
You see, I have access to almost all the research that is published here at Equitymaster.
And now I am at full liberty to cherry-pick the best investing ideas and share them with my Insider list.
And this is just the start of what Insider gives you...
When I explained everything I wanted to give my readers, at first, my CEO balked at this idea: You want to put me out of business?
But the value was undeniable. And he finally agreed to let me have access to this valuable information...and provide my readers with the best ideas from the Equitymaster research network.
Now, before my CEO changes his mind, here's your chance to get your name on my Insider list.
Click here to learn exactly what my Insider readers will have access to.
02:40

Chart of the Day

Over the years, we've had a number of multibagger stock ideas under our various services. Today's chart of the day depicts our top five stock picks.
Equitymaster's All Time Top Five Stock Picks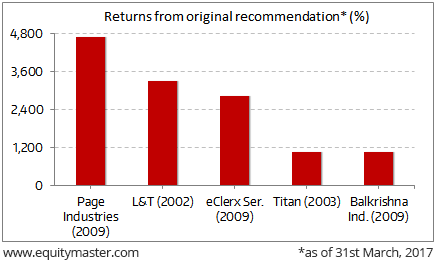 The chart barely scratches the surface. Other top picks include Infosys, TCS, NIIT Tech, Titagarh Wagons, City Union Bank, Sun Pharma etc with gains much in excess of 400% each.
We of course have had our share of losing picks too, but we aim for our good calls to outnumber our bad ones by a huge margin.
And we're proud to say that, so far, that's been the case. Across services, the track record of winning picks has been between 70% and 80%.
We are talking pretty long term here. In fact, one of our services - StockSelect - recently completed fifteen glorious years with an impressive 80% success rate. In other words, for every ten recommendations, eight hit their price target within the expected timeframe.
Global financial markets ended the week in the green with most of the indices ending in positive territory. Barring Germany and Japan, all the indices were gainers in the week gone by. The buoyancy was led by the US Federal Reserve's decision to keep its benchmark interest rate unchanged at a time of low inflation, which remains persistently below the Fed's target level.
The Fed noted that inflation has stayed undesirably low, even though the job market keeps strengthening, with the unemployment rate just 4.4%. The central bank decided to leave its key rate unchanged in a range of 1% to 1.25% after having raised rates twice this year in March and June.
Meanwhile on the commodities front, crude prices firmed up remarkably reaching two-month highs of US$ 49.6 a barrel and posting the strongest weekly gains this year.
The traction in crude was in response to steeper than expected fall in the US fuel inventories. Even the world's largest exporter and OPEC's de facto leader, Saudi Arabia has said that it planned to cap crude exports to 6.6 million barrels per day (bpd), about 1 million bpd below the level last year. This further strengthened crude prices during the week.
Back home, Indian stock markets continued to climb higher and ended the week at record high levels.
Most of the indices, barring auto and pharma posted gains in the week gone by. Banking, power and telecom were the biggest gainers.
Performance During the Week Ended 29th July, 2017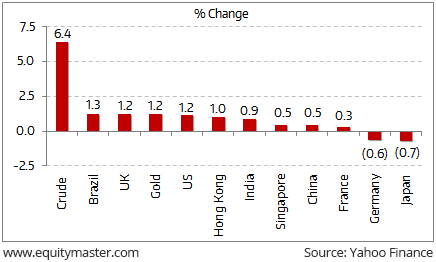 04:56

Investment Mantra of the Day

'Unless you can watch your stock holding decline by 50% without becoming panic-stricken, you should not be in the stock market.' - Warren Buffett

This edition of The 5 Minute WrapUp is authored by Ankit Shah (Research Analyst) and Taha Merchant (Research Analyst).
Today's Premium Edition.
Today being a Saturday, there is no Premium edition being published. But you can always read our most recent issue here...
Recent Articles