Smart Money Alert: Super Investor Bets Big on Mean Reversion
Jul 31, 2017
In this issue:

» What Next for 'Window Dressed' Public Sector Banks?
» Public Spending Gets a Leg-Up
» Market Update
» And more...
Indian stock markets are at life-time highs. Both the Sensex and the NIFTY are factoring in EPS (earnings per share) growth of around 45% over the next two years. Everybody is optimistic and stocks are selling far above their intrinsic value.
As the aam investor has turned greedy, our Super Investors have gone cautious.
In fact, it's been a period of relative inactivity for super investors. Our tools tracking their activities reflect a cautious approach. Most of the super investors we track have been completely inactive these past three months...holding for the right time most likely.
We've seen just one bulk deal, and there has been no instance of a super investor increasing his stake more than 1% in any company over the last three months.
Now, in periods like this, some super investors are following the preaching of a globally recognized Super Investor, Sir John Templeton:
People are always asking me where the outlook is good, but that's the wrong question. The right question is: 'Where is the outlook most miserable?'
The principle at work here is 'mean reversion'. And the idea is, rather than chase price momentum, you look for temporary setbacks or an unwarranted negative consensus and make selective bets.
John Templeton is telling us that looking for pessimism rather than a positive outlook can help us spot stocks poised for mean reversion. And that's exactly what I'm doing.
Pessimism is usually due to a temporary setback or industry downcycle. And I believe some of the best opportunities are in companies currently out of favor with market participants or suffering a temporary slowdown.
So, what's going with the own super investors my team and I are tracking? You'll be surprised...
One of our Super Investors, Sumeet Nagar, has consistently increased his stake in one company. We believe this is a perfect play on Templeton's mean reversion principle.
In the last one year, Sumeet has raised his stake around 2% for a total stake of more than 5%!
The opportunity here is clearly enormous. Not only has this company has been facing an industrial slowdown, its financials are far below historical averages. There has been no growth in five years. Profitability is at a multi-year low. What a great place to look for a 'miserable outlook'.
The great news: Unlike other companies in the sector, this company's balance sheet is lean with no debt. In fact, the company has a sizable cash position and offers a dividend yield above 3%.
With a strong business underneath, this stock will soon be reverting to the mean.
Earnings and return ratios are all set to revert to the historical mean. And when they do, the company could generate huge returns for those who have followed Super Investor Sumeet's lead.
This company has been engaged in the business of industrial consumables for more than two decades. It has faced many downcycles, and it has always come back strong.
Not to mention, Sumeet and I are not alone on this one. The Super Insiders i.e. promoters are steadily increasing the stake in the company.
As we well know, historically, promoters increasing their stakes is the strongest sign of a coming reversion from a downcycle.
The Smart Money Secrets team has released their report on this company before the scheduled publication date. Is the stock a buy right now?
02:30

Insider Note

By the way, my colleague Ankit Shah's (Research Analyst) latest project, Equitymaster Insider, has gotten off to a flying start with hundreds of readers signing up over the weekend. And it seems he's already onto his first investing idea. It's the latest IPO to have hit the Indian primary markets. Should you apply or avoid this IPO? Join Ankit's Insider list to get access to the best, cherry-picked investing ideas from 12 of our premium research services.
03:00

Chart of the Day

Private banks have been accused of understating bad loans on their books. But public-sector banks are turning out to be the bigger defaulters. The Comptroller and Auditor General of India (CAG) has pulled up the managements and statutory auditors of twelve public sector banks (PSBs) for underreporting bad loans and inflating their profits in 2016-17 by making lower provisions. The recognition and provision of bad loans by five of these banks also differed with RBI's audited numbers.

Bank of Maharashtra underreported the most bad loans (Rs 30.3 billion). This was followed by Central Bank of India (Rs 20.9 billion), and Corporation Bank (Rs 19.5 billion).
Window Dressing by PSBs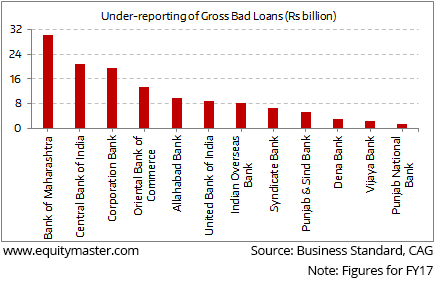 Without this window-dressing, the already poor performance of PSBs in FY17 would have been dismal. With a majority of the PSBs already trading below their book values, CAG has also questioned their ability to raise Rs 1 trillion from the market by 2019 to meet Basel III requirements. PSBs only managed to raise Rs 77.3 billion from January 2015 to March 2017. Therefore, with no headway in the resolution of bad loans, small PSBs will continue to be the weakest link in the financial space.
While state-run banks see no end in sight to their bad loan woes, government capital spending is showing some traction. On the back of defence projects, the Centre's budgetary capex rose 58% to Rs 525.4 billion in the first two months of 2017-18. Even the central public-sector enterprises and departmental undertakings invested Rs 575 billion in the first quarter of FY18, which is the highest ever first quarter investment by them. National Highways Authority of India (Rs 200 billion), Power Grid Corporation (Rs 63 billion), IOC (Rs 55.3 billion), ONGC (Rs 54.6 billion) and NTPC (Rs 50.7 billion) were the biggest capital investors in first quarter of financial year 2017-18.
However, with private spending still tepid, it remains to be seen whether public spending alone will help plug the decline in gross fixed capital formation we saw in the fourth quarter of FY17.
Indian equity markets opened the day on a positive note. At the time of writing, BSE Sensex was up 124 points and NSE-Nifty was up 26 points. The mid and small-cap indices were both up 0.2%. Stocks from the capital goods and power sectors are witnessing maximum buying interest.
04:56

Investment Mantra of the Day

'Buy a business; don't rent stocks.'- Warren Buffett
Recent Articles