Proxy Plays: A Smart Way to Bet on 'Off Limits' Companies
Aug 4, 2017
In this issue:

» This is why markets didn't give thumbs-up to a rate cut
» Rupee appreciation not good news for these companies
» Market roundup
» ...and more!
00:00

Chart of the Day
Deep in meditation, a yogi sits cross-legged...clad in scraps of saffron... hair matted... the picture of spiritual enlightenment...
But wait, what's that he is surrounded by?
Biscuits, body lotion, ghee, shampoo, hair oil...?
Ah, that must be dear Baba Ramdev, the patron saint of disruptive businesses.
Usually when you think of disruptive businesses, tech giants like Flipkart, Amazon, Uber, and Ola come to mind.
But Patanjali is different. It has challenged the FMCG titans using an age-old tradition - Ayurveda - as its USP. And a yoga guru as its brand ambassador.
The share of Indian households that use the Patanjali brand is estimated at 38%. That's huge for a company barely a decade and a half old. Especially if you consider Patanjali's competition.
In 2016-17, the company posted revenues of more than Rs 100 billion. It has surged past behemoths such as ITC, Nestle India, Britannia Industries, and Dabur to become the second largest pure play FMCG company...second only to HUL.
Patanjali Disrupts FMCG Pecking Order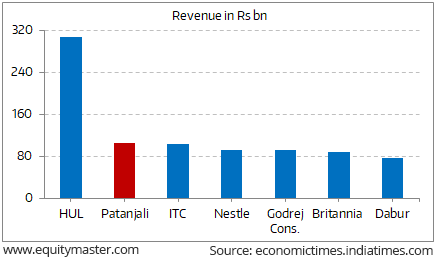 Patanjali is hardly showing ascetic restraint. Restaurants, private security (market worth Rs 400 billion), and its 'Swadeshi' line of clothes (jeans included) are its next projects. This is a company that wants to be a movement.
If Patanjali were a listed company, its investors would know economic enlightenment.
Alas, it is not listed. Does that mean the door is closed?
Absolutely not.
Basking in Patanjali's halo effect are a few small-cap packaging companies. Patanjali has become their biggest client...giving a significant boost to their low-scale business. Some of these companies are even setting their plants at Haridwar...close to Patanjali's plant.
You see, these packaging companies are to Patanjali what Blue Dart is to ecommerce.
While it's impossible for the public to invest directly in Patanjali stock, these small-cap stocks could offer a 'backdoor'.
The small-cap space is full of small players that are clear proxies to great growth stories and Indian megatrends. This is great news as direct players are almost always out of reach - either because they are not listed, in cash burning mode, or too expensive to bet on.
I have identified three perfect proxy plays.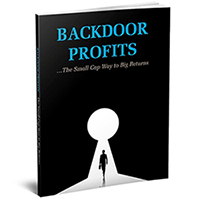 The first is a proxy on the growth of the food segment. The second is a play on the renewable energy sector. And the third is a proxy play on the hospitality sector.
Irrespective of the dynamics of the industry they cater to, they all claim strong fundamentals. To learn all about these small-cap proxy plays, download my free report - Backdoor Profits: A Little-Known Investing Approach to Ride Big Returns in Stock Markets.
Editor's Note: You may have heard of an insider leaking valuable small cap stock recommendations to his list... In fact, he is sharing stock ideas from across Equitymaster's research vault... Click here to access this insider information.
In an interesting development, Reserve Bank of India (RBI) obliged with a 25 basis point rate cut yesterday. However, the markets weren't enthused as the BSE Sensex and NSE Nifty indices closed down 0.3%.
Isn't that counter-intuitive? Shouldn't stock markets give a thumbs-up to a rate cut?
Here is Ankit Shah, editor of Equitymaster Insider:
I believe there are two reasons the markets reacted negatively to the rate cut yesterday.

One, the rate cut was already priced in. Markets constantly price in future events. So when an event occurs, they do not react to the event but to their expectations of the event. A 25 basis points cut was widely anticipated. Had there been a 50 basis points cut, that would have been a positive surprise.

The other reason, and I believe this is the bigger reason for the negative market reaction is the MPC's assessment and outlook for the economy.
Ankit presented an insightful note on the Indian economy and why the markets weren't cheering the latest rate cut. In fact, today he has penned an intriguing inquiry into what's really driving the bull market in India. If you want to know how Ankit goes about cherry-picking investing ideas from the Equitymaster research network, I insist you read this now.
By the way, if you sign up to his newsletter now, you can access three stock ideas right away.
On the macro front, apart from interest rates, it's the rupee movement making it to the headlines. The rupee has been appreciating for a while. Yesterday, it hit a two-year high as it closed at 63.69 a dollar. Since the start of 2017, the rupee has appreciated 6.7% against the dollar.
The main reason is political stability backed by a positive view on the Indian economy, which has led to strong foreign inflows.
Foreign portfolio investors (FPI) have invested a massive US$17.87 billion in the debt markets. The surge coincided with the RBI's change in policy from accommodative to neutral, meaning interest rates weren't likely to fall significantly or suddenly. So as the yields on bonds rose, an influx of foreign capital found ist way into the Indian debt market.
Further, uncertainties pertaining to interest rates in the US and President Donald Trump's administration have weakened the dollar and strengthened the rupee.
The strengthening rupee may put pressure on the financials of companies catering to the pharmaceutical and IT sectors. These sectors have high exposure to foreign currencies as most of their revenues come from the export market. These companies would rather not see further appreciation of the rupee.
Given the circumstances, investors should look into to the hedging policy of companies with significant dollar exposure.
At the time of writing, BSE Sensex was trading lower by 102 points. Sectoral indices were trading on a mixed note with stocks from the telecom and healthcare sector witnessing maximum selling pressure. However, stocks in the consumer durables sector were witnessing buying interest.
04:50

Today's Investment Mantra

"Great investment opportunities come around when excellent companies are surrounded by unusual circumstances that cause the stock to be misappraised." - Warren Buffett

This edition of The 5 Minute WrapUp is authored by Richa Agarwal (Research Analyst) and Parth Parekh (Research Analyst).
Recent Articles