Ankit Shah's First Five Insider Recommendations
Aug 5, 2017
In this issue

» Two special reports and two IPO recommendations
» Can the new Bharat 22 ETF revive disinvestment?
» Indian IT no longer as dependent on H1B visas as before
» Weekly market roundup
It's been a busy week for my colleague Ankit Shah. He's already shared five recommendations.
To whom?
An exclusive list of insiders. They received a special guide on bitcoins too.
That's right. Ankit has just completed his first action-packed week as editor of Equitymaster Insider.
The Insider is Ankit's new premium newsletter. And trust me, you want your name on his list.
As a star analyst, Ankit has access to research and recommendations from across all twelve of Equitymaster's premium services. As editor of the Insider, Ankit has top-level clearance to cherry-pick the very best investing ideas he has access to and share them with his readers.
I must say, he's off to a flying start!
An IT stock that will do well no matter what Donald Trump does about H1B visas...
A pharma stock moving up from its technical support level...
A plastic film stock so cheap it's trading at a 40% discount to its intrinsic value...
Ankit bundled these recommendations into a special report - The Winning Trifecta.
All three stocks have a lot of upside.
But that's not all...
Ankit also recommended his insider list consider subscribing to the Cochin Shipyard IPO but to consider avoiding the Securities & Intelligence Services IPO.
All this and a special report on bitcoin - Bitcoin 101 Guide.
What are cryptocurrencies? Is it a fad or a revolutionary shift in the world of money? How can you buy bitcoin in India? What are the risks? The report has all the answers and more.
Ankit is just getting started.
He's aiming for one actionable recommendation every week. That's about fifty-two in a year!
If you are already on his 'insider list', rest assured you are in safe hands. As I wrote to you a couple week ago...
A conversation with Ankit is always fascinating...sometimes exhausting. Not one for superficial understanding, I've seen him at management meets bombarding promoters - question after question after question - until he gets to the very core of the issue...and the poor promoter wished he'd never gone into business.

Even I've had to recheck assumptions on the back of something Ankit said or asked.

Where does he get his wisdom? How does he cultivate his always-fresh perspective? I don't know. Perhaps it has something to do with his practice of vipassana and other meditative techniques.

All I know is that I read everything Ankit writes.

Reading him not only makes finance enjoyable. It takes it to another level. He has a way of unlocking new doors in his readers' minds. If you have read his work, you know what I mean.
If you are not on the exclusive 'insider list' yet, here's how you can get in.
The government's report card on disinvestment has never been impressive. But this time, it seems set to achieve the target.
How?
The launch of Bharat 22 - a broad-based exchange-traded fund (ETF). It comprises of blue chip PSUs and a few private companies.
Encouraged by good investor response to the CPSE ETF, which has ten companies, the government expects new funds. The new ETF will contribute strongly to the FY18 disinvestment target of Rs 725 billion. The new fund offer is likely to hit markets soon.
Bharat 22 will represent six sectors from finance to FMCG to energy and will have 22 stocks. The sector exposure limit will be 20% and no single stock will be more than 15% of the ETF's value. The expense ratio is likely to be much lower than mutual funds.
We believe this is indeed a smart move by the government. It may fetch better valuations for some of the PSU stocks that otherwise have been dismal performers. It will also help the government get closer to its disinvestment target.
However, for the aam investor, we believe a bottom-up, stock-specific approach is the best way to get exposure to blue-chip stocks.
03:30

Chart of the Day

IT stocks have been under the weather for a while. Donald Trump's anti-immigration rhetoric has had a lot to do with it.

Valuations of IT stocks have been the among cheapest over the last ten years. Growth in revenues and profits has fallen over the last three years. But Trump had no role in that. The global technological disruption, i.e. the digital revolution, was the main cause.

Indian IT firms were slow to react. But now things are completely different. All these firms have fully shifted focus to these new digital technologies. Revenues from such services are growing more than 30% annually!

All the talk of mass layoffs in the sector, even if some news reports are exaggerated, are a direct result of this change. These new technologies work on the principle of 'getting more done with less'. In other words, not as many man hours are needed for the same amount of work as before.

This means, on average, each project needs fewer workers. Hence, we are seeing slower hiring than ever before. In fact, net hiring for the sector may have turned negative.

This is true for 'on-site' employees as well. IT firms send their employees to the US on temporary H1B visas. Now, the long-term trend for sending employees abroad was down in any case. Trump has expedited the process.
H1B Visa Applications Fall Sharply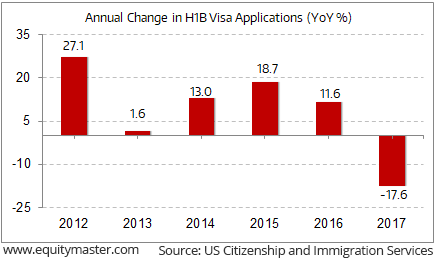 The sharp fall in the H1B visas applications in 2017 was not surprising. We believe, the trend has turned down. This is good news for the profitability of IT firms. After all, salaries eat up about half of the revenues.
We are keeping a hawk eye on this trend. We believe readers should too.
Global financial markets ended the week in the green with most of the indices up for the week, barring Singapore, India, and Japan. The major gains were seen in Hong Kong and Brazil, which closed higher 2.2% and 2.1% respectively.
Share markets in China shrugged off the release of slightly lower-than-expected China PMI data to close higher. In China, official manufacturing PMI for July stood at 51.4, compared to a forecast of 51.6. The July figure was also below June's reading of 51.7.
While manufacturing PMI data tends to be more closely watched, China's pivot toward domestic consumption and away from investment-led growth means the services sector accounts for a bigger slice of the mainland economy. The share market in China was up 0.3% compared to last week.
The Bank of England (BoE) left interest rates unchanged at its monetary policy meet with only two of its monetary policy committee (MPC) members voting in favour of a hike this month. The central bank also left its asset purchase program unchanged.
The bank rate is now at 0.25%, along with the asset purchase target at 435 billion pounds and the corporate bond target at 10 billion pounds.
In other news, US services sector data fell more than expected in July. As per the Institute for Supply Management (ISM), non-manufacturing index fell to 53.9 last month from 57.4 in June.
The data stoked doubts over whether the Federal Reserve would raise interest rates again in 2017. The stock markets now believe that its more likely the Fed won't raise rates again this year. Many reasons are put forward for this. US inflation is lower than expected. While the economic conditions could be better, the political situation remains tenuous.
However, with the recent measures at major central banks, it seems that the end of easy money is near. But it would take long before the central banks come to their senses and end this trend.
According to a report by Thompson Reuters Oil Research, crude oil exports by the OPEC rose to record high levels in July. This was driven largely by soaring exports from the group's African members.
For the US, oil production has hit 9.43 million bpd, the highest level since August 2015. It's up 12% from its most recent low in June last year. Crude closed the week marginally lower at US$49.5 per barrel.
Back home, Indian stock markets started the week strong but ended flat. The slight correction in the market came as a reaction to the RBI's rate cut. While the biggest sectoral gainers were consumer durables and oil & gas, stocks from the pharma sector continued to see headwinds and were the biggest losers.
Performance During the Week Ended 5 August 2017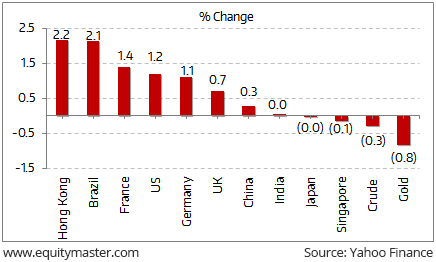 04:55

Weekend Investing Mantra

"When you combine ignorance and leverage, you get some pretty interesting results." - Warren Buffett

This edition of The 5 Minute WrapUp is authored by Rahul Shah (Research Analyst).
Recent Articles