7 Stocks to Buy in Today's Difficult Market
Aug 5, 2019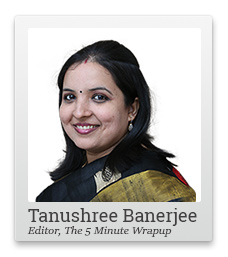 Like most Mumbaikars, I prefer to take the "local" (suburban train) to work and avoid the nightmarish traffic jams.
The other day, on my way to home, I was once again witness to a recent but growing trend on the "locals".
Some well turned out people would board the train...and then start approaching commuters posing very specific questions.
My curiosity levels had reached a tipping point.
--- Advertisement ---
Ex-Swiss Investment Banker Reveals His Biggest Investment Strategy in 4 Free Video Classes

Rahul Shah, ex-Swiss investment banker and Co-Head of Research at Equitymaster, is hosting a series of 4 free video classes for his readers, where he will reveal the details of something he's been working on for years…

The Double Income Project…

Rahul will show his readers, step-by-step, how to dramatically increase their income, potentially even double it…in what he believes is the earliest amount of time possible. a few short years.

For instance, if you make Rs 50,000 a month…Rahul's goal is to show you how to take it to Rs 100,000 in the long run.

Or if you make Rs 100,000…Rahul will show you how you could potentially increase it to Rs 200,000 in the long run.

This is different from anything Rahul Shah has ever done before – there's nothing to pay, no service to subscribe to and no forms to fill to attend these classes.

Just click here to sign up for the free video classes.
------------------------------
So I approached one of them...
Turned out they were doing KYC (Know Your Customer) for Paytm customers.
Talk about online going offline!
Still not fully at grips with what was happening...and why, I pulled out my mobile and put Google to work.
And here's what I found...
Paytm now has over 350 million registered users. Transaction volumes touched 5.5 billion in FY19. Paytm expects this to double by FY20.
Unified Payments Interface (UPI), an inter-bank transfer app now does more than 750 million transactions a month. This number was 0.2 million before demonetisation.
What to make of these numbers though?
And how does it help you, dear reader?
The Double Income Project: The Lazy Man's Guide to Doubling Your Income in The Long Term
For one, small players are using this app. From a roadside vendor to a kirana store, you'll find the app everywhere. These people who were out of the tax net for years are now a part of the formal economy.
Once they are, they will have access to loans. These are people who used to borrow at 48-60% annual interest. Imagine when banks lend them at 15-20% interest rate.
Small businessmen, who otherwise would spend whatever they earn on paying off the huge interest, might think of expanding with access to low cost credit. As they grow in size, the lending will get cheaper and cheaper.
A huge untapped market would suddenly open up for banks and lending institutions.
A megatrend that we clearly see playing out over the next decade. And this is just one of many.
I've identified more than 50 such trends. Trends that we come across in our daily life but tend to ignore.
Of course, not every kind of business that seems to be following such trends would be huge wealth creators. And when I say that I am particularly referring to payment, e-commerce and consumer loan companies without sufficient risk measures in place.
When you do your next KYC, look at the trends. Think of the opportunity in the offing.
Trends that will take India to the US$ 5 trillion mark. Trends that will be a part of the transformation I call the Rebirth of India.
But be very careful about the kind of stocks you buy into to ride these trends. Only the best ones will ensure that you do not miss out on the wealth creation journey to Sensex 100,000.
--- Advertisement ---
Watch this Video Now And You Will Stop Worrying About Money...

If you are concerned about money, then you MUST watch this exclusive video right now.

Because in this video, Richa Agarwal, Head of Small Cap Research, talks about stocks that have made a select group of people Crorepatis.

They invested in just one stock and ended up becoming Crorepatis in the long run.

In this video, Richa also reveals her unique formula to identify such potential RARE stocks.

Plus, she also discusses her special report, 'One Stock Crorepati: How to Get Rich With This Little-Known Indian Stock'.

This video is now available for your viewing...

This video could be taken down any time soon. So, hurry…

Click here to watch the video right away…
------------------------------
I have shortlisted 7 stocks that I believe will benefit the most when these trends playout. I will share the details on Thursday, 8 August at 5 P.M at the Rebirth of India Mega Summit.
I've just been informed that more than 10,000 have signed up for it already! I'm excited to bring this event to you, dear reader. At this summit, I will share with you details of what I believe, is the biggest wealth creation opportunity of the generation.
The Rebirth of India Mega Summit is free to attend.
Chart of the Day
A key takeaway from India's budget was the government intent to borrow from overseas markets.
While it seems like a risky move, a look at India's domestic credit data may be the reason why.
Increasing Domestic Credit to Private Sector Key for Economic Growth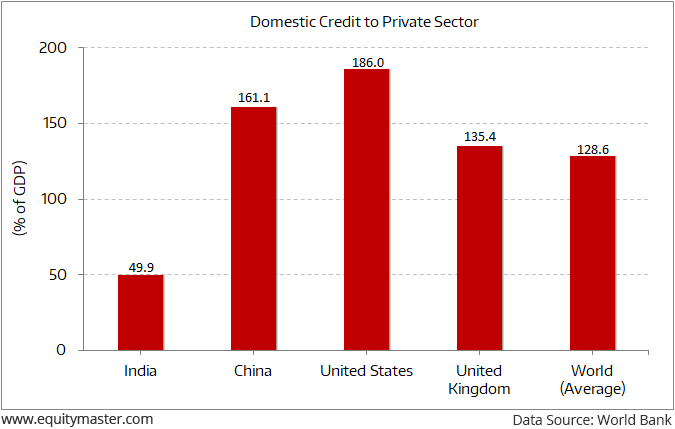 Domestic credit to the private sector in India is amongst the lowest in the world.
A huge chunk of the domestic borrowing is by the government. That leaves very little scope to lend to the private sector.
Low credit to the private sector means low capital available for expansion. A major hurdle for one of the major growth engines of the economy.
With the government set to borrow overseas, a lot of capital is expected to free up at home.
This also coincides with the recent efforts by the Insolvency and Bankruptcy Code (IBC) to resolve bad loans. This will free up further capital for lending.
A proactive step in this regard will be a huge boost to the economy going forward.
Warm regards,



Tanushree Banerjee
Editor and Research Analyst, The 5 Minute WrapUp
PS: More than 10,000 have signed up for the Rebirth of India Mega Summit where Tanushree will reveal the biggest money-making opportunity of the generation! Don't miss it. Sign up here...
Recent Articles