Survive the Financial Apocalypse with a 'Cockroach' Portfolio
Aug 8, 2017
In this Issue

» First Time Car Buyers Go Premium
» FPI Flow Declines
» Market Roundup
» And More...
An interesting little paragraph caught my eye recently:
...the cockroach simply scurries away when little hairs on its legs vibrate from puffs of air, puffs that might signal an approaching predator, like you. That is all it does. It doesn't hear, it doesn't see, it doesn't smell. It ignores a wide set of information about the environment that you would think an optimal system would take into account.

The cockroach would never win the 'best designed bug' award in any particular environment, but it does 'good enough' and makes it to the finish line in all of them.
Reminded me of Darwin: It is not the strongest or the most intelligent that survives. It is the most adaptable.
Cockroaches are neither the strongest nor the most intelligent creatures. But boy are they adaptable! They've been around for about 300 million years and have outlived most species in almost all environments - mainly because of the survival mechanism outlined above.
I think Benjamin Graham must have had the cockroach in mind when he invented the discipline of value investing. In not one of his writings will you find a technique or process that aims to pick the market's next hot stock. Rather, Graham's is always a cockroach-like approach to investing - less about hot stocks and big gains and more about margin of safety, caution, and survival.
Now you might be concerned that a portfolio focused on survival would lead to below-par returns. And rightly so. After all, investing isn't just about survival; it's about great long-term returns.
Well, the stellar long-term returns of Graham and his disciples - who include Warren Buffett - quickly puts to rest such concerns.
With a value investing approach, you get small bouts of outperformance year after year. But it snowballs into a massive outperformance, thanks to the power of compounding.
On the other hand, if you prefer to stuff your portfolio with hot stocks and let others worry about the possible downside or market crash, you can achieve outsized returns for a few years. But one blow-up is all it takes to wipe out your entire corpus.
Lehmann Brothers learned this the hard way when it levered its balance sheet many times over, betting on a one-way rise in home prices. When home prices crashed in 2008, it wiped out the entire net worth of the company.
Lehmann Brothers, of course, did not survive. However, Buffett and many other value investors not only survived the 2008 crisis but emerged stronger from it.
And that's because they'd built cockroach-like portfolios.
As Indian stock markets hit record highs day after day, survival should be uppermost in your mind. Ask yourself if your portfolio would survive a stock market apocalypse. Does it have the attributes to emerge from the crisis relatively unharmed? It's precisely during market tops that investors are most susceptible to ignoring the importance of survival.
So today, I remind you: Survival first, everything else later.
02:00

Chart of The Day

The Indian auto industry is witnessing a rapid change in consumer preference. And the change is becoming more evident in the case of first-time buyers. Maruti Suzuki is a market leader in the domestic passenger vehicle segment with seven of its models featuring in the top 10 selling brands in July month. The sales data of the company reveals some interesting insights about first-time car buyers.

Historically, first-time buyers preferred small hatchbacks such as the Maruti 800, the Alto, and WagonR. But the new generation of first-time buyers is moving up the ladder to premium cars. It's similar to what has happened in other consumer segments such as mobile phones and consumer electronics.

First-time car buyers are now buying costlier models such as the Swift or the Dzire. First-time car buyers accounted for 31% of Swift sales in FY14. That number jumped to 52% in the June quarter of FY18.
Changing Preference of First Time Car Buyers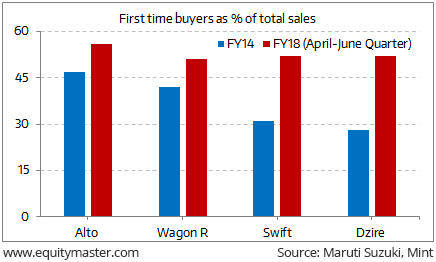 The growing preference for these feature-rich and costlier models as first cars indicates growing premiumization in India's car market. This trend indicates that first-time buyers are getting more aspirational. Interestingly, the age profile of first-time car buyers and higher disposable income are contributing to this phenomenon.
If this trend continues, going forward, one would see compact SUVs becoming the preferred choice for first-time buyers. The trend is already under way. The percentage of such buyers for Brezza for instance stood at 37% in the first quarter of FY18.
Owning a car is a status symbol, but buying a new, larger, smarter vehicle is one step further down the aspirational road. With this, premiumization will be an important growth driver for the auto industry in coming years.
Flows from foreign portfolio investors (FPIs) have slowed in the last two months and in fact, declined as of the first week of August. July month registered the second straight month of fall in foreign inflows into Indian markets, which declined by 38%. The June figure was 60% lower than the month before. So far in August, FPIs have sold Rs 13.5 billion worth of shares.
Concerns over rising interest rates in the US have led to a slowdown of flows into all emerging markets. While valuation has reached dizzy heights, earnings are yet to catch up. Fund managers believe there are some underlying risks that the Indian market is not factoring in like sluggish earnings growth. PE multiple expansion rather than earnings growth explains nearly all of the performance this year for India.
Indian retail investors should not blindly follow FPIs in and out of stocks. It is far better to take advantage of the volatility caused by their selling to enter good quality stocks for the long-term.
The markets have been on a tireless bull run this year. But are they set for a correction? In recent notes, Ankit Shah has been explaining the macro picture (that a flood of liquidity into the markets has been driving the bull rally). And one stock that makes the cut both technically and fundamentally has come under his radar. Now, as you know, at Insider, Ankit has access to the Equitymaster research vault. So today, make sure you sign up to get his recommendations.
At the time of writing, the Indian stock market was trading lower with the BSE Sensex down 200 points and the BSE Mid Cap index down 0.9% Metal stocks were trading in the green while banking sector were in the red.
04:55

Today's Investing Mantra

"When we own portions of outstanding businesses with outstanding managements, our favorite holding period is forever." - Warren Buffett

This edition of The 5 Minute WrapUp is authored by Rahul Shah (Research Analyst).
Recent Articles