The Perfect Stock in the Rebirth of India
Aug 8, 2019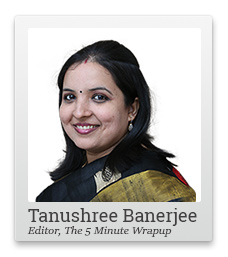 Inventions have played a very important role in making our lives easier. What instantly comes to your mind when you think of such inventions? Telephones? Light bulb? Internet?
One often underrated invention I would say is modern railroads. Replacement of horses with modern railroads around 1880s was the turning point for countries like US and Britain.
A whole new wave of civilization started in US.
Credit for this revolution goes to the steam locomotive. This technology paved the way for the modern railroads. Baldwin locomotive works was one of the early makers of these locomotives in the US.
--- Advertisement ---
Ex-Swiss Investment Banker Reveals His Biggest Investment Strategy in 4 Free Video Classes

Rahul Shah, ex-Swiss investment banker and Co-Head of Research at Equitymaster, is hosting a series of 4 free video classes for his readers, where he will reveal the details of something he's been working on for years…

The Double Income Project…

Rahul will show his readers, step-by-step, how to dramatically increase their income, potentially even double it…in what he believes is the earliest amount of time possible. a few short years.

For instance, if you make Rs 50,000 a month…Rahul's goal is to show you how to take it to Rs 100,000 in the long run.

Or if you make Rs 100,000…Rahul will show you how you could potentially increase it to Rs 200,000 in the long run.

This is different from anything Rahul Shah has ever done before – there's nothing to pay, no service to subscribe to and no forms to fill to attend these classes.

Just click here to sign up for the free video classes.
------------------------------
Being one of the early entrants, business boomed during the early years. Demand hit its peak in 1905.
But Baldwin was barely profitable. Inflation, increased labor costs meant increased costs. Despite its sales increasing, expenses increased at a much faster rate.
Do you know who profited the most due to this invention?
It was the people who bought real estate in the city of Chicago around the same time. Better connectivity saw people flocking to Chicago. Demand for property soared.
A similar thing is happening in the city I live in. The Mumbai Metro work is on in full swing. Transportation is expected to get better.
Once the whole city is connected via metros, many companies will benefit, just like Chicago real estate companies.
The Double Income Project: The Lazy Man's Guide to Doubling Your Income in The Long Term
I met one of them at an Annual General Meeting (AGM) this week.
This is not your typical real estate company. It has a host of related businesses. All of them are doing quite well. I believe, it has an able management at the top ready to take it to the next level of growth.
It has a huge land bank, is debt free, and has remained so for decades. The management expects a boost in business post the completion of the Mumbai Metro.
The stock has managed to do well even in this difficult market. I believe it is the perfect proxy to India's economic growth story.
These are the kind of stocks I am looking for. The stocks that might not be trendsetters. But they will be in the right place at the right time to benefit when such trends take place.
And this is just one of those trends.
There are many more trends set to play out over the next decade in India.
These trends will drive the transformation I call the Rebirth of India. In this transformation, I believe, the 7 stocks I've picked, are best placed to deliver excellent profits for investors who buy them. Join me at 5 PM today for the Rebirth of India Mega Summit where I'll reveal details of the Rebirth of India as well as the 7 stocks I've identified.
Don't miss it! I hope to see you there.
--- Advertisement ---
Watch this Video Now And You Will Stop Worrying About Money...

If you are concerned about money, then you MUST watch this exclusive video right now.

Because in this video, Richa Agarwal, Head of Small Cap Research, talks about stocks that have made a select group of people Crorepatis.

They invested in just one stock and ended up becoming Crorepatis in the long run.

In this video, Richa also reveals her unique formula to identify such potential RARE stocks.

Plus, she also discusses her special report, 'One Stock Crorepati: How to Get Rich With This Little-Known Indian Stock'.

This video is now available for your viewing...

This video could be taken down any time soon. So, hurry…

Click here to watch the video right away…
------------------------------
Chart of the Day
If there is one sector that has been under fire for most since 2018, it is financial services.
Since the IL&FS crisis, the domino effect has affected all lenders in the Indian economy.
Public sector banks have struggled due to rising NPAs.
NBFCs have struggled after the IL&FS crisis and are wary to lend.
There has been a silver lining in this mess. i.e. the increased market share of private sector banks.
Since 2014, private banks have consistently gained market share mainly at the expense of PSU banks.
India's Credit Shift Megatrend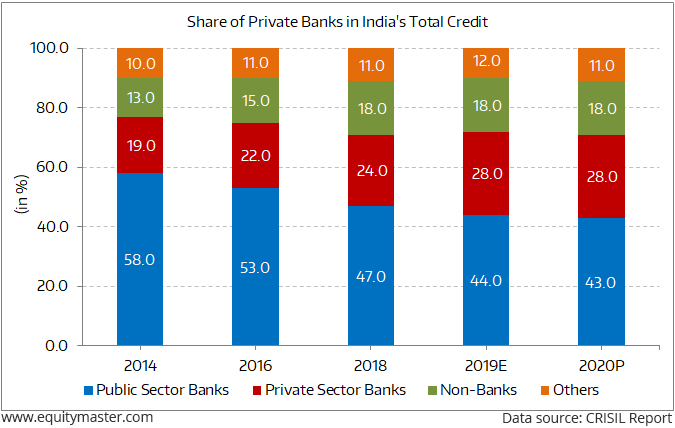 With PSU banks still struggling to get out of their NPA mess, this trend is set to continue.
One such good quality private bank makes it to my top 7 stocks to buy list.
These 7 stocks will be a part of many such megatrends that will play out over the next decade in India.
Warm regards,



Tanushree Banerjee
Editor and Research Analyst, The 5 Minute WrapUp
PS: Dear reader, today at 5 PM, at the Rebirth of India Mega Summit, I will show you how a once-in-2,000-year event will create unprecedented wealth for investors. Join me to find out my top 7 stocks to profit from this historic opportunity.
Recent Articles