When Too Much Cash Is a Bad Thing...
Aug 9, 2017
In this issue:

» High-Dividend, High-ROE Companies
» Consolidation in PSB Banks Unlikely to Resolve Key Issues
» Market roundup
» ...and more!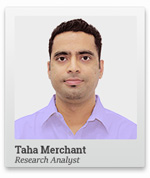 Ahh, earnings...
The holy grail of the stock market.
Some investors pin the entire value of a company on this one factor. That's a bit narrow-sighted, but don't get us wrong: The profits a business generates are supremely important.
But what if those earnings later rot on the company's balance sheet with neither purpose nor plan?
Hundreds of companies out there have this problem. They earn heaps of money from their business - much more than the internal growth needs of the business - and the management simply doesn't know what to do with it. They are, after all, business managers, not money managers.
Ideally, they should pay out this 'extra' cash to the owners of the company - the shareholders. But they don't. They find this just too painful.
Even Warren Buffett is guilty of this.
Berkshire Hathaway, Buffett's holding company, reported almost US$100 billion in cash at the end of the June quarter. Add to that the company doesn't pay out any dividends or end up doing buybacks, and the problem becomes worse.
Buffett addressed this concern at Berkshire's AGM in May. His comments were lluminating. He conceded he hasn't been able to make an acquisition for a while and shouldn't be holding so much cash for so long since it earns next-to-nothing.
Though Berkshire has a large cash pile, Buffett's admission reveals an important trait: his acute awareness of the very real problem of too much cash and his sense of urgency to do something about it.
Many managements have no such awareness or urgency.
They sit on cash with no justifiable plans. Despite that, they are loath to pay it out to shareholders. And the extra cash keeps piling up year after year.
Worse, they then end up investing this money in sundry ventures. They invest in stocks, properties, random business ventures, loans to promoter group companies, IPL teams...
The only thing these ventures have in common is that they have nothing to do with the company's core business or expertise.
Investors should be cautious of such managements!
Think about it.
You buy a stock based on the business' profit-generating ability. But as a minority investor, you have no say in how the management uses those profits.
You can, however, choose which managements you invest in. And wouldn't you rather invest in a management you trust to make intelligent decisions with that cash rather than one who just sits on it without rhyme or reason...or worse, throws it away in some hare-brained investment idea completely unrelated to their core business?
While stock prices bob around randomly in the short run, over the longer term, their appreciation is closely linked to the value the company creates. And how smartly it uses earnings is a big part of this value creation.
Editor's Note: Which companies have smart managements? And which are the ones to avoid?
What's caught Ankit's eye this week?
Ankit is the Equitymaster Insider. His work gives him access to the best investment ideas across twelve premium services. And now Ankit has been cleared to share these ideas with his readers...
Every day the markets are open, Ankit will scan the markets and the best financial research across his global network, and once a week he'll give you his very best cherry-picked investment idea.
Get on Ankit's Insider list now.
02:30

Chart of the Day

Not all companies sit on excess cash and spend it foolishly. Some generously share excess profits with their shareholders by paying out dividends.

Historically, high dividends correlate with high return ratios. The top six companies with the highest dividend payout ratio over the past three years (as a percentage of net profits paid to minority shareholders) also generated good return on equity (ROE). A consistently high ROE indicates the management is putting investor money to good use.
High-Dividend, High-ROE Companies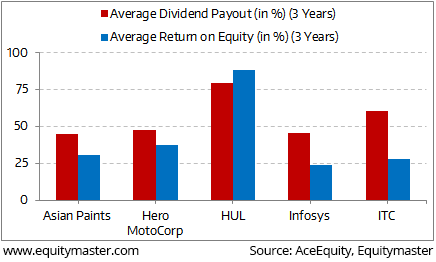 These companies give investors a cushion in a volatile market. In a bear market, pessimism pulls down companies with strong fundamentals. But the dividend provides investors the incentive to hold on to the stock and ride the storm.
While returns from these stocks are more likely to be steady than exponential, the downside is limited.
The government of India is evaluating the possibility of consolidation across state-run banks. The main goal is to have fewer but stronger state-run banks. With fewer banks, it expects sharper focus on the resolution of non-performing assets (NPA).
The deterioration of public sector banks has been much worse than at private sector banks. Gross non-performing assets (GNPAs) for these banks increased from 3.6% in March 2014 to 9.5% in March 2017.
It is necessary to identify the root cause of the problem - i.e. corporate debt. Banks with a sizable amount of bad loans on their books are reluctant to lend to even healthy companies. This will adversely impact the growth of the economy going forward.
The Indian government recently stepped up its efforts to address the problem. It amended the Banking Regulation Act through an ordinance, giving more teeth to the RBI to deal with NPAs.
Consolidating two entities comes with its own set of problems. Integrating two different managements and cultures can be tedious. When merging a 'good' bank with a 'bad' bank, it's important that the consolidated NPA position doesn't deteriorate further. The government needs to decide if it will tackle the NPA issue before consolidation or use consolidation as a means of solving the NPA issue.
The Indian stock markets were trading lower at the time of writing. The e. corporate debt. Banks with BSE Sensex is down 90 points and the NSE Nifty is down 22 points. The S&P BSE Mid-Cap and S&P BSE Small-Cap Indices are down 0.9% and 0.8%, respectively. Losses mostly came from realty and healthcare stocks.
04:56

Investment Mantra of the Day

'When we own portions of outstanding businesses with outstanding managements, our favorite holding period is forever.' - Warren Buffett

This edition of The 5 Minute WrapUp is authored by Taha Merchant (Research Analyst) and Girish Shetty (Research Analyst).
Recent Articles