Insider at It Again. This Time Stealing from Buffett and Berkshire
Aug 12, 2017
In this issue:

» Megatrend in India's Roadways
» PFC-like Roadway Financer in the Offing
» Week's Market Updates
» And more...
This is the story of one of the largest and most profitable conglomerates in the world.
It begins with two 19th century Massachusetts-based cotton mills - Berkshire Fine Spinning Associates and Hathaway Manufacturing Company.
By the mid twentieth century, both companies were well past their heydays. A merger was proposed, and the companies became one entity, Berkshire Hathaway, in 1955.
A budding investor named Warren Buffett slowly built a position in the company after seeing a positive trend every time the company closed a plant.
He eventually took control of the entity in May 1965.
As an interesting aside, it seems young Buffett sought control of the company out of spite. Berkshire's former owner, Seabury Stanton, who'd made an oral deal with Buffett, later undercut the offer in writing. Apparently, rather than fundamentals or valuations, this prompted an angry Buffett to buy a majority stake in the company - so he could fire Stanton!
At any rate, two years later, with the revenues from a waning textile company, Buffett purchased National Indemnity - the first of many insurance companies Berkshire has acquired over the years. This is extremely important in understanding Buffett and Berkshire's success. For insurance companies are Berkshire Hathaway's lifeblood.
By lifeblood, I mean these entities have provided the funding Berkshire needed for Buffett's brilliant acquisitions over the years.
This lifeblood has an industry-specific name: float. Also known as 'available reserve', float refers to the premiums paid to Berkshire Hathaway's insurance subsidiaries. These premiums stay with the insurance company until they are paid out to cover any claims. Technically, this money doesn't belong to the insurance company. But it's on the company's books and may be invested as the management (in this case, Buffett) deems fit.
You have read about Life Insurance Corporation of India (LIC) investing heavily in public sector companies, right?
Berkshire Hathaway's float of US$100 billion is not only the largest in the world, but 50 times what it was a generation ago. These float funds allow Berkshire Hathaway to make quick purchases of temporarily wounded companies and breathe life into them.
Float is Berkshire's 'secret sauce'. You see, in every other business, companies must pay for capital. And in every other business, the cost of capital is a primary consideration that can determine whether the business is viable or not.
Even banks have to pay for capital. They borrow from their depositors and other banks and pay interest on that capital. Likewise, virtually every player in the financial-services value chain - funds, brokers, etc - must pay for the right to use capital.
Everyone except insurance companies.
And not only can a well-run insurance company get all the capital it needs for free; it gets paid to accept that capital.Now let's do the math. For the sake of argument, assume an insurance company earns 1-2% to underwrite a policy. And assume the float is invested only in Sensex companies. The company's returns would be 2% plus whatever the Sensex returns. As sure a way to beat the index as any.
In reality, of course, few insurance companies make that high of an underwriting return. And fewer invest a large percentage of their float in stocks. Most stick to fixed income to make sure they can always pay claims.
But the point remains: By combining and compounding underwriting profits and stock returns year after year, insurance companies can produce very high returns.This is why Equitymaster Insider Ankit has been watching some of the largest insurance companies in India, particularly SBI Life and New India Assurance, which will both be listing on the exchanges soon.
Both issues are expected to raise more than Rs 70 billion...each! And they could lay the foundation for Berkshire-like success for Indian investors.
Ankit does not want his readers to miss this opportunity. So, he and our NBFC specialist Madhu are already pouring over the financial statements of insurance companies. (Remember, these are very different from the financial statements of banks and financial entities. It's critical to understand them well.)
Ankit and Madhu are also referring to this handbook on investing in IPOs of insurance companies.
You can download a copy for yourself. It's free. Just click here.
Editor's Note: Ankit is just about to release an investment idea for his Insider readers. If you're not already on the list, click here now to subscribe.
02:35

Chart of the Day

Apart from insurance, there is yet another sector where I see Megatrend like opportunities emerging. That is nothing but roadways. India has the second largest road network across the world at 4.7 million km. This road network transports more than 65% of all goods in the country and 85% of India's total passenger traffic. Road transportation has gradually increased over the years with the improvement in connectivity between cities, towns and villages in the country.

Sales of automobiles and movement of freight by roads has grown rapidly over the decade. So, the government earmarked 20% of the US$ 1 trillion infrastructure outlay to develop roads. Also in the Union Budget 2017-18, the government allotted Rs 640 bn to NHAI for roads and highways. The National Highways Authority of India (NHAI) is targeting to build 50,000 km of roads by 2022. Its long-term goal is to double the length of the national highway network to 200,000 km.
Growth Across Metrics in Roadways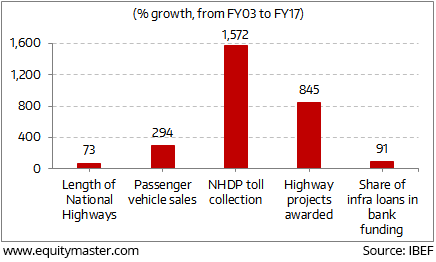 There's more on the anvil in the financial institution space in India. In what may mean a boost to the roads sector, the government is looking at setting up a financial institution to cater exclusively to the roads and highways sector. This would be on the lines of the role the Power Finance Corporation plays in the power sector.
The road transport ministry is keen to have its own such financing arm set up as a vehicle in National Highways Authority of India with participation from foreign investors. The ministry has also expressed that investors from Japan and South Korea are keen on such structures.
While funding to infrastructure may get a booster shot, execution will be key. For example, in 2015 the government set up the National Investment and Infrastructure Fund (NIIF) with a similar intention. It had an initial targeted corpus of Rs 400 billion, of which Rs 200 billion was to be invested by the government and the rest by international investors. However, reports suggest in the 18 months since its inception, NIIF is yet to make or receive any investment commitment from third parties.
We hope things pan out differently this time around.
Global financial markets ended the week lower ahead of rising tensions between the United States and North Korea. US president Donald Trump refused to back down on its threats to North Korea. Investors rushed towards safe haven assets amidst rising uncertainty between the two nations.
Gold prices hit their highest levels in two months before easing down. Earlier last week, North Korea said it was outlining plans for a missile strike near Guam, where the U.S. has a military base, in mid-August. US markets ended lower by 1.1% this week.
European stocks ended the week lower, their worst week in 9 months as geopolitical tensions kept investors away from equity markets. France and UK were the biggest losers in the week and ended lower by 2.7% this week.
Asian markets also slumped this week after tepid numbers from the Purchasing Managers Index (PMI) on services and manufacturing from China. This coupled with geopolitical tensions ensured Chinese markets ended lower by 1.6% this week.
Back home, Indian share markets tumbled this week due to global uncertainty and poor earnings growth reported by domestic firms. The slump was largely seen in realty stocks, pharma stocks and auto stocks. Pharma stocks continued to struggle due to pricing pressure in global and domestic markets. Indian Pharma companies expect FY2018 to be a difficult year in terms of growth prospects due to price erosion across geographies. The Indian stock market ended the week lower by 3.4%.
Performance During the Week Ended 12th August 2017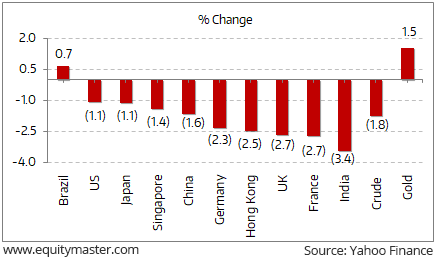 04:50

Weekend Investing Mantra

The key to investing is not assessing how much an industry is going to affect society, or how much it will grow, but rather determining the competitive advantage of any given company and, above all, the durability of that advantage. - Warren Buffett

This edition of The 5 Minute WrapUp is authored by Tanushree Banerjee (Research Analyst).
Recent Articles