Let's Hope This Correction Continues
Aug 14, 2017
In this issue:

» Govt Data Shows This May Be More Than a Minor Correction
» Service Sector Not Adding Jobs, Factory Output Contracting
» Market Round up!
» ...and more!
Have you ever been on a road with lots of small hills?
Or those little Ferris wheels at the fun fair that throw your stomach in the air every time they go up?
If so, you know that euphoric feeling you get as your body experiences zero gravity.
But you don't need to drive fast on the western ghats or go to a mela to know this feeling. It's the same feeling stock market investors have had for the past eight months!
Since the beginning of the year, stocks have taken investors on a thrill ride filled with stomach-tickling bumps and euphoria-inducing highs.
But last week, after a long period of optimism, Indian share markets finally saw some pessimism as the stomach-tickling bumps gave way to a stomach-churning drop.
For value investors, the 20% rally since the beginning of the year has been hard to explain.
I probably don't need to remind you this has been a period of many shocks for the Indian economy. Be it the aftermath of demonetisation, the transition of BS-III to BS-IV, the highway liquour ban, the implementation of GST, the ever-worsening NPA problem...despite soaring stocks, it's been a tough business environment for companies across sectors.
All this time I've been traveling the country trying get a sense of the reality on the ground. I've talked to a lot of companies, and some of the managements I track have been bang on about the situation...
'Demonetisation has led to a complete slowdown. The customer footfall has dropped significantly and we believe things would normalise after the end of FY17.' - FMCG management in January 2017

'The transition from BS-III to BS-IV has led to significant inventory loss to the auto industry. This has preponed the demand for next six months at significant lower prices.' - auto company management in April 2017

'The transition of GST has led to significant de-stocking in the month of June. We not only faced subdued customer demand, we need to compensate our dealers. We expect the situation to normalise by the end of September.' - management of our most recent recommendation, speaking earlier this month
The impact of these events is clear in key economic indicators such as inflation (at multi-year lows) as well as manufacturing and service sector growth rates (both also at multi-year lows).
However, market participants have opted to invest in long-term growth stories and look beyond the short-term hiccups. Mid and small-cap stocks, for instance, have outperformed even the broader, record-breaking indices.
Though it is prudent for long-term investors to look beyond short-term hiccups, it is more prudent to pay a reasonable price for the companies you buy.
But when markets rally, price is one of the first things to go out the window.
Except for Super Investors, of course. The ones we track would never buy a business until they see enough margin of safety.
Same goes for me and my team.
The good news is the recent change in sentiments has brought a correction to our favourite segment of the market - the mid and small-cap space.
My team and I have been sitting patiently (okay, maybe a little restlessly) on a long list of high-quality small companies...companies our Super Investors have bought in the past, but don't currently provide enough margin of safety.
Last week's correction may have spooked a lot of investors, but I for one am excited and hope it continues. And so should any value-conscious investor who's been expecting this and who's ready to move should stocks correct further.
Editor's Note: Kunal is once again planning to release his monthly 'smart money' recommendation ahead of schedule. He just wants to meet with the management once more before revealing this Rajasthan-based company to his readers. If you aren't yet following Smart Money Secrets, subscribe now and be sure to get Kunal's latest Super Investor stock as soon as he releases it.
03:30

Chart of the Day

While some see the current slump in the Indian share markets as a minor bump, data from the government's Economic Survey could change that.

According to the data, India's services sector remains the key driver of economic growth, contributing about 53% of gross value-added (GVA) growth in the last year.

The alarming part is, despite contributing a major chunk of economic growth, the sector's contribution to total employment is miniscule. The gap between services sector employment and total employment is wide.

In most economies, both growing and developed, the sector's GVA rate is similar to the sector's contribution to total employment.
India's Services Sector Growth Not in Line with Employment Growth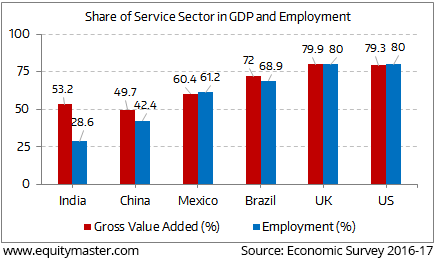 For example, in Mexico, services are 60.4% of the overall economy and provide 61.2% of the jobs. In India, the sector is 53.2% of the overall economy but only contributes 28.6% to total employment.
The services sector in India, however, remains dynamic and growth is very high. But that growth is not commensurate with employment growth, which could very well be a cause for concern going forward as the sector takes an even more prominent role in the economy without providing significant employment growth.
Another key indicator signaling a slowdown is factory output. The Index of Industrial Production (IIP), which measures the country's manufacturing output, contracted for the first time in four years.
The IIP declined 0.1% in June, compared to a 1.7% rise in the previous month. Eight of the 22 industries the index tacks showed growth. Pharmaceuticals and furniture posted the highest growth followed by tobacco and leather products.
The concern here is that capital goods output, a barometer of investment, contracted 6.8% from a growth of 14.8% in the same period a year ago.
After opening the day in green, Indian equity markets continued the upward march and are trading above the dotted line. At the time of writing, the BSE Sensex was up 235 points and the NSE Nifty was up 77 points. Sectoral indices are trading on a positive note with the metal and realty sectors leading the gains.
04:55

Today's Investment Mantra

"Investing is the intersection of economics and psychology." - Seth Klarman

Editor's Note: There will be no issue of The 5 Minute Wrapup on 15th August 2017. We wish all our readers a Happy Independence Day!

This edition of The 5 Minute WrapUp is authored by Kunal Thanvi (Research Analyst).
Recent Articles