This Small Cap Can Drive Chinese Players Out of India (and Make a Fortune in the Process)
Aug 17, 2017
In this issue:

» A Sky-High Return of 4051% in just Four Years
» Wind Mill Sector Undergoing a Structural Change
» Market roundup
» And more!
Where do you get your stock ideas?
People ask me that all the time.
As you know, my team and I follow a very stringent process for our recommendations. Getting ideas is just the first step.
The easiest way we find ideas is through our financial screeners.
The other ways, a little more time consuming, are going through annual reports and company updates, and keeping in touch with investor relations agencies.
Sometimes, we get an unintentional lead from the managements we meet (suppliers they can't do without, for example, or clients they swear by). Sometimes it's just a conversation with a colleague that leads to a great stock idea.
One very valuable source of ideas - and I would like to take this opportunity to thank you for it - is your feedback and suggestions. I hear from readers mostly via email. But once a year I get it direct at the Equitymaster annual conference. And occasionally I'll bump into a few of you at AGMs.
While only a few readers' suggestions will become actual recommendations, they can often point in the right direction.
Take this email for instance from a Hidden Treasure subscriber:
It is widely acknowledged that in China the middle class is going to become big and going to be a big consumer. Do we have an Indian listed company that is exporting to china which will be consumed by the middle class and pass our metrics? We have so many recommendations of companies that export to USA, Japan & Europe where the economy is going down.

Why not search for a company that is exporting to a country (China) whose economy (internal) is going to expand? Where we have edge over China so that we can export to China?
An interesting idea indeed. Honestly, I can't think of a single Indian company for which the investment rationale would be 'exports to China's rising middle class'.
But it does remind me of another company that's launching a product (in a year and a half) where it will have a real edge over China. And the company is expected to earn a fortune as it supplants Chinese players supplying to India.
Do note that company does not supply to China. Rather, China has been the key supplier historically in India for this product.
India has a huge latent demand for this product. I say latent because this demand has not been exploited well yet. Why not? Domestic clients do not want to rely solely on China due to quality and logistical concerns. And no domestic supplier has given a serious thought to break into this segment so far because of the lack of required expertise.
Except the one I'm talking about.
Not only is this homegrown company likely to supplant Chinese players in India, I think it will also meet the unfulfilled demand in the domestic market.
As for its existing products, the company is already a market leader. It's a key supplier to most of the big brands in a niche segment. And it's the second company in Asia (and the only one in India) to pass the stringent quality norms for export markets.
Robust management, strong products with diverse applications, long-standing client relationships, a healthy balance sheet, multiple triggers for business growth (including this new Chinese-beating product) ...the business has all the elements that suggest high return potential and blue-chip-like stability.
The cherry on top is it's still available at attractive valuations. For more on this China-beating small cap and two other 'blue-chip-like' small caps, check out our free special report, Junior Bluechips.
Editor's note: Investments in mutual funds are at an all-time high. But they are not always strategic... Now, if ever, is a good time to be strategic about your investments. If you are looking for the best mutual fund to invest in, sign up for this exclusive report - The Strategic Funds Portfolio For 2025.
02:00

Chart of the Day

Yesterday, bitcoin hit an all-time high of US$ 4,151. Time travel to 2013 and bitcoin was trading at a mere US$100. That's a sky-high return of 4051% in just around four years. Little wonder Bill Bonner declared bitcoin 'the most profitable investment in the history of the world'.
Price Movement of Bitcoin from August 2012 to August 2017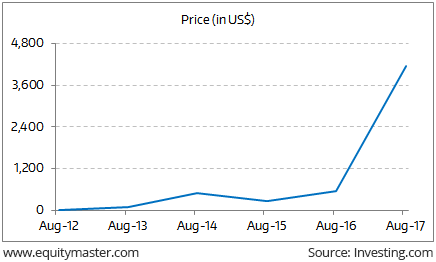 As per an article in BusinessToday, bitcoin trades on popular exchanges like Zebpay, Unocoin, and Coinsecure. Most of the exchanges have Android and IPhone apps that let you link your bank account for quick transfers.
Now, before you decide to buy bitcoins, you need to be aware of the risks involved. For example, did you know the cryptocurrency market in India is completely unregulated? If the bank loses your money, you can complain to the Reserve Bank of India (RBI). But with bitcoin, you have no one to turn to.
Further, the password for your bitcoin wallet is irrecoverable. If you are unable to access your password for any reason, the entire balance will become worthless.
Another concern is that bitcoin transfers are irreversible. Even if the transaction is initiated by hackers trying to steal your bitcoin, the transfer cannot be reversed. Once stolen, bitcoins are irrecoverable, making them prone to cyberattacks.
Another risk, currently, is price. While it's difficult to know the right value, it's surged more than thirty times in four years, prompting the question: Is bitcoin a bubble of epic propositions? It's a question Bill Bonner has been trying to answer in a series of fascinating articles.
For those interested in dabbling in cryptocurrencies, the Equitymaster Insider Ankit has done extensive research on bitcoin and its competitors. If bitcoin does interest you, I strongly recommend you to read Ankit's premium guide - Bitcoin 101 (subscription required).
In a rare intervention, the government has directed the central power regulator to give preference in transmission facilities to the winners of wind project auctions. As per an article in Economic Times, the move should help achieve the target of 60,000 MW of wind energy by 2022.
The decision has come at a time when the wind generation sector is under a lot of pressure.
The sector is losing a lot of benefits to solar power producers as generation-based incentives for wind developers have been withdrawn.
Solar power producers are currently selling electricity very cheap. Some recent bids have been as low as Rs 2.44 per unit. With wind power rates much higher, the sector has seen deterioration in demand.
To compete with solar, wind developers have started to participate in reverse bidding, meaning the developer who quotes the lowest rate gets to supply the power. These low bids, in turn, have started to impact realisations and returns.
To make matters worse, solar module prices are falling and the cost of setting up a solar power plant is falling considerably.
While India needs to take a significant leap ahead in renewable energy segment, the government needs to make sure that all stakeholders remain incentivized for the trend to sustain in the long term.
At the time of writing, BSE Sensex was trading higher by 106 points. While, BSE Mid Cap and BSE Small Cap index were trading higher by 0.6% and 1% respectively. Sectoral indices were trading on a mixed note with stocks from the telecommunication sector witnessing maximum buying interest. However, stocks in the pharmaceutical space were witnessing selling pressure.
04:55

Today's Investing Mantra

"Only when you combine sound intellect with emotional discipline do you get rational behavior." - Warren Buffett

This edition of The 5 Minute WrapUp is authored by Richa Agarwal (Research Analyst).
Recent Articles