You've Heard of Timeless Books... Ever Heard of Timeless Stocks?
Aug 19, 2017
In this issue:

» Sikka's resignation caps off a miserable run for IT stocks
» Weekly market round up
» ...and more
'Could the Lindy Effect work on stocks?', I wondered.
The Lindy Effect is a fascinating idea that predicts how long something will last...especially when the thing is a non-living entity....
Human beings make this automatic assumption that the longer something lasts, the shorter its remaining life. Between a toddler and a grandparent, the toddler will almost invariably outlive the grandparent.
However, the Lindy Effect says the exact opposite. The longer something lasts, the longer its remaining life.
If a Broadway show in New York has run successfully for 100 days, it is expected to run for another 100 days. If it had a 200 hundred day run, it'll get 200 days more.
The concept works for books as well. Take, for example, Leo Tolstoy's classic War and Peace. Now in its 149th year, the book lives on. If you were to believe the Lindy Effect, the book is expected to survive another 149 years.
Or for that matter, consider the religious epics, the Ramayana, the Bhagavad Gita or the Bible. Been around for thousands of years, they can be expected to last the same duration if the Lindy Effect is to be believed.
Kind of makes sense, isn't it? All these classics are based on timeless ideas that seldom go out of fashion.
Ideas that are extremely fundamental and form the bedrock of our civilization. And therefore, if the books around them have been in print for hundreds of years, they could be expected to be in print for an equal number of years in the future.
A small piece of reading advice. If you want to extract the maximum learning out of a book, try reading the ones that have been around the longest. Use the Lindy Effect to your advantage.
Let us come back to the question I asked at the start. What about stocks? Can the Lindy Effect be used to pick timeless stocks from the stock market? After all, if the phenomenon works so well in the realm of books and plays, it should work equally well in investing.
Well, both yes and no.
Come to think of it, Warren Buffett can be considered a poster boy for the Lindy Effect.
He will never invest in a stock that has not been around for at least 15-20 years. If a stock must be around for the next 15-20 years, his typical time horizon, it should at least be that old.
However, does he invest in every such company? Certainly not.
The Lindy Effect works in the realm of ideas and while a company may be founded on the principle of timeless ideas, it makes money by selling products and services that are perishable.
Tomorrow, another company can emerge using the same timeless ideas, and come up with better products or services. And this is where you as an investor are required to use your judgement.
Which is why Warren Buffett is such a genius. He not only excels at zeroing in on companies that are based on the timeless idea of being the lowest cost producer, or being indispensable to its consumers, but also have products or services that cannot be easily replaced.
After all, people can change from travelling on horseback to travelling in cars; or we can switch from buying at a mall to buying online. But we are likely to keep on munching that Dairy Milk or gulping down Coke.
Use the Lindy Effect by all means to zero in on the right companies. But also make sure that the products and services you bet on are not perishable or easily replaceable.
There must be such companies in the Indian context... companies that are not only run based on timeless ideas but also have long lasting products and services or at least have the foresight to keep changing them with the times? The HDFC twins? Asian Paints? HUL? Nestle? It will be interesting to see what happens with these.
Editor's note: Here's something you might need... a portfolio that gets high investment gains at relatively moderate risk. But of course, we don't all have the time or wherewithal to build our own perfect portfolios. What to do in this case? Find a source you trust, of course. And we know just the source for you... PersonalFN's latest report - The Strategic Funds Portfolio For 2025. It's special portfolio of 6 equity funds that have the potential to deliver Superior and Consistent performance over a long-period of time. Click here to get yours.
03:10

Chart of the Day
Underperformance of Top IT Stocks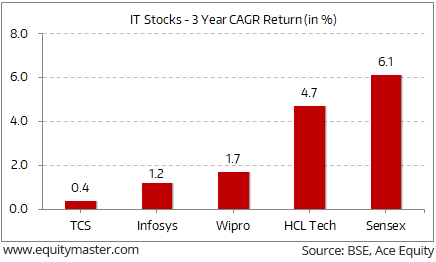 Speaking of timeless stocks, the IT sector was much favored amongst investors since the turn of the decade. IT giants like TCS, Infosys were considered a safe bet at any price. With Infosys' CEO's resignation yesterday, it caps off a miserable 3 year run for IT stocks.
The top 4 IT companies have underperformed the benchmark. With the sector heavily dependent on US customers, Trump's protectionist policy announcements have further dampened the mood in this sector.
Also, with automation on the horizon, Indian IT companies' low cost labor outsourcing is turning into a thing of the past. IT companies need to re-invent itself.
Automation is needed in their traditional businesses like BPO, application management, and infrastructure management.
While near term challenges are there, current valuations of top IT companies are at multi-year lows. But is this the new normal? The challenge is to find the companies better placed than others to adapt to this structural change.
Benchmark indices in US corrected marginally by 0.8% during the week. Minutes of Federal Reserve's July meeting are out and the situation looks to be in favor of the emerging markets.
Minutes indicated that policymakers were concerned about the recent decline in inflation and few were even of the opinion to halt interest rates hikes until there was further clarity on its trajectory. Further, concerns over Mr Trumps ability to introduce pro-growth policies also dragged the benchmark index.
Moving on to European markets, benchmark indices in Germany and France posted gains of 1.3% and 1.1% during the week. The indices would have ended on a much higher note if not for the terror attack which took place in Barcelona on Thursday.
Whereas, markets in Asia ended on a mixed note. Benchmark index in China and Hong Kong posted gains of 1.9% and 0.6% during the week. China's steel output at 72 million tonnes in the month of July is the highest ever, easily beating the previous record of 70.65 million tonnes in March 2016. Power generation also came in at the highest level since May 2014. Economic growth in China has been better-than expected during the first half of this year. While, indices in Singapore and Japan witnessed a mild correction of 0.9% and 1.3% respectively.
Back home, BSE Sensex gained 1% during the week. While, BSE Small Cap and BSE Mid Cap index posted hefty gains of 3.9% and 3.3% during the week. Vishal Sikka's resignation as CEO of Infosys dragged the benchmark index on Friday as the index corrected by 0.8%. Infosys sank by 9.6% in yesterday's trade, its biggest fall since April 2013.
Performance During the Week Ended 19th August 2017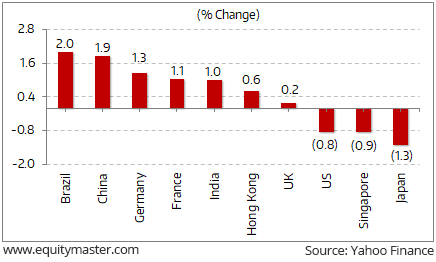 4:55

Weekend Investment Mantra

"It takes 20 years to build a reputation and five minutes to ruin it. If you think about that, you'll do things differently." - Warren Buffett

This edition of The 5 Minute WrapUp is authored by Rahul Shah (Research Analyst).
Recent Articles