Were You Lured By Mr Market's Bait?
Aug 23, 2017
In this issue:

» 'Evergreen' Pharma Sector Underperformance
» The Blame Game at Infosys
» Market roundup
» And more!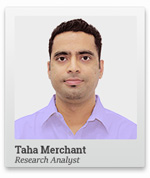 Few fall for the same trick twice.
Expect when Mr Market casts the bait. He's made an art of using the same old chewed up lures to reel in investors over and over again.
Look what happened August.
Midway through the month, this is what the market looked like: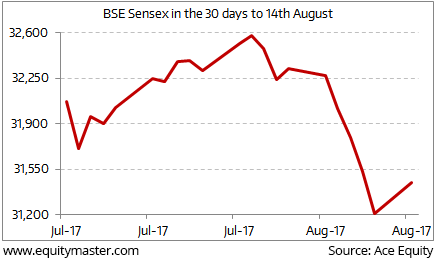 A leading daily was quick to run the headline:
Bloodbath on Dalal Street, Rs 6.4 lakh crore gone in 4 days.
And why not? The stock market did fall sharply. And we all know the media loves bloody headlines. They do bring in the eyeballs, after all.
The problem is their reporting is often only about getting eyeballs and seldom about what those eyeballs should do. When was the last time you read an article that told you about the best way to look at the situation to make the right decision?
Last week, investors were left with the feeling a crash had taken place...and that stocks were finally on sale once again. Time to take a big plunge perhaps?
It doesn't help that, as a bunch, investors tend to look at the market relative to where it has been recently rather than in absolute terms.
Amid all this, we wrote to subscribers of our Benjamin Graham-inspired Microcap Millionaires service to tell them exactly what to do. We showed them the following chart (which is a much more informative chart to base your long-term investing decisions on than the one above):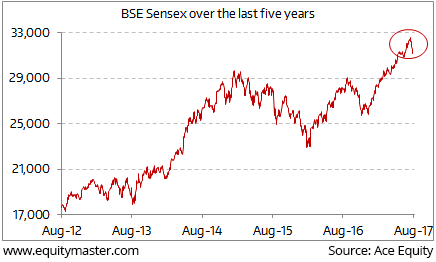 It puts the so-called 'bloodbath' in perspective. Suddenly, it looks more like a blip.
In absolute terms, all it did was take the BSE Sensex from a price-to-earnings of 24.5x to 23.5x. And while this looked like a sea of red...and potentially a great time to jump in or add to existing positions...23.5x still isn't a great number to begin with - for us bargain hunters.
So, no, stocks didn't suddenly become more attractive. They merely became less exorbitant.
Mr Market loves to cast this tired-but-dependable lure ever so often.
And investors seem to take the bait, every time.
Editor's note: Yes, stocks remain quite expensive. Nevertheless, it would be foolish to stay out of stocks altogether. If you think markets are overvalued, book profits by all means. But do keep at least some exposure to stocks at all times. Our Microcap Millionaires service follows exactly such a template. It is never 100% out of stocks and believes in always keeping at least a 25% exposure to stocks that can go up to as much as 75% based on how attractive the broader markets are.
Its 157% returns since inception vis-a-vis the broader market's 52% return is proof of the effectiveness of the strategy. Click here to know more.
02:15

Chart of the Day
Price to Earnings Ratio (PE) of Top Pharma Companies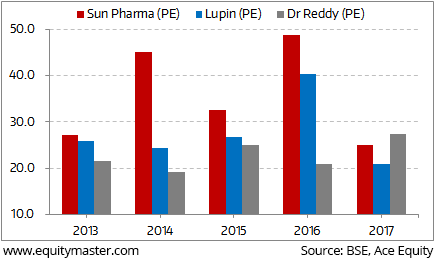 Speaking of blips, the BSE Healthcare Index has been going through more than a blip. It ended at 12,828 yesterday, a 13% decline from the start of 2017.
Domestic and export markets have both been challenging. Government regulations on branded generics have proved a roadblock in domestic markets. In developed markets, stringent USFDA checks on manufacturing plants along with price erosion in generics have eroded profitability.
There is a structural change taking place in the sector overall as to how business is done and will be done in the future.
The pharma sector always traded at premium valuations in the past. It was labeled an 'evergreen' sector. Any small blip was considered an opportunity to buy. Investors fell into the fallacy of looking at stocks relative to where they were recently rather than in absolute terms.
It's important to understand every business has its ups and downs. This is where valuations can help. When we buy fundamentally strong stocks at reasonable valuations, investors factor in the downside as and when it comes. But when investors bought pharma stocks at exorbitant valuations, they eliminated that margin of safety for themselves. They expected the pharma sector to continue growing without any bumps. A classic case of good stocks bought at a bad price.
The Infosys tussle ceases to end. After the board lashed out at Mr Murthy for his role in CEO Vishal Sikka's exit, it is now facing backlash from investors and employees alike. While the blame game continues, investors have been left in the lurch.
Investors anchor their perception of management quality to past performance. They rate best the companies with a track record of prudent spending and high shareholder return. Infosys certainly was a flagbearer of a shareholder-friendly management.
But when a new management tries to break from the past, both founders and minority shareholders struggle to come to terms with the change.
Here's Infosys' Narayana Murthy in an interview in 2012...
Given that I took 10 per cent of what I was earning before starting Infosys and that salary was very low even by the standards of 1981, I did not expect that the CEO salaries would reach what they are today.

We, the founders at Infosys, decided right from the beginning that we would set an example for the entire Indian industry in the compensation of the founders. We decided that no founder would use any corporate resources for any personal benefits. We decided that our salaries would be lower than the senior management staff who did not own stocks like we did. Even today, the salaries of Kris and Shibu are less than 40 per cent of the salary of the people that report to them. No Infoscion has any company car. We also eschewed any granting of options to the founders.
Narayan Murthy was critical of the variable pay of CEO Vishal Sikka, who, appointed in August 2014, saw an eleven-fold jump in his take-home salary (including bonus and incentives) to Rs 487.3 million in FY16. In fact, it was the highest salary of all IT company CEOs.
With Infosys, it's difficult to pass a judgment and take sides at this point. But minority shareholders certainly need to re-anchor their expectations.
The Indian stock markets were trading higher at the time of writing. The BSE Sensex is up 150 points and the NSE Nifty is up 40 points. The BSE Mid-Cap and BSE Small-Cap Indices both opened the day up 0.6%.
All major sectoral indices opened the day in the green with metals, realty, and healthcare leading the pack.
04:45

Investment Mantra of the Day

'Be fearful when others are greedy. Be greedy when others are fearful.' - Warren Buffett

This edition of The 5 Minute WrapUp is authored by Taha Merchant (Research Analyst) and Girish Shetty (Research Analyst).
Recent Articles