A Portfolio That Has Ganpati Bappa's Blessings
Aug 29, 2017
In this issue:

» QIPs Poised to Scale Fresh Peak in 2017
» Four Companies Plan to Go Public in September
» Market roundup
» ...and more!
It is that time of the year when Mumbai's favourite god descends from the heavens and makes Earth his abode for the next ten days...and Mumbai turns into a sea of revelry.
No weather is too inclement, no traffic too jammed for Mumbaikars to visit friends and relatives and seek blessings from their beloved Bappa, the ultimate remover of all obstacles.
His head the symbol of wisdom and his long ears ever too willing to hear anything his devotees request, we wondered whether he would hear our request for the best stock picks.
We promised not to take too much of his time. We merely ask for his divine assistance in picking the best twenty stocks for us to buy and hold for the next five years. Then, after the five years, we'd sell all twenty positions and repeat the process for the next five years. Since we're long-term investors, and Bappa has many requests to answer, we figured this approach would suit us both pretty well.
If we had asked Bappa for the best twenty stocks ten years ago, and again five years ago, this is what the Lord Ganesha portfolio performance would have been.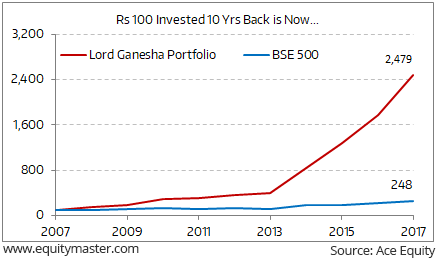 With Bappa's perfect foresight, we would have outperformed the benchmark index (BSE 500) by a factor of 10x. And compared to a CAGR of 10% from the index, Lord Ganesha's picks would have compounded by a whopping 38% CAGR.
But even Bappa wouldn't have been able to protect us from the sharp declines some of these stocks suffered over the years. Because stocks are, in the end, stocks. They go up. And just as surely, they go down.
For example, Ashok Leyland, HPCL, and Voltas suffered declines of more than 40% between 2012 and 2013. This is enough to call into question even the stock picking prowess of a god.
Of course, many investors would have sold out of these stocks on their way down. But that would have been a bad move, as they each staged a smart recovery and gave fabulous returns for the full five-year period, vindicating Lord Ganesha's picks and the practice of long-term investing.
If a stock's fundamentals are sound and you're investing for the long run, it's not a good idea to sell after a big fall in the price. The stock could very well recover and become a star in your portfolio.
Now, the reason I speak of Lord Ganesha is, with all due respect, because it helps me drive home for you this very important point...
Even the best performing stocks can have a lot of price volatility in the short term. But if you are sure of the fundamentals, keep holding. The best returns come from staying invested for the long haul.
But there's another lesson to be learned here...
Imagine word got out that we are forming a closed-ended portfolio with Bappa's blessings; investors would flock to subscribe and we'd have US$2 billion in assets under management in no time. Even if we closed the fund to fresh subscriptions, in few years, it would grow so large that it would become the benchmark index itself.
If we extended the example from the chart above, the Bappa portfolio size could equal the market cap of BSE 500 as early as 2038 (assuming the BSE 500 index grew 15% every year).
Yes, given the power of compounding, our US$2 billion portfolio formed in 2007 would become the BSE 500 itself by 2038.
No stock picking skills, not even those of a god, would help the portfolio beat the benchmark index. After all, the index cannot beat itself.
The second lesson then is this: It is much more difficult to earn superlative returns on a Rs 100 crore portfolio than on a Rs 10 crore portfolio, and a Rs 10 crore portfolio is more difficult than a Rs 1 crore portfolio.
Warren Buffett was right when he said that size damages performance. After all, elephants can't multiply at the same rate as ants.
When we talk about microcaps and small caps, what we are doing is making sure that your portfolio multiplies in a way that Warren Buffett's can't. Just make sure that you are taking advantage of your size as well.
Editor's Note: On the table are two interesting buyback offers (Wipro and Infosys) that could offer some quick and easy gains. However, there has been some ambiguity regarding the tax implications of buybacks. In yesterday's Insider, Ankit cleared up this ambiguity and explained how you can make the most of these arbitrage opportunities.
03:00

Chart of the Day

Qualified institutional placements (QIP) are set to touch a record high in 2017. Since the beginning of 2017, QIPs have crossed Rs 340 billion. According to Prime Database, more than 60% of this amount has been raised by companies belonging to the BFSI (banking, financial services, and insurance) space. This includes the likes of State Bank of India and Kotak Mahindra Bank, which have raised Rs 150 billion and Rs 58 billion, respectively.

QIPs tend to be a faster way to raise capital as the dealing happens with a few investors - only institutions in this case. And this is why companies prefer this route - because of its convenience and fewer resource requirements compared to other methods of raising equity.

Buoyancy in the market and positive sentiment towards primary issuances are giving confidence to companies and investment bankers to push ahead with their capital-raising plans. With 17 offerings raising a little over Rs 340 billion in just seven months, fundraising through institutional placements will surpass the QIP record of Rs 346.7 billion set in 2009.
QIPs Poised to Scale Fresh Peak in 2017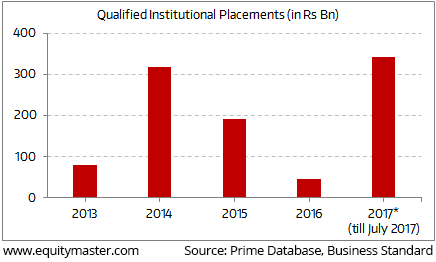 The Indian markets have rallied 19% in 2017. India remains one of the best performing markets in the world. The broader markets, particularly the small-cap and mid-cap stocks, have outperformed the benchmarks. The attractive valuations in the secondary market are encouraging a lot of promoters to go public.
The stock markets have picked up steam. But does it mean you should rush out to buy stocks?
The answer is no.
We believe it's important to not get swayed by the buoyancy. Instead, one should look for the fundamentals of the business and the attractiveness of valuations before buying any stock. The best thing to do in an overheated market is almost always to stay focused on value and take comfort in the safest stocks.
Another way to raise funds is through initial public offerings (IPOs). 2017 saw 15 companies hitting the primary market. As per an article in Mint, at least four companies plan to go public to collectively raise upwards of Rs 20 billion in September. The list includes online matchmaking company Matrimony.com Ltd, road developer Bharat Road Network Ltd, electronics maker Dixon Technologies (India) Ltd, and real estate services provider Capacit'e Infraprojects Ltd.
Apart these September IPOs, a slew of big ticket IPOs is set to hit the market over the next few months, which includes HDFC Standard Life Insurance, General Insurance Corporation of India, the National Stock Exchange of India, New India Assurance, and SBI Life Insurance.
26 companies have already filed their offer documents with the market regulator for offerings worth Rs 620 billion. Even if half of these offerings go through, 2017 will be the best year for primary market issuances since 2007- the peak of the previous bull market.
With the flurry of IPOs on the line, we have come out with a special report titled, How to Get Rich with IPOs. It is a comprehensive report that cuts through all the hoopla surrounding IPOs. It also talks about spotting the rare good profitable companies. Claim your free copy of the report here.
Indian equity markets opened the day on a weak note. At the time of writing, BSE Sensex was trading lower by 190 points and the NSE-Nifty was lower by 60 points. Both the mid cap and small cap indices are trading down 0.1% and 0.3%, respectively. Stocks from the banking and capital goods sectors are the major losers.
04:55

Today's Investing Mantra

Loss of focus is what most worries Charlie and me when we contemplate investing in businesses that in general look outstanding. All too often, we've seen value stagnate in the presence of hubris or of boredom that caused the attention of managers to wander. - Warren Buffett

This edition of The 5 Minute WrapUp is authored by Rahul Shah (Research Analyst) and Sarvajeet Bodas (Research Analyst).
Recent Articles