Picking Rs 100 Notes off the Stock Market Floor
Aug 30, 2017
In this issue:

» Bitcoin on a Roll
» Mr Ajit Dayal's take on the Infosys Saga
» Market roundup
» And more!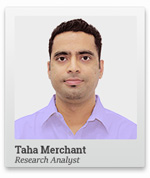 Imagine a room packed with people carrying suitcases full of money, falling over each other, desperately trying to exchange their money for stocks.
They're so engrossed in getting their hands on the hottest stocks, that hardly anybody notices a few notes fall out of the suitcases and onto the floor.
This room is the stock market. And those unnoticed notes on the floor are the staid, duller opportunities the market offers every now and then.
Yes, easy money is in plain sight, right on the stock market floor...and few care to look.
You see, these opportunities don't offer the glamour of growth stocks...or the thrill of multibaggers.
No eye-popping profits here.
Rather, on offer is the opportunity to pick up neat and quick profits at much lower risk. A very sweet deal, I would say.
For instance, one opportunity currently is the spate of share buybacks.
A share buyback happens when a company uses its excess cash to buy its own shares back from its shareholders. The company then cancels them out. This reduces the company's outstanding shares and enlarges the stake of the continuing shareholders.
While this is the plain Jane view of a buyback, there is a little-known technicality in the law that is helping smart investors make a neat and quick profit out of this process.
For example, in the case of TCS' recently concluded buyback, while the company bought back 2.85% of its total outstanding shares, investors who were equipped to take advantage of the technicality walked away with gains running into the high double-digits.
And that action isn't over...
There are and will be many more opportunities like this.
In fact, right now, two major buyback proposals are on the table - both from major IT companies.
Wipro announced an Rs 110 billion buyback last month, proposing to buy back 343,750,000 equity shares at Rs 320 per share. And more recently, Infosys announced a share buyback worth Rs 130 billion at Rs 1,150 per share.
Both offers are at premiums to the companies' current stock prices. Of course, you'll have to do your research, and you'll need to know the smartest way to take advantage of this difference.
Fortunately, my colleague Ankit Shah, Editor of Equitymaster Insider, is revealing exactly how to take advantage of these opportunities.
From the details of the process, the various scenarios, and the different strategies you could use...to the risks involved (well, nothing is completely risk-free) and even the tax implications of participating in buybacks - you can count on Ankit to keep you on the 'inside'.
Such opportunities may mean relatively small profits, but they're a quick profit- like scooping a wad of Rs 100 notes from the stock market floor, and almost as easy.
All you need to know is where to look.
Editor's Note: Unfortunately, Ankit's subscription-based service, Equitymaster Insider, will soon be closing to new subscribers. So if you want to get in on the inside of the stock market and pick up these easy opportunities right off the floor, you'll need to sign up before tomorrow at 11:59 PM.
02:20

Chart of the Day

Bitcoin's stellar rise has been hitting the headlines recently. Yesterday, bitcoin hit an all-time high of US$ 4,700. Time travel to 2013 and bitcoin was trading at a mere US$100. That's a sky-high return of 4600% in just around four years. Little wonder Bill Bonner declared bitcoin 'the most profitable investment in the history of the world'.
Price Movement of Bitcoin from August 2012 to August 2017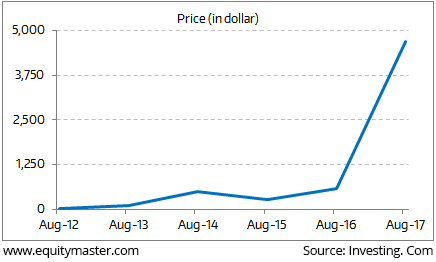 Bitcoin and cryptocurrencies are a curious bunch. They have no central bank backing and have not yet been regulated. Yet they seem to have found favour among a large number of people, with demand for them growing every day.
Now, before you decide to buy bitcoins, you need to be aware of the risks involved. For example, did you know the cryptocurrency market in India is completely unregulated? If the bank loses your money, you can complain to the Reserve Bank of India (RBI). But with bitcoin, you have no one to turn to.
Another concern is that bitcoin transfers are irreversible. Even if the transaction is initiated by hackers trying to steal your bitcoin, the transfer cannot be reversed. Once stolen, bitcoins are irrecoverable, making them prone to cyberattacks.
Another risk, currently, is price. While it's difficult to know the right value, it's surged more than forty times in four years, prompting the question: Is bitcoin a bubble of epic propositions? It's a question Bill Bonner has been trying to answer in a series of fascinating articles.
For those interested in dabbling in cryptocurrencies, the Equitymaster Insider Ankit has done extensive research on bitcoin and its competitors. If bitcoin does interest you, I strongly recommend you to read Ankit's premium guide - Bitcoin 101 (subscription required).
Corporate governance issues at top-notch firms are on the rise. Just a few months ago, it was the Tata group in an ugly boardroom battle.
And now it is Infosys. The tussle between founder and operators has finally led Sikka out the door. His 'drumbeat of distractions' email was revelatory.
In this friction between founder and executives, the minority shareholder has been an unfortunate casualty. The stock price stumbled 13% to a three-year low as US$4.85 billion of market value disappeared.
To address the minority shareholders, Mr Murthy held a conference call yesterday. He stated and we quote:
Business decisions are sometimes taken as bold bets that may not pan out as expected. That is par for the course in any company. However, when there is a cloud around how the organization is being governed, we must speak up. This is the key ingredient to keep an institution healthy in the long-run and hold it accountable to all stakeholders. I will not be here forever but I do hope that all of you, shareholders, will speak up, question, and protect this institution.

Folks, it is not lost on me that the choice I have faced was to keep quiet, not raise these questions, and let the company suffer OR to stand up and ask questions. While keeping quiet may make me seem gentle and 'good', it had the potential to mortally wound the company in the long-term. Therefore, I chose to speak up and question because, like every one of you on this call, I wish to see this company flourish as an institution.
Mr Ajit Dayal has written an excellent article on the Infosys Saga.We won't take your time trying to explain it; we won't be able to do it justice. Please, do yourself a favour and read How Boards Ruin Institutions.
At the time of writing, BSE Sensex was trading higher by 243 points (up 0.8%). After opening the day on a firm note, stock markets have continued their strong momentum. Sectoral indices are trading on a positive note with stocks in the metal sector and energy sector witnessing maximum buying interest.
04:45

Investment Mantra of the Day

"Only when you combine sound intellect with emotional discipline do you get rational behavior." - Warren Buffett
Recent Articles