Should You Cheer Fit India or Worry About 5% GDP Growth?
Sep 3, 2019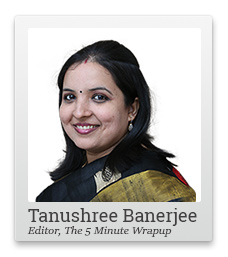 An active marathoner trains almost as much as a track and field athlete.
A friend, who is set to participate in her tenth marathon this year, shared this information.
It seems she is not the only one training so hard. India already has over a lakh marathoners regularly participating in over 100 races held during the year.
The focus on India on International Yoga Day is also unmissable.
--- Advertisement ---
READ: FULL Transcript of Our Urgent Broadcast

The full transcript of our urgent broadcast on India's Revival is available for a limited time now.

In case you missed watching our broadcast LIVE...

You can see all the important highlights from our broadcast in this transcript.

Please note that we may take this transcript off the internet any minute.

So it is highly recommended you read it immediately.

Click Here to Read the Transcript NOW
------------------------------
But do these facts mean that we are already a Fit India?
We'd love to believe so.
But the fact is that majority of Indians are far from being physically fit. Only a fraction of the population is actively involved in sporting activities.
It is just like the fraction of listed companies that can claim to be financially sound. They are the ones which have not let cyclical downturns and slow GDP impact their own growth.
So, Fit India is a goal that Indians and Indian companies must resolve to achieve.
But this hardly going to be a sprint.
Like my friend says, we must be prepared to train hard, to run a marathon.
But first picturize the bulge in the Indian economy. Start with the large inefficient public-sector entities.
--- Advertisement ---
[Watch Now] 3 Little-known Stocks We are Super Bullish On




Click Here to Watch Now
------------------------------
The PSU banks, in particular, as they account for two thirds of the economy. The banks, have, over the past three years, amply proven the cascading effect of their unhealthy balance sheets.
So, cleaning up the PSU banks was a good place to start India's fitness regime.
But it is the consolidation of inefficient entities that has really put these banks on the treadmill. Fitter banks could be the lifeline of a Fit India.
Make no mistake. Their training still needs to be long and hard.
But if done well, these entities could well compete with their private sector counterparts in the marathon of creating shareholder wealth.
Now, as an investor, you must decide whether the marathon interests you or not.
You need to have the endurance to sit tight as some companies train hard to participate in such marathons.
If you do, a couple of quarters of disappointing financials, should not bother you.
JUST IN: Limited-Time Access to Full Transcript of Our Urgent Broadcast on India's Revival
The GDP growth rate of 5% should not be your focus.
Keep your eyes on companies that are already fit or are getting fitter by the day. And when the time comes, ignore the market noise, to cheer the companies participating in the marathon.
That is exactly what I am doing in my Rebirth of India project. And my latest recommendation was also a fit PSU set to become fitter.
Chart of the Day
How do you decide the best match amongst FM Sitharaman's latest matchmaking of PSU banks?
Needless to say, most investors would be worried about the level of NPAs and current and savings accounts (CASA) of the merged entities.
Lower NPA ratio and sustenance of high CASA, in the future, could signal the banks' fitness levels to lend more.
India's Top 6 Public Sector Banks Are Getting Fitter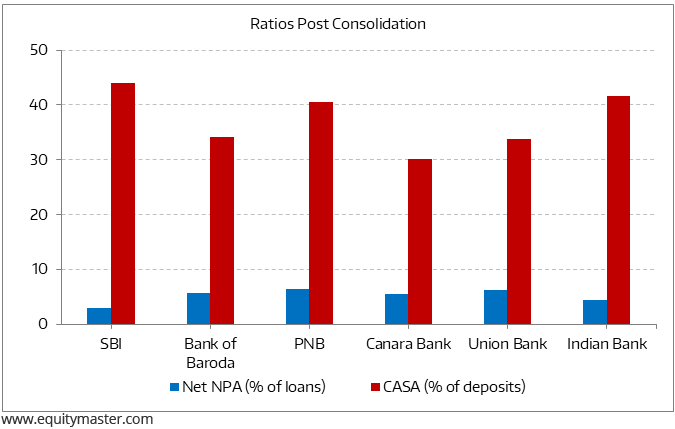 But what could go unnoticed is the efficiency potential of the merged entities.
Post merger, the employee per branch ratio of the consolidated PSU entities could be in the range of 7 to 9 per branch. This would be almost half that of their private sector counterparts like HDFC Bank and Kotak Bank.
Leaner operations would mean use of technology to support growth.
So, I would not be surprised if the PSU entities leverage technology at a much bigger scale than their private sector peers, in a few years.
Warm regards,



Tanushree Banerjee
Editor and Research Analyst, The 5 Minute WrapUp
PS: Dear reader, it's the perfect time to buy my pick of the best 7 stocks in the market. Read more about these 7 stocks here...
Recent Articles