Can I Get What the Stock Market Is Smoking?
Sep 4, 2017
In this issue:

» Underperformance of Pharma Sector
» Is Demonetisation in India a Failure?
» Market Update
» And more...
'What are you smoking? I asked the market.
'Are you high or something? Look at the harsh realities around you...'
The market breathed in deep, looked me square in the eyes, and said...
'Man, I am really high...'
[A long pause...]
'But don't forget India is a long-term growth story.

It is one of the fastest-growing economies in the world.

Everyone is optimistic...

From FIIs to domestic investors...

And they keep giving me money...

And I keep getting higher!'
'I know,' I said...
'But no one is bothered to look at valuations.

Even analysts are caught up in your haze of optimism. They're finding new and creative ways to justify the high valuations.

In a recent research report, an analyst calculated earnings for FY23...and discounted to FY19 to arrive at a target price!

At a recent IPO meet, an analyst asked the management a simple question: Why is your stock so cheap compared to your competitors?

You know what they said?
Never mind, such things happen in a bull market!
'The reality on the ground, of course, is completely different. And now we have data coming in that reflects it.
The recent RBI annual report sums up the macro conditions of the country:
Going forward, even as the recent launch of the Goods and Services Tax (GST) gains traction across the country, strengthening fiscal consolidation, particularly at the sub-national level; reviving bank credit, and bringing investment back on rails, remain a challenge.
Even the latest GDP data is not encouraging. Economic growth plunged to 5.7% in April-June of the current financial year.
Deceleration has clearly intensified. Most likely because of a combination of the long-term slowdown and short-term temporary shocks like demonetisation and GST destocking.

Expenditure-side data also shows non-existent growth in capex and faltering exports. On the other hand, imports are rising.

Vivek Kaul, I'm sure you know, tracks all of this. In fact, he just released his "Economic Thermometer" (Subscription required).

Have you read it?

Nah, of course you haven't... You never take care of yourself.

Anyway, it's made up of 24 economic indicators...real numbers that tell us the real state of the Indian economy.

And they are staggering...

Anyone who wants to understand the true health of the Indian economy needs to check it out.

But I doubt anybody will. Because you, dear Market, seem to be on a bull run. Only the "Smart Money" is worried about your health. The nonstop inflow of money is covering up your hacking cough.

Lower interest rates in the developed markets mean higher fund inflows into our markets. Domestic mutual funds are following the same path...though earnings are yet to catch up.

The anticipation is that earnings will recover and market valuations will revert to the mean.

Historical data - not that you or anybody else remembers...or cares to look back - reveals highly subjective valuations...

The data also clearly tells us markets are overvalued...

But who am I to say the markets can't become more overvalued before this bull market ends?'
And then, finally, the market, still surrounded by a cloud of smoke, cut me off, laughed in my face, and brushed me off as he said...
'Here kid, put that in your pipe and smoke it.'
Editor's Note: What do you think 'Smart Money' means?
If you think it refers to the brightest minds out there who always seem to be ahead of the heard...
Then you are correct!
Bull market or bear, these Smarty pants have a knack for beating the trousers off retail investors...
How do they do it?
Well, that's a secret.
At least...that's what they want you think.
The fact is you can learn Smart Money Secrets and track their best stock picks.
Are your stock picks Smart-Money approved?
03:00

Chart of the day

The BSE Healthcare Index is down 24% in two years. This is a mighty fall compared to the benchmark index, which is up 23% during the same period. A downgrade in earnings estimates has led to the selloff in the pharma space.
Returns of BSE Healthcare Index vis a vis Sensex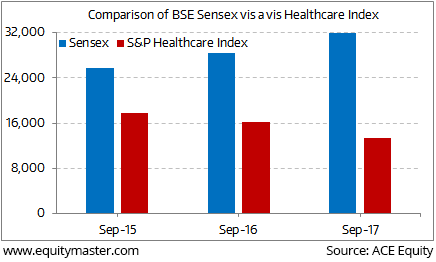 USFDA alerts on Indian pharma companies have increased over the past few years. Regulators used to visit the plants every two years. Now they come every eight months. Increasing inspections have led to a total of 41 import alerts in the past eight years - 33 of them (80%) in just the last four years (2013-16). This clearly signifies increased USFDA scrutiny on Indian pharma firms. If that wasn't enough, increasing pricing pressure in the generics segment has dented realisations.
While short-term pain is expected, companies with strong R&D capabilities and compliant plants will do well over the long term. The uncertainties make it important to be stock specific in the sector. It is important to look for companies that have the competence and staying power to overcome the challenges.
As of today, three stocks in the pharma sector are currently a buy according to The India Letter (subscription required). These are the pharma stocks the analysts believe will outlast all others in the long run.
Finally, ex-governor Mr Rajan broke his silence about demonetisation and shared his views in his new book, I Do What I Do. Mr Rajan warned the government back then that the short-term economic costs of demonetisation could outweigh the long-term benefits. He also suggested there were better alternatives to curbing black money.
And it seems he was right. The aim of demonetisation, we were told, was to curb black money. Government officials said they believed there was a lot of black money in circulation that wouldn't come back to the banks after the 'exercise'. This process of eliminating certain monetary paper notes would supposedly destroy black money.
However, the fact is 99% of the demonetised notes have been deposited back in the bank. This suggests major flaws in the demonetisation framework from the beginning.
Worse, the whole exercise seems to have put severe pressure on economic growth. Vivek Kaul has developed an Indian 'Economic Thermometer' to track the financial health of various sectors. The current reading does not suggest the economy is heading in a positive direction. From April to June 2017, fifteen of the 21 indicators have lost steam, compared to the same period last year.
Please read Vivek's latest letter on India's Economic Slowdown to know more about the financial health of our economy across various sectors.
At the time of writing, BSE Sensex was trading down by 100 points. Sectoral indices were trading on a mixed note with stocks in the telecom sector and realty sector witnessing maximum selling pressure. Energy stocks were trading in the green. Apex Frozen Foods made a debut on the bourses today. The company, which ran its IPO between August 22-24, got listed at Rs 199.90 on BSE today. This represents around 14% premium over its issue price of Rs 175.
04:45

Investment Mantra of the Day

'Opportunities come infrequently. When it rains gold, put out the bucket, not the thimble.' - Warren Buffett
Recent Articles