Don't Buy Lakshmi Vilas Bank...Buy this Private Sector Bank with 74% Upside
Sep 4, 2019
Finally, it happened.
On 28 August, the MD and CEO of Lakshmi Vilas Bank (LVB) resigned.
His last day at work?
31 August. That's just 3 days' notice period.
With this sudden resignation, there is no replacement for the MD's position.
--- Advertisement ---
[Only For Indian Citizens] India is Set to Regain Its Lost Riches

India was the world's richest country nearly 2,000 years ago.

And if you are like us who believe that India is on track to regain its status as one among the greatest countries on earth…

Then, we encourage you to join other true Indians in the first-ever mega summit "REBIRTH OF INDIA" for FREE.

Click Here to Claim Your FREE Pass for this MEGA Summit…
------------------------------
This was a disaster waiting to happen. If you look at the recent numbers, it wasn't surprising.
LVB was stuck in a vicious cycle.
I wrote to you about this - How We Avoided a 60% Loss in Lakshmi Vilas Bank
The bank had its own legacy issues. These were rising bad loans, a weak balance sheet with a poor capital adequacy ratio (CAR).

The falling CAR was a concern.

The CAR is the ratio of a bank's capital in relation to its risk-weighted assets and current liabilities. The RBI has set the minimum CAR at 9% for all banks.

A ratio below 9% indicates the bank does not have enough capital to expand its operations. It ensures that banks don't expand their business without having adequate capital.

On one hand, LVB had bad loan issues and on the other, it badly needed capital to shore up its CAR.

For us, this was a big red flag. We thought this could be the beginning of a vicious cycle.

How?

With the legacy bad loans, LVB had to set aside higher provisioning.

This would negatively impact the CAR. Thus, to shore up its CAR, LVB would need to raise even more capital!

This cycle would go on and on...
Despite raising Rs 1.9 billion in July 2019, the bank's CAR stands at 6.46%, much below the regulatory requirement.
--- Advertisement ---
The 'Profit Accelerator' That Helped Wipro Multiply 2,000 Times Since 1991

Do you know what a 'profit accelerator' is?

It is one of 3 traits that the most profitable stocks have…

For instance, back in 1991 Wipro underwent a huge transformation…

This was the 'profit accelerator' the company needed.

Over the next 3 decades, the stock price of Wipro multiplied over 2,000 times.

Amazing, isn't it?

If you're wondering what exactly a 'profit accelerator' is, you'll find a full explanation of that and the other 2 traits that make a 100X potential stock, in this note.
------------------------------
If you at the recent results, every parameter is worsening.
Its ever-increasing NPAs - currently the gross NPA stands at a whopping 17.3%.
Its deteriorating asset book - loans rated BBB and below (i.e. non-investment grade) account for more than 60% of the loan book.
The negative growth in loan book (-) 21.3% YoY.
The loss at operating level of Rs 255 million.
Clearly, the failure pattern hasn't gone away.
The stock is down 77% in the last two years and 57% in 2019.
Despite this, the number of retail investors (i.e. individual share capital up to Rs 2 lakh) have increased by 8% in the March-June quarter.
This is a typical example of retail investors catching a falling knife!
Don't do this. It's best to avoid such a situation in the first place.
Here's Prof. Sanjay Bakshi's advice...
I am a pattern seeker. I seek success patterns and avoid failure patterns.

These patterns can be found in annual reports, magazines, and where not. One needs to be alert to recognise these patterns and act on them.
Radhika and I also seek patterns while picking stocks for our Smart Money Secrets subscribers.
The entire structure around which the Smart Money Secrets is built, helps us spot patterns better than anybody else in the market.
Our proprietary filtering tool, the Smart Money ScoreTM not only accounts for success patterns; it takes care of failure patterns too - like LVB.
Our recent stock recommendation of May 2019 is an example of a success pattern. We recommended a private sector bank to Smart Money Secrets subscribers.
Radhika and I noticed several success patterns in this bank...
Improving asset quality
Falling credit cost
A decline in cost-to-income ratio
A strong liability (CASA) profile
Increasing market share
This Private Bank Has Consistently Gained Market Share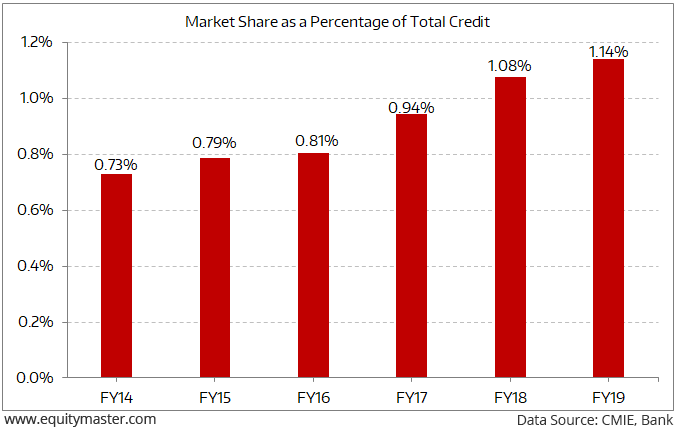 Most importantly, the bank is well capitalised.
Many private banks, including LVB, are currently facing challenges to raise capital.
For banks, capital is like a raw material. If there's a shortage, it becomes difficult to lend. It impacts growth and profitability.
There are no such issues with our recent recommendation.
And due to the recent market correction, the stock is trading below our best buy price.
In fact, from the current price, the stock has an upside of 74%.
This stock is also a part of our latest premium report - Stock Alert: Our Top 5 Stocks to Buy Now. Radhika and I believe these 5 stocks have massive wealth building potential in the long-term.
If you have subscribed to Smart Money Secrets, you can click here to download the report.
If you haven't subscribed to Smart Money Secrets yet, you can sign up here.
Remember, if a stock is in a falling spree, there's probably a good reason behind it.
And realising this in a falling market is the first step towards correcting one's investing process.
Warm regards,


Sarvajeet Bodas
Co-editor and Research Analyst, Smart Money Secrets
PS: Radhika and I recently published a premium report on our top 5 stock recommendations for our subscribers. If you haven't subscribed to Smart Money Secrets yet...you can do so here.
Recent Articles