Is the Stock Market about to Fall?
Sep 6, 2017
In this issue:

» Indigo looking to further increase market share
» RBI releases new list of defaulters
» Market roundup
» And more!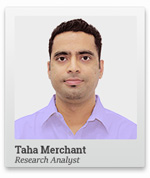 A situation like today's often leads to a fall in the markets...
What situation?
Well, it's actually more of a calculation than a situation. So please bear with me...
You take the index price-to-earnings (PE) and divide it by the economy's quarterly growth rate.
A report in Business Standard points out that whenever this number goes well above its long-term median value of 2.7x, big movements in either the markets or the economy ensue.
What is it today?
So right now you would take the current 24.2x PE of the benchmark Nifty Index and divide it by the 5.6% YoY growth in the economy during the June quarter (as measured in terms of GVA or gross value added).
The number you get is 4.3.
At this elevated level, one of two things can happen:
Underlying economic growth sees a swift and significant rise

OR

Stock prices see a sharp fall
In other words, to get back to the historical average Nifty PE-to-GVA ratio of 2.7x, growth needs to quickly rise to 8.5%.
If this does not happen and economic growth remains subdued, it will likely drag down corporate earnings further.
This coupled with the current high valuations could be a deadly combination. Not one the market would likely greet pleasantly.
A sharp correction in this case becomes a real possibility.
Hope, however, springs eternal. And that's fine. Long term optimism about the economy is an indispensable component of equity investing.
The stock market, however, is notoriously restless. It's been waiting for an improvement in the economy for far too long. Heck, it's even taking a swift recovery for granted judging by the way it has been rising.
Any more disappointment is unlikely to be met with a straight face.
Editor's Note: What do you think 'Smart Money' means? If you think it refers to the brightest minds out there who always seem to be ahead of the hear...
Then you are correct!
Bull market or bear, these Smarty pants have a knack for beating the trousers off retail investors...
How do they do it?
Well, that's a secret. At least...that's what they want you think.
The fact is you can learn the Smart Money Secrets and track their best stock picks.
Are your stock picks Smart-Money approved? Click here to find out...
02:30

Chart of the Day

Something else happens when the market goes on a heady run: mergers and acquisitions. We saw it in 2007 with the Tata Corus deal. And now we're seeing it again. Although nothing concrete has happened yet, Indigo is reportedly interested in Jet Airways if its acquisition of Air India falls through.
Market Share of Indian Domestic Airlines - 2017 (%)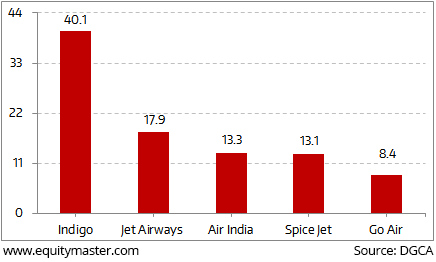 Indigo already has a comfortable market share among domestic carriers. With either of these acquisitions, it would be looking at a 55-60% share of the Indian aviation sector. This move will strengthen its position to increase its share in International traffic. Foreign carriers still dominate international traffic to and from India. Indian carriers are opening up to international routes to increase their revenues and profit margins. International routes traditionally deliver higher margins for airlines.
The aviation industry has been on a high the past year. Warren Buffett invested upwards of US$2 billion a piece into the four largest US airline stocks - American Airlines Group Inc, Delta Air Lines Inc, Southwest Airlines Co, and United Continental Holdings Inc. When crude prices crashed, the lower cost of air turbine fuel suddenly changed the economics of the aviation business.
Despite recent positives, the airlines industry back home is plagued by cutthroat competition and rock-bottom fares. As a result, Indigo has been the only profitable airline in India in the recent past.
It'll take more than Buffett's endorsement of the US airlines to see a clear runway for the Indian aviation industry.
If aviation stocks have had a good run, public sector banks have not.
The RBI released its list of 26 defaulters last week to commercial banks. It wants banks to start debt resolution proceedings against the defaulters, which includes prominent names like Jaiprakash Associates and Videocon Industries with an estimated debt of over Rs 1 trillion.
Banks are in a catch-22 situation. A lax credit lending policy has landed them in their current situation of bad loans on their books. Notebandi further added to their woes by bringing credit growth to a standstill.
Public sector banks witnessed most of the deterioration in lending.
PSBs dominate the banking industry in India with more than 60% of the total outstanding loans. They chose the easy life of issuing big-ticket loans to large corporations over the hard work of reaching out to many small retail subscribers. Extending credit to small and medium enterprises (SME) was also limited - to the extent of meeting priority sector lending targets set by regulators.
Moreover, large-scale bureaucracy and a lack of autonomy ensure the sub-optimal profitability and asset quality of state-run banks.
As more and more skeletons come out of the closet, it's important to identify the root cause of the problem. That of corporate debt. Apart from the banking sector, corporate debt also has serious implications for the overall Indian economy.
Banks with a sizable amount of bad loans on their books are reluctant to lend to even healthy companies. This will adversely impact the growth of the economy going forward.
At the time of writing, share markets in India were trading lower. Barring consumer durables stocks, all sectors opened the day in the red with healthcare and realty leading the losses. The BSE Sensex is down 184 points while the NSE Nifty is down 56 points. The BSE Mid-Cap and BSE Small-Cap Indices opened the day down 0.6% & 0.4% respectively.
04:56

Investment Mantra of the Day

'Be fearful when others are greedy. Be greedy when others are fearful. - Warren Buffett

This edition of The 5 Minute WrapUp is authored by Taha Merchant (Research Analyst) and Girish Shetty (Research Analyst).
Recent Articles