180,000%: The Returns That Could Have Been
Sep 7, 2017
In this issue:

» Home Prices Firming up
» Housing Credit Growth Stutters
» ...and more!
Mr Ravi from Delhi called the stock helpline at Zee Business.
He wanted to know what he should do with some shares he inherited from his grandfather.
The stock in question was MRF Ltd - a 180,000% gainer since Mr Ravi's grandfather purchased it in 1990. That's a neat 32% CAGR (average annual return for in the last twenty-seven years) - enough to convert Rs 20,000 into Rs 3.6 crores
I'm sure we all wish our grandfathers had invested in a stock like MRF Ltd and forgotten about it. Just imagine what you could do with a windfall like that!
This interesting update that I received on Whatsapp carried a profound message.
Once you have done due diligence and zeroed in on the right stock, buy-and-forget approach to investing could outweigh churning your portfolio in the pursuit of higher returns.
Of course, it's easier said than done.
With all the money sloshing around the markets these days...and the media's constant talk about the next multibagger...it can be difficult for investors to sit still.
Especially when your stocks correct.
We were in this situation not long ago when a niche textile stock we recommended to Hidden Treasure subscribers corrected more than 30% within a month of the recommendation.
Differentiating Risk from Volatility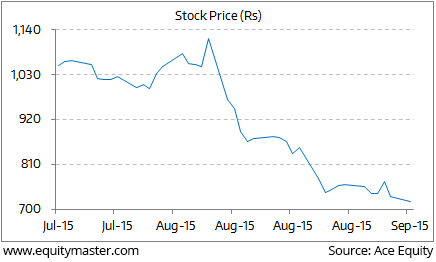 Our subscribers were upset. They wanted to know if the buy view was still valid. They questioned why we didn't have stop losses. Many wanted to sell. Quite a few did...
Throughout the correction phase, though, we maintained our buy view.
You see, in an otherwise cyclical business, this company stood out with a strong moat in a niche segment and one of the most competent and ethical managements I have ever met.
Our discipline paid off.
The stock is up well past the recommendation price. From the lowest point, the returns are 85%.
A Roller Coaster Journey for Our Hidden Treasure recommendation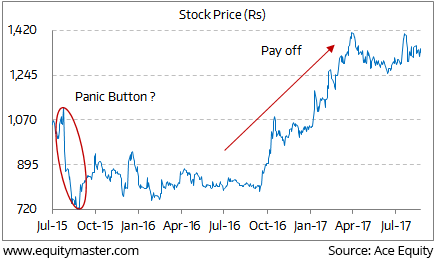 The subscribers who reacted to the correction and sold the stock missed these gains. In fact, they sold when they should have been buying more.
So how can you avoid this self-defeating behaviour?
Here's what we do...
Before we invest in in a company, we ask ourselves if we'd be comfortable holding (or even buying more) if the stock corrected 50% or more.
This question helps us in two ways.
First, that level of conviction requires us to do our homework - getting to 'Yes' takes many hours of research.
Second, once we have that conviction, short-term price corrections won't make us panic and sell.
There will be exceptions of course. Our initial assumptions about the business or the management may change for the worse. Which means we need to reassess our investment rationale in light of the new valuations.
From my experience in small cap equity research, it's clear most investors act on price triggers rather than fundamentals. And that's why they miss the multibaggers.
Don't forget, too, that portfolio churners pay much more in time, commissions, and taxes than buy-and-forget investors.
Small caps and volatility go hand in hand. To make money in this space, it is crucial to know when not to press the button.
It wasn't clear if Mr Ravi's grandfather was a wise buy and forget investor...or if he literally just forgot about the stock. Regardless, Ravi's 'predicament' offers a lesson for all of us that could leave future generations much better off.
PS: The thing with multibaggers like MRF Ltd is 1) they take time, and 2) they aren't as easy to find as they were back in 1990. That's why my Hidden Treasure service recommends stocks with a three to five year time horizon. It's also why, as the name suggests, we focus on 'hidden' stocks from the hugely under-researched small-cap space.
Some of the Hidden Treasures we've recommended have offered gains like....
5,356% on Page Industries in 8 years 5 months, and still not closed
2,661% on eClerx Services Ltd in 8 years 3 months, and still not closed
550% on NIIT Technologies Ltd in 6 years 9 months
489% on City Union Bank in 6 years 9 months
Indian multibaggers are more elusive than they've ever been. But trust me - there's still plenty of opportunity out there. Yes, even at market tops. In fact, I'm travelling tomorrow to meet the management of a company that's a pioneer and leader in the niche segment that it operates in. The company is a great backdoor opportunity to bet on one of the most crucial sectors of the Indian economy. With returns in the range of 20%, the stock is valued in single digits. If all goes well, this could be our next Hidden Treasure recommendation...
03:30

Chart of the Day

Home prices data from the Bank of International Settlements (BIS) has thrown up a positive surprise. House prices in India - which toe economic wellbeing - have grown steadily over the last four quarters.
Home Prices Chart a Steady Rise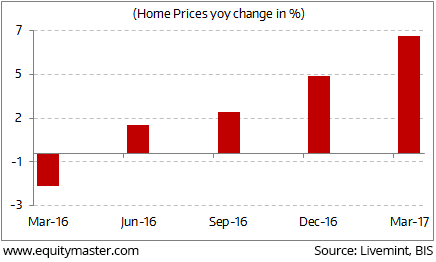 After contracting 1.8% in Q1 of 2016, real prices of homes (adjusted for inflation) have increased steadily to a 6.6% year-on-year (YoY) increase in Q1 of 2017. Given the macroeconomic disruptions like demonetisation, the Real Estate Regulation and Development Act (RERA), and the Goods and Service Tax (GST), which seemed to weigh heavily on the housing market, the steady firming up of prices is indeed interesting.
This can perhaps be explained by the decreasing inventory and fewer project launches immediately post demonetisation. Further, the government's push for 'Housing for All by 2022' has spurred demand in the affordable housing segment, pushing up prices.
Moving forward, new regulations like RERA will ensure transparency and keep inventory levels in check, further pushing up prices.
While housing prices are seeing a steady uptick, housing credit growth is stuttering. According to a report by ratings agency ICRA, housing credit growth slowed to 14% for the twelve months ended June 2017, compared to 19% in June 2016.
A slowdown in new project launches along with new buyers putting off their purchases expecting lower prices post RERA and GST led to the decline.
While the slowdown was across both housing finance companies (HFCs) and banks, it was worse for the latter, slowing from 18% in FY16 to 15% in FY17. This was largely because banks were operationally tied up in the second half of FY17 on account of demonetisation.
Going forward, credit growth in the housing finance sector is set to pick up as demand for housing grows. Transparency benefits from RERA as well as growth in the affordable housing sector are expected to spur demand in the long run.
As you know, the recent floods have wreaked havoc in many states. The team at HelpYourNGO has brought you a simple way to help victims of the floods across India.
After opening the day in the green, Indian equity markets continued to trade in positive territory. At the time of writing, the BSE Sensex was up 60 points and the NSE Nifty was up 20 points. Sectoral indices are trading on a mixed note with the realty and pharma sectors leading the gains.
04:55

Today's Investment Mantra

'If you don't feel comfortable owning something for ten years, then don't own it for ten minutes.' - Warren Buffett

This edition of The 5 Minute WrapUp is authored by Richa Agarwal (Research Analyst).
Recent Articles