The Recipe to Over 60% Returns in Less Than a Year
Sep 9, 2017
In this issue:

» When Bad News is Good News
» The Target for Battery Cars in India Looks Unrealistic
» Rajan Flags India's Biggest Concern that Vivek Kaul Has Been Warning About
» Weekly market Round up
» ...and more
January 2016 was an eventful month in the history of oil prices. Oil, that traded above US$ 100 per barrel until 2014 had slipped below US$ 30 per barrel. The analysts came up with doomsday warning, forecasting oil price as low as US$ 10 per barrel in a year. Survival of oil companies was questioned. Obituaries were written for quite a few.
As pessimism pervaded the industry and market, oil and gas stocks took a beating. ONGC was down 40% in a matter of months.
Those who invested in the stock at that level earned 60% (excluding dividend yield) gains in less than a year.
In Feb 2016, GMDC (in mining business) was trading at around 70% discount to long term valuations. The stock fell victim to the commodity meltdown and China slowdown. While markets were busy writing it off, Hidden Treasure subscribers who invested in the stock amid a gloom doom scenario ended with 61% gains in less than a year.
Warren Buffett invested in a troubled Bank of America at the height of financial crisis in 2008. Six years thence, that seemingly rash decision led to a windfall gain of over US$ 10 billion.
It wasn't a case of Midas touch, as some may want you to believe.
You see, in investing, bad news can be good news. Some of the greatest investors - Buffett, Rogers, Templeton have made fortunes exploiting this mantra.
Of course, this doesn't mean that every crisis is an opportunity. You need to avoid the chronically leaking boats. However, if you can differentiate short term disturbances from the real risks and shut the noise out, this seemingly risky approach only widens the margin of safety.
Yesterday, I met the management of a fundamentally strong company where valuations have taken a hit on negative news. The management seems confident of coming out unscathed of this development. Is this company a great opportunity in crisis? Hidden Treasure subscribers shall find out soon.
02:00

Chart of the Day

On Thursday, Union road transport and highways minister Nitin Gadkari gave an ultimatum to the auto industry to shift to non-polluting alternatives or get 'bulldozed'. The government is targeting to have all cars propelled by electric engine by 2030. The target is more daunting than in many advanced countries.

According to the industry, the 2030 target would require eight to ten times the global stock of such vehicles. India would need to sell more than 10 million electric cars in 2030, compared to 5,000 electric vehicles India had on the road in 2016.

As you can see from the chart below, India is barely visible compared to other developed countries when it comes to battery cars.
Is India Prepared to Meet the Ambitious Battery Car Target?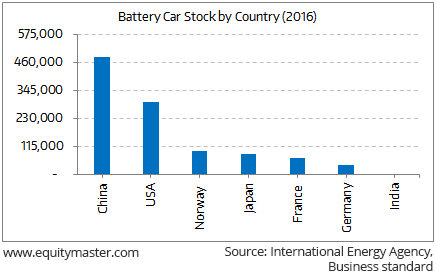 As an article in Business Standard suggests, such a big jump in scale for the auto industry in 13 years seems difficult. The basic infrastructure is missing. There are not enough charging stations. For this massive shift, the charging stations will need to be as ubiquitous as petrol pumps.
Another issue is the price of the lithium ion battery, which constitutes 30% to 40% of the cost of the car. For this plan to succeed, the price of the battery needs to come down.
The auto industry is already facing regulatory headwinds. The shift from BS-IV emission norms to BS-VI has been two years ahead of schedule without an intermediate stage. The government, if it is serious about such ambitious targets, should offer the necessary infrastructure support and do its bit for a smooth transition.
Remember that we have what we call the population dividend. A million new people entering the labor force every month.

If we don't provide these jobs that are required, you have a million dissatisfied entrants. And that could create a lot of social mischief.
These words of ex-RBI chief Raghuram Rajan may have been lost amidst his recent critical views on PSU bank NPAs, demonetization and growth. But they are clearly the most impactful. And not just that. Dr Rajan's words add a lot of weight to what my colleague, Vivek Kaul has been warning our readers for months. That India is facing an economic emergency of sorts due to the lack of jobs. He wrote in early 2015 - Jobs, jobs and more jobs is what India needs.
The fact is that India needs to create at least a million new jobs every month! This is just to keep up with the growing population.
And with some hard hitting data, Vivek has been proving to our readers that India's job crisis could literally derail all the socio -economic benefits that the other reforms could bring in.
Geo-political tensions escalated during the week as North Korea conducted its sixth and most powerful nuclear bomb test. Serious tensions seem to be brewing up between US and North Korea.
A full-blown war between the two countries would not bode down well for the financial markets. This is exactly why the financial markets reacted negatively during the week and flocked to safe heaven such as gold. Gold price surged by 1.3% during the week.
Further, US is two weeks away from the Federal Reserve's next policy meeting and it is highly likely that it will hold the rates given the recent economic data.
The Fed conducted a survey on the US economy that suggested the economy expanded at a modest to moderate pace from July to mid-August. Inflation too remains a major concern. A rate hike in this scenario may not bode well for the US economy.
Asian markets too were under pressure during the week. Benchmark indices in Japan and Singapore fell by 2.2% and 1.5% during the week. Indices in Japan fell as the yen strengthened against dollar. Japan being a net exporting country, a rise in the value of yen is bad news for many Japanese companies. This led to the correction in the index.
Back home, the S&P BSE Sensex fell marginally by 0.6% during the week. Manufacturing PMI rose to 51.2 in August, from 47.9 in July. The PMI is the reading of the country's manufacturing and service sector output and is updated monthly. A reading above 50 indicates expansion, while any score below this mark denotes contraction. Going forward, manufacturing activity is expected to grow as manufacturers begin production for the festive season.
Performance During the Week Ended 09th September, 2017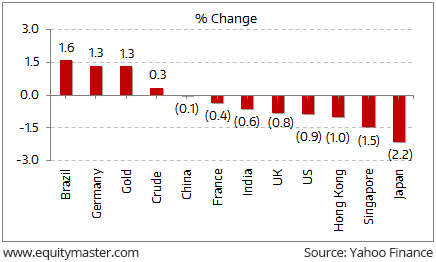 04:55

Weekend Investment Mantra

"The best thing that happens to us is when a great company gets into temporary trouble...We want to buy them when they're on the operating table." - Warren Buffett

This edition of The 5 Minute WrapUp is authored by Richa Agarwal (Research Analyst).
Recent Articles