Is There an 'Apple' in Your Portfolio?
Sep 11, 2017
In this issue:

» Rise in the Road Projects Awarded by NHAI
» Threat to Contract Manufacturers in Pharmaceutical Industry
» Market Update
» And more...
It wasn't long ago Warren Buffett was uncomfortable buying tech stocks.
He claimed the tech business changed too fast - it was beyond his 'circle of competence'.
Time proved Buffet right about the nature of tech. After all, we have seen some mind-boggling disruption over the last couple of decades.
But now it seems Buffett's perception of tech has been disrupted. He's no longer completely against it, as evidenced by his stakes in IBM and Apple.
Why the change of heart?
Part of the reason could be the size of Berkshire's portfolio, which does limit Buffett's investment options. But it could also be that he is finally finding value in these businesses.
IBM is yet to reward Buffett the way some of his other investments have. But Apple is a different story.
Berkshire started buying Apple shares in mid-2016 and has gradually built up a 2.5% stake in the company today.
The stock has gained around 40% so far in 2017.
It's always interesting to know what Buffett likes about the companies he invests in.
So what is it about Apple?
According to Buffett, Apple has created a difficult-to-escape ecosystem. Here's what he told CNBC:
Apple strikes me as having quite a sticky product, and an enormously useful product to people that use it. The degree to which people's lives center around the product is huge.
It's not that Apple doesn't have competition. The smartphone market especially is heavily crowded. But Apple is a strong brand. And its superior product quality means it can charge a premium while maintaining its loyal customer base.
In other words, Apple enjoys two moats: brand and pricing power.
These moats are relevant in the Indian context too. No matter where they operate, businesses with strong brands and pricing power reward their shareholders in the long run.
Many examples abound in the Indian large-cap space. But it would be folly to assume smaller businesses can't have moats.
And now a lot of 'smart money' is finding its way into these businesses.
Which means one of two things for you...
Either you cross the moat with them.
Or miss the boat entirely.
02:30

Chart of the Day

From the very beginning, the National Democratic Alliance (NDA) emphasised on roads and highways. Their seriousness was evident in 2017-18 Union Budget's massive Rs 910 billion allocation to road development.

The increased allocation has meant a significant uptick in road construction activity. From a mere nine km/day in 2014, road construction activity has surged to 22.5 km/day in the first quarter of this fiscal.
Government Has Set a Target of 15,000 kms in the Current Fiscal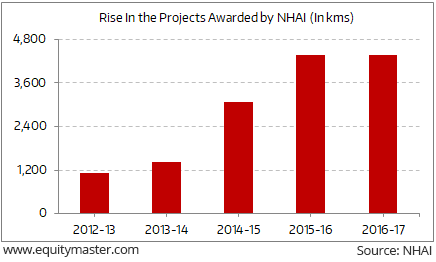 The reasons contributing to the uptick have been a change in the model beneath which the road projects are now awarded.
For the past few years, the government has been awarding projects under the 'Build Operate Transfer' (BOT) model. Under this model, the developer had to arrange all of the financing for the project and was also responsible for toll collections, exposing them to the risk of low traffic.
Because these projects require a huge amount of capital, the debt levels of many companies reached critical levels. To address the issue, the government introduced the 'Hybrid Annuity Model' (HAM). Under this model, the developer arranges 60% of the financing, with the balance 40% coming from the government. Further, the developer has no traffic risk, meaning low passenger traffic will not impact revenues. The icing on the cake is that the developer gets fixed payments from the government every year until the time it operates.
The developers preferred this model, and in FY17, around 56% of all government projects were HAM projects.
Though there is a significant improvement in road construction, issues pertaining to land acquisition and environmental clearances are still a roadblock. Resolution of these issues could provide huge opportunities for road construction companies.
The government came out with a draft pharmaceutical policy few weeks back. If implemented, the draft policy could lead to a huge setback for contract manufacturing companies as it proposes to discontinue third-party manufacturing.
Under third-party manufacturing, companies are permitted to manufacture products at another company's plant and then market them under their name.
If implemented, a lot of the third-party manufacturers could go out of business. The proposal has been severely criticised by the pharmaceutical industry.
The pain does not end here. The draft policy also reiterates the government's desire for prescriptions to be written for generic drugs rather than branded drugs.
Generally, the doctor prescribes a brand of medicine and the patient goes to the druggists and purchases the brand as prescribed by the doctor. For example, if you get a high fever and you go the doctor, the doctor will likely prescribe you Crocin. However, as per the new regulation, the doctor will not be allowed to mention the brand name Crocin and would instead have to prescribe the chemical name of the drug.This means brand differentiation would not exist and high-end products would be of less value. This could prove to be disruptive to the industry.
One positive from the draft policy is stricter checks and audits of drug manufacturing plants to ensure better quality. While large pharma companies already adhere to higher standards due to their international market exposure, fly-by-night operators would find it difficult to operate in such an environment. Large pharma companies with well-established manufacturing plants would thus be in a good position to gain market share.
At the time of writing, BSE Sensex was trading higher by 140 points. Sectoral indices were trading on a positive note with stocks from capital goods sector and energy sector leading the pack of gainers.
04:50

Today's Investment Mantra

"The best thing that happens to us is when a great company gets into temporary trouble...We want to buy them when they're on the operating table." - Warren Buffett

This edition of The 5 Minute WrapUp is authored by Radhika Pandit (Research Analyst).
Recent Articles