Irrational Expectations: The Root of All Bubbles
Sep 12, 2017
In this issue:

» Vivek Kaul and Raghuram Rajan on the Same Page on This One
» Mid-Cap IT Companies Have Lower Attrition Than Large Caps
» ...and more
A recent study shows that the higher a couple's expectations of marriage, the more likely the union is doomed to fail.
High expectations and failure are a problem in investing as well.
Let me explain...
On the one hand, we have a company's fundamentals. On the other, we have its stock price, which is often more of a reflection of the market's expectations for the company than the company's fundamentals.
When the fundamentals are good, the investing community wants to buy the stock. But they often fail to take notice of the expectations.
If the expectations are high and already built into the stock price, it's risky to invest in the stock irrespective of the strength of the fundamentals.
Take the retail sector for example. Since the Avenue Supermart (DMart) IPO, the sector has seen a PE (price to earnings ratio) re-rating.
Retail Expectations Going Through the Roof
| Retail Companies | PE Ratio (ttm) |
| --- | --- |
| Aditya Birla Fashion & Retail | 251 |
| Future Lifestyle | 153 |
| Avenue Supermart | 139 |
| Trent | 114 |
| Future Retail | 61 |
| V-Mart | 49 |
Source: ACE Equity
The retail sector has great fundamentals no doubt. But expectations are running well ahead of fundamentals. These PE ratios are ridiculous.
Suppose, for any number of reasons - increased competition, more online retailers, economic slowdown - we saw growth slow down. What would happen?
Retailers would suffer and severely underperform the market. Investors would then revise their expectations. And that, in turn, would trigger a crash.
The key for investors, then, is to factor revisions into their expectations.
Unfortunately, most other market participants, especially retail investors, don't.
Here's Alfred Rappaport and Michael J Mauboussin in their book, Expectations Investing, on how to do this:
The key to successful investing is to estimate the level of expected performance embedded in the current stock price and then to assess the likelihood of a revision in expectations.
The key is to have a combination of good fundamentals and low to moderate expectations.
No matter how good the fundamentals, no stock is worth ridiculous expectations (as reflected in the stock's price-to-earnings ratio).
For the slightest revision to expectations could send the stock price tumbling.
Editor's Note: There's a crazy offer running today where you have a chance to get four of our best services virtually free...for Life! From what we hear this opportunity is open ONLY till 11:59 pm, 14th September ie tomorrow. Just click here for all details.
03:00

Chart of the Day

We wouldn't blame you for thinking job security at large-cap IT companies is better than at mid-cap IT companies. But according to today's chart, that's not the case.

It's still early days, but the attrition rate at mid-cap IT companies seems to be holding up relatively well after the Trump onslaught. Both NIIT Tech and Mind Tree have lost less of their total workforce than industry giants like Infosys and TCS.

This is a little counterintuitive. Of course, not much can be inferred from just a couple of quarters of data. And who knows, this could all just be noise and not a trend pointer.

But that doesn't mean it's too early to ask if large IT companies are in a hurry to get rid of a redundant workforce. Or if they're moving to automation faster than smaller companies. Or if they're hiring more from the US after the visa overhaul and less from India.
IT Mid-Caps Weathering the Storm Better Than Large Caps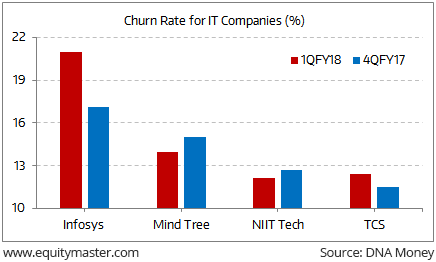 Raghuram Rajan, the ex-RBI governor agrees with what our colleague Vivek Kaul has been saying all along: India is sitting on a great demographic dividend. However, if steps are not taken to create millions of new jobs, the dividend could quickly turn into a disaster.
Yesterday's most read article on Economic Times was Raghuram Rajan flags India's biggest worry that could cost Modi a win in 2019 elections. And what is this biggest worry? You guessed it: lack of jobs. Here's Rajan:
Remember that we have what we call the population dividend. A million new people entering the labor force every month. If we don't provide these jobs that are required, you have a million dissatisfied entrants. And that could create a lot of social mischief.
That's exactly the point Vivek has been making. But in this buoyant market, his views are not getting the attention they deserve.
We could still hit Sensex 40,000 and beyond without adding lots of jobs. But the gains would be on shaky grounds if they aren't backed by fundamentals.
And to strengthen India's economic fundamentals, the government needs to tackle the problem of employment on a war footing.
The Sensex has gone past the 32,000 mark and was trading 166 points up at the time of writing. The Nifty is up 47 points. BSE Mid Cap and Small Cap indices are also trading strong, up 0.7% and 0.8% respectively. Amongst sectoral indices, realty and metal are attracting maximum buying interest.
04:55

Investment Mantra of the Day

"You pay a very high price in the stock market for a cheery consensus." - Warren Buffett

This edition of The 5 Minute WrapUp is authored by Sarvajeet Bodas (Research Analyst).
Recent Articles