Buy these 7 Stocks if You Believe in India
Sep 12, 2019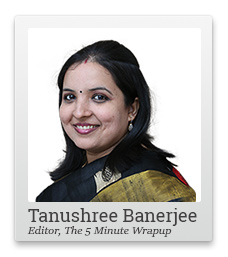 'Economy grows at slowest rate in a decade'
'India reckons economic slowdown worse than expected'
'What's the matter with India?'
'Will you be fired next? Job losses across the country could touch 5,00,000'
Have you read these kinds of headlines lately?
Four different headlines all pointing at the same thing - Slowdown in India.
But here's the interesting thing...
These are headlines from 2013!
Yes, that's right. Back then, most of the mainstream media was talking about a slowdown just as they're doing today.
Now here's what would have happened to a retail investor in 2013.
Every day, every minute, he was bombarded with articles like these. Friends, family, everyone around him, were all reading the same thing.
He would go to work and people were talking of a slowdown. He came back home and heard the same thing.
He saw fund managers on TV predicting the next recession.
He got the message - stay away from stocks for now.
His mind started playing tricks on him. Many questions popped up in his head. Like this one... 'Should I sell my stocks now and come back later after the correction is over?'
25th Anniversary Special: Steal Our Premiums Worth Rs 13,950 FREE Today
The fear got to him. He sold his stocks and waited for the correction.
The market fell 10%.
But then suddenly, the market went up 10%. He told himself, 'Stocks were lower than this just sometime back, I'll wait for those levels and buy at the bottom'.
But then the market went up 50%.
'Surely, I cannot buy now', he said to himself.
The market went up another 50%. All he could do was wait and watch.
This is a typical cycle which happened in 2013 and will happen again.
Investors sell when there is pessimism all around and then are not able to take advantage of the bull run when it eventually happens.
We're in a similar phase right now, dear reader. There's negative news all around you. You're reading similar articles to what were floating around in 2013.
Can the Indian share market go down further in the short-term?
I can't predict short-term market movements...no one can.
But I believe strongly in the long-term India story. There are structural changes happening in our economy. The benefits of these changes won't be visible in the near term.
But they will likely have a huge impact in the long run.
And when India does well, the markets will follow in a much bigger way.
The 7 stocks that I have picked are based on my strong conviction in the India story. These are stocks that will be at the center of India's transformation.
These are stocks that will play a big part in the Sensex 1,00,000 journey.
When will Sensex 1,00,000 happen? I can't say exactly when. But will it happen over the next decade? That I am confident of.
Chart of the Day
"Be fearful when others are greedy and greedy when others are fearful." - Warren Buffett
You'll hear this often but how do you practice this?
How do you know when everyone is greedy or fearful?
Well, the media is one source. When you hear headlines predicting gloom and doom, pessimism is strong all around.
Google trends are an interesting source too.
Are We Close to Peak Pessimism in the Stock Market?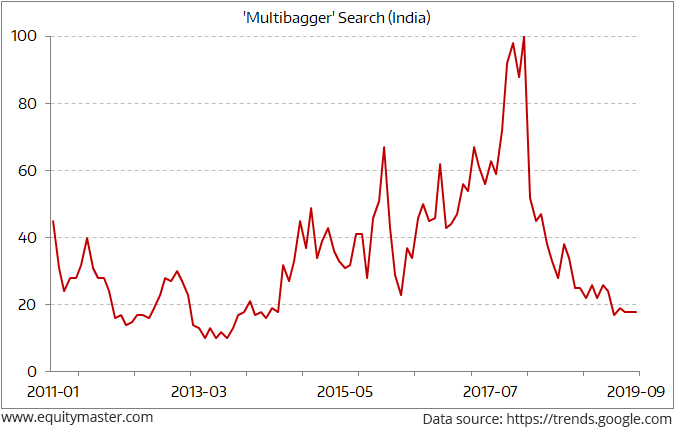 The keyword 'Multibagger' tends to peak when there is euphoria all round. The same keyword drops when there is pessimism.
'Multibagger' search term peaked in India in Jan 2018. Mid and small caps were at multi-year highs. Since then, Mid and small caps corrected by 26% and 37% respectively.
Similarly, 'Multibagger' search was at its lowest in August 2013. Mid and small caps were at multi-year lows. Then from 1 Aug 2013 to 15 Jan 2018, mid and small caps were up by 233% and 282% respectively.
Currently, 'Multibagger' search is at its lowest levels. Like in 2013, retail investors are dumping stocks and looking for other safe assets.
Will history repeat itself?
Warm regards,



Tanushree Banerjee
Editor and Research Analyst, The 5 Minute WrapUp
PS: I believe it is the right time to buy the best 7 stocks in the market today. Read more about these 7 stocks here...