Rule-Based Investing Can Make A Lot of Money
Sep 16, 2017
In this issue:

» What Ails India's Economy?
» Global Market Action during the Week
» ...and more!
00:00

Chart of the Day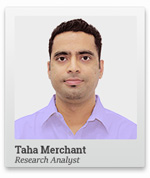 It's not your run-of-the-mill type of investing.
Heck, it even seems too simple and mechanical to amount to anything really.
Yet, with the right rules, rule-based investing can create a lot of profits and take away much of the pain of stock investing.
Equitymaster's first brush with rule-based investing was February 2014, when we started Microcap Millionaires.
Right at the outset, we laid down three simple rules inspired by Benjamin Graham that formed the bedrock of its investing recommendations.
In a nutshell, they were:
A definite rule for buying stocks based on impartial and objective reasoning
A definite rule for selling those stocks corresponding to the buying technique
A definite rule for exposure to stocks within the total corpus based on market conditions, with the rest going into fixed income instruments
We started Microcap Millionaires armed with these rules three and a half years ago, and have stuck to them through thick-and-thin ever since.
If you had invested by these recommendations, here's how that money would have grown:
Equitymaster's Results from Rule-based Investing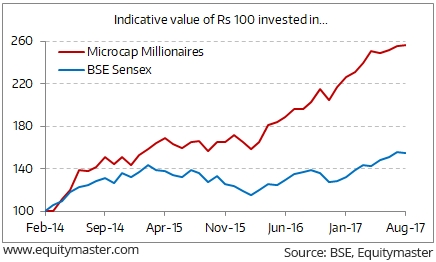 In annual percentage terms, here's how this performance looks.
Where the compounded annual growth rate (CAGR) the benchmark BSE Sensex showed was 13.3%, the Microcap Millionaires corpus turned in a CAGR of 31% (both excluding dividends).
If the rules are sound, rules-based investing works. Don't be fooled by its simplicity. It can deliver tremendous rewards over your lifetime.
Editor's Note: If you'd like to know more about rule-based investing, I have some great news for you. We have a free online training seminar coming up where Rahul Shah, editor of Microcap Millionaires, will personally teach you how to follow the immensely profitable 3-step formula. Sign up now!
Notebandi has been squarely blamed for derailing the economic growth in the country by critics. So, when the GDP growth rate slowed down to a mere 5.7% in the first quarter of fiscal 2018, daggers were drawn again. However, this time there was yet another stumbling block. Widespread de-stocking by manufacturers ahead of implementation of the Goods and Service Tax in July added to the slowdown. But pinning problems on such temporary disruptions alone is akin to burying head in the sand like an ostrich. Just as the ostrich cannot disappear by this simple act, similarly economic slowdown cannot be wished away without addressing the real problems underlying it.
Demand has been impacted on a number of fronts. The only driver that has been propping up demand growth so far is the government consumption expenditure that grew by a robust 17% in 1QFY18. But the other drivers have either become sluggish or de-grown resulting in overall tepid demand. Amongst them, the biggest driver, private consumption expenditure constituting more than half of GDP, grew by 6.7% in 1QFY18 as compared to 8.4% growth in 1QFY17. Even the gross fixed capital formation is down to a mere 1.6% in 1QFY18 from 7.4% in 1QFY17. The real reasons behind poor investments by India Inc are the not so favourable business climate as also bad loans clogging state-run banks that has crippled credit flow.
The last demand driver is the external trade balance that has turned negative. As a matter of fact, the negative trade balance has shot up by a staggering 295% in 1QFY18 due to a severe slowdown in exports even as imports have grown by 13% over the same period. While global slowdown may be partly responsible for the poor export performance but what is particularly worrying is that other competing countries have raised their share of global exports at the expense of India's share that has declined. The deterioration in the country's trade balance is an outcome of rupee appreciation that has given rise to sharp trade deficit.
In other words, bad loan resolution and exchange rate management are two issues that require urgent attention if the economic growth engine has to be brought back on track.
Benchmark indices in US registered good gains over the week. The Dow Jones Industrial Average posted its biggest weekly gain of 2017. Wall Street largely shrugged off reports showing an unexpected drop in US retail sales last month and the first drop in industrial output since January, both in part due to the impact of Hurricane Harvey. Market participants however are keeping a keen eye on the retail sales data, attributing the current drop to be transitory in nature.
Earlier this week, North Korea fired a second missile over Japan, drawing criticism from global leaders but barely moving shares as market participants await the next catalyst - the Federal Reserve's meeting on September 19-20.
Moving on to European markets, benchmark indices in Germany and France posted gains of 1.7% and 2% during the week on the back of easing global tensions. The FTSE100 in the UK however, fell by over 2.2% during the week amid weak macroeconomic data and fresh selling letter in the week after a terrorist attack in London.
Financial markets in Asia ended on a mixed note. Benchmark indices in Singapore and China corrected marginally by 0.6% and 0.3% respectively during the week. While, the benchmark index in Japan surged by over 3.3% despite aggression from North Korea.
Back home, BSE Sensex gained a 1.8% during the weeks supported by a rally in pharma and capital goods stocks. Retail inflation as measured by the Wholesale Price Index (WPI) rose sharply to 3.2% in August, as compared to steady rise from 1.8% in July 2017. Wholesale inflation rate, measured by the wholesale price index (WPI), is a marker for price movements in bulk buys for traders and broadly mirrors trends in shop-end prices. The index portrays new series of WPI data released by the government earlier this fiscal, with 2011-12 as the base year, replacing existing the base year of 2004-05. Food articles turned out to be major drivers as the data showed that prices of food articles rose by 4.4% in August on a yearly basis. Vegetable inflation stood at 44.9%. The BSE Healthcare index was a key driver of the domestic indices, and was up by 4.8% over the week.
Performance During the Week Ended 16th September, 2017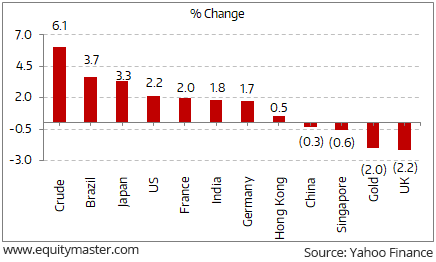 04:56

Investment Mantra of the Day

'Be fearful when others are greedy and greedy only when others are fearful.' - Warren Buffett

This edition of The 5 Minute WrapUp is authored by Taha Merchant (Research Analyst).
Recent Articles