Enter My Inner Circle of Safe Stocks
Sep 19, 2017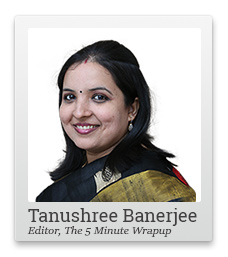 We have three baskets for investing: yes, no, and too tough to understand. - Charlie Munger
13 years ago, the first thing I learnt as a young analyst was to identify the right basket for my stocks. This wisdom has since passed to each young analyst who came after me.
Thanks to these baskets, our analysis of businesses is simpler, thorough, and succinct.
Of course, if you visit our offices, you won't actually see any analysts tossing paper into baskets. But narrowing down the universe of stocks that we want to research is the 'start button' to our research process. And it makes sure we research stocks within the realms of what we call 'sensible investing'.
There are over 5,000 stocks listed on BSE. Can you guess how many of them make it into our 'yes' basket?
Less than 10%.
That's right! The universe of sensible investments is just a tenth of the so-called tradable stocks out there.
And even with this narrow universe, you still have to consider the risk level of a stock.
Now, you already understand that stocks as an asset class require some risk. They're definitely riskier than keeping money in, say, a fixed deposit at your bank.
That's why it's important to take risk into account and classify stocks according to their risk profile. This will help you zero in on your risk-return equation.
In the realm of sensible investing, we can divide stocks into two concentric circles.
The larger of the two concentric circles - the universe of sensible investing - contains all the stocks we would potentially recommend, ie stocks that...
Are fundamentally sound
Have good financial track records
Have a good margin of safety in valuations
The Universe of Sensible Investing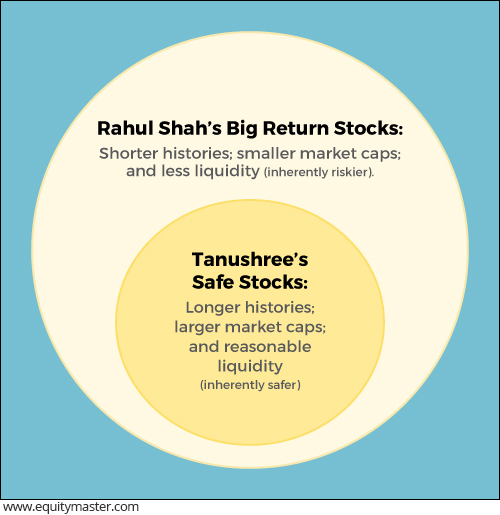 But I only recommend stocks from an even smaller circle within this universe.
For me to recommend a stock, in addition to the above two qualities, it also has to be: A larger business; a mature business with many years of operation; reasonable liquidity in the stocks and, of course, a reasonably large market capitalisation.
As you can see, my universe is small. Because, when it comes to investing, and life, I am a stickler for safety.
All stocks carry some degree of risk. But some are inherently safer than others. They are better suited to investors whose first concern is protecting their capital; and who are happy to let the magic of compounding do its work, growing their wealth over time.
I call this 'safety first' investing.
And if you have been reading my letters over the years, you know that I'm not one for risk. I stick to my inner circle of safety.
So why would you ever look outside this innermost circle of safety?
Simply...for bigger rewards.
My colleague, Rahul Shah, is a bit more comfortable with risk. He believes that investors should devote a small portion of their capital to higher-risk, higher-return opportunities.
Still within the realm of sensible investing, of course. Rahul is much too rational to speculate.
His ideas are supported by years of meticulous back testing. And he's a master of the art of riskier investments.
His motto is 'small investments - big returns'.
You see, Rahul and I have the same objective - to help you, our readers, create lasting wealth in stocks. It's just that our approaches are different.
As an investor, you could follow my approach - and stay within the inner circle of safety. Or, you could follow Rahul's approach - and venture into the circle of higher-risk, higher-returns.
And who is to stop you from combining the best of both and benefiting from the entire sensible investing universe?
So, why this big change now?
For almost a decade, The 5 Minute Wrapup has allowed me to voice my views on the best investing opportunities with my safety-first approach.
But the 'fat pitch' opportunities I am seeing now deserve a dedicated space.
So, in its new avatar, the 5 Minute Wrapup, will cater exclusively to my ideas...timely ideas I will bring you so you can safely build timeless wealth. I will bring you those rare, fat pitch opportunities - but without ever giving up on safety. Stay tuned, I will be talking more about these 'fat pitch' opportunities in my next letter.
Meanwhile, Rahul Shah, has a few tricks up his sleeve for the more risk-tolerant investor.
His new initiative - Smart Contrarian - will focus on how to make big money with small investments. If you're ready to venture into high-risk areas for that extra upside, Rahul is your guy.
No matter where you fall within the concentric circles of sensible investing, we look forward to sharing our ideas with you.
---------------
Financial Services Clamour for Your Attention
The market is buoyant at the moment. The benchmark indices are touching new highs every day. One sector is making a particularly loud splash - Financial Services - including banks and Non-Banking Finance Companies (NBFCs). In fact, just yesterday, HDFC Bank overtook Tata Consultancy Services Ltd (TCS) to become India's second-most valuable company.
The share of banks and NBFCs in the market capitalisation of all listed companies is now at an all-time high. From around 13% in 2007, the share of financial services firms to the market cap of the index has surged to around 23%.
If you dig deeper, the market cap of the private financial services firm as a percentage of the index's market cap has more than doubled, whereas the share of state-owned financial firms has come down. This is obvious as the balance sheets of public sector banks are in a big mess. They already have a large number of bad loans piled up. Private sector banks and NBFCs have taken up the slack.
Financial Stocks on the Rise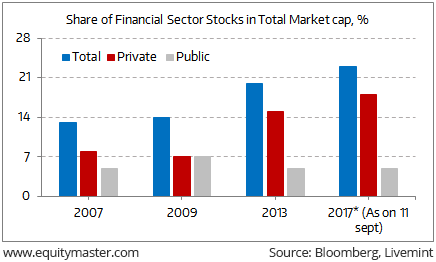 However, take this data with a pinch of salt. According to the latest credit growth data from the Reserve Bank of India, in the first four months of FY18, bank loans to corporates continued to decline, but credit cards and personal loans were drivers of incremental growth.
In the last three years, personal loans and household debt has grown at CAGR of 18%, against 10.2% growth in disposable income. This has translated into a boom in retail lending. This, in turn, led to a sharp increase in valuations in the retail lending space.
This trend is unlikely to sustain in the absence of robust growth in industry and exports. Consumer income growth is ultimately dependent on the performance of the industrial and service sectors. And currently, these sectors are yet to come out of the woods.
IPOs are Bursting With Energy - What's Next In Store?
One hot trend in the stock market these days is definitely initial public offerings (IPOs). In this month alone we've seen Dixon Technologies Ltd., Matrimony.com, Capacit'e Infraprojects Ltd and ICICI Lombard come out to the public. To learn what we have to say about IPOs, visit our IPO page.
IPO excitement is set to continue as SBI Life Insurance's mega IPO will open for subscription tomorrow. Indore-based snacks maker Prataap Snacks' IPO will open on 22 September. Insiders can expect an IPO analysis and valuation of both the IPOs this week.
But if you're still not getting our Insider updates - sign up now so you don't the new IPO analysis.
What the Markets Look Like Today
After opening the day in the green, Indian equity markets continued to trade in positive territory. At the time of writing, the BSE Sensex was up 150 points and the NSE Nifty was up 67 points. Sectoral indices are trading on a mixed note with the auto and pharma sectors leading the gains.
Investment Mantra of the Day
"Investors making purchases in an overheated market need to recognize that it may often take an extended period for the value of even an outstanding company to catch up with the price they paid." - Warren Buffett
Recent Articles