One More Stock for your Coffee Can
Sep 28, 2017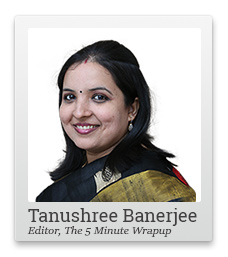 In 1978, my dad bought his first car, an Ambassador. That car has been on more family holidays and is featured in more family photographs than I have.
Dad would have loved to pass his beloved car down the generations, but I had little interest in owning it. Hiding his disappointment, he joked that at least he wasn't bequeathing me shares of the makers of Ambassador - Hindustan Motors.
Hindustan Motors was once a Sensex stock. And now is bust. So dad certainly showed foresight by not investing in it.
Whether a good product necessarily makes for a good stock, is a longstanding debate.
As an analyst, I am guilty of reminding you, that instead of buying a Royal Enfield bike, if you had used that money to buy the stock of its manufacturer, Eicher Motors in 2013, you would have been a multi-millionaire. (The stock is a ten bagger).
Or that buying the stock of HDFC in 2007 would have yielded more than buying real estate in any Indian metro city.
But not every product is a good proxy for the stock.
The sturdy Ambassador, for one, was not able to keep the stock price evergreen... Showing us that even a great product is not criteria enough for identifying stocks for your lifetime.
Instead, buy businesses that can keep their products popular, with marginal innovation, all through your lifetime.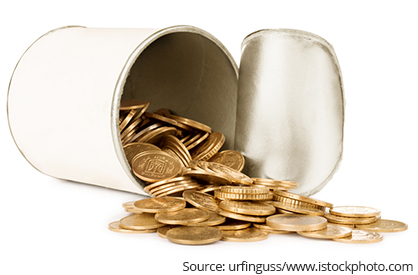 Buffett did exactly that when he bought stocks of Coca Cola and See's Candy. He did not see the companies investing tons to innovate new drinks and candies for decades. But he did see these products holding their own throughout his lifetime.
In 1984, a gentleman called Robert Kirby coined a term for such stocks. He called them the Coffee Can Portfolio: Stocks you can buy and seal away in a coffee can for a decade - without ever having to take a second look.
But neither the most popular stocks today, nor the cheapest, may be good candidates for the coffee can. What makes a stock coffee can worthy, is when the company's products need little change to satisfy customers for a decade.
How you can identify Coffee Can stocks
Think of the toiletry, stationery, health drink, apparel, electronic and pharma products that you used as a kid... And your kids are now still using the same brand. If some names come to mind, evaluate the quality of the business and its numbers. If these are sound, then start filling your 'coffee can' with their stocks. If all goes well...your kid might eventually love the product while also growing wealthy with its stock!
The makers of the Ambassador car, Hindustan Motors, unfortunately did not fit the 'coffee can' criteria. The sturdy car may have served generations. The stock didn't.
Editor's Note: You can tell Tanushree loves coffee can stocks - they fit right in with her philosophy of safe, long term investing. In fact, she has discovered just such a stock - one which has neither needed, nor will need, big innovation for next decade.
She is very excited and is about to release the report. Subscribe to make sure you are on the list.
---------------
Valuation Bubble in the IPO Market
Valuations of Indian markets remain high with the Sensex and the Nifty trading at a PE of 23.1 and 25.7 times respectively. However, valuations are getting out of whack in the IPO market. Take Prataap Snacks for example. The stock is priced at a whopping 222 times its FY17 earnings. Sure, FY17 earnings are a bit depressed, but even if you consider the normalized earnings of FY16, it is nowhere near reasonable valuations with the PE coming at more than 60 times. But investors are not bothered about valuations as the issue was oversubscribed by more than 47 times.
Take another example of Bharat Road Network (BRNL). The company has been generating losses for the past five years. At the time of the IPO, BRNL was valued at 32 times on EV/EBITDA basis. However, the issue was oversubscribed by 1.8 times. In fact, the retail investor portion garnered subscription of 5.7 times. It looks like investors have turned a blind eye to the IPO. Certainly, greed has poisoned investors' intelligence.
IPO Market in Bubble Zone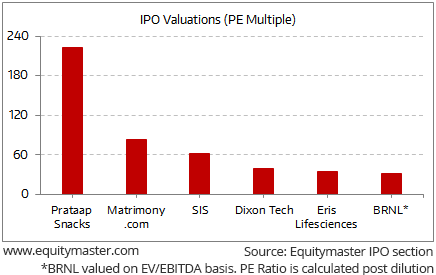 On the other hand, private equity investors and promoters are taking advantage of the absurd demand for IPOs. Most of the overpriced IPOs, as per the chart above, includes offer for sale portion in which existing promoters and PE investors offload their stake. Just think, why would they sell their stake at cheap valuations? These folks try to extract maximum value and leave no money on the table for investors. For companies, it appears to be the best time to roll out its IPO, as they are aware of the hoopla surrounding the IPO and the scores of investors waiting for lucrative opportunities.
It is worthwhile to note that four out of five companies mentioned in the chart above are trading below their issue price.
As everyone around seems to be greedy, it is time for retail investors to exercise caution. While this does not mean that you should avoid IPOs lock, stock and barrel; make sure you do not end up paying higher valuations for a company that is yet to establish its worth.
There are several big IPOs in the pipeline in the last few months of 2017. In case you wish to run them through a handy checklist, we have something for you.
Download our Handbook of IPOs to be able to pick the right ones for you.
Rupee Sinks to Six-Month Low
On the macro front, it's the rupee movement making it to the headlines. The rupee weakened to its lowest in six months. That's because concerns over weak economic growth and uncertainty over the government's implementation of reform measures hit the sentiments of foreign investors. India's economic growth slowed to a three-year low of 5.7% in the June quarter, prompting the government to plan several steps, including the fiscal stimulus which would expand the fiscal deficit wider than budgeted.
The concerns over weak macroeconomic fundamentals has led to foreign investors pulling out dollars from India's stock markets. So far, this month, India has seen a net outflow of US$359 million led by a sell-off in stocks.
The fall in rupee can spell trouble for imports. Alongside this imbroglio, rising crude oil prices will have an adverse impact on our import bill. A weaker rupee will lead to an increase in commodity prices. As the input costs increase, inflation may rise in the economy.
On the flip side, the depreciating rupee may assist companies catering to the pharmaceutical and IT sectors. These sectors have high exposure to foreign currencies as most of their revenues come from the export market. This depreciation in the rupee will impact their profit margins positively.
A word of caution, all positives at operating levels would not trickle down to the net level. IT and pharma companies are in the practice of hedging their currency risks. As a result, the forex loss on account of hedging would be dulling some of the sheen out of the reported results. Considering this, investors should look into the hedging policy of companies with significant dollar exposure.
What the Markets Look Like Today
Indian equity markets opened the day on a flat note and slipped in the red. At the time of this writing, BSE Sensex was trading lower by 60 points and NSE-Nifty was lower by 35 points. Both the mid cap and small cap indices are trading marginally down. Stocks from the FMCG and IT sectors are among the few gainers.
Investment Mantra of the Day
"Only when you combine sound intellect with emotional discipline do you get rational behavior." - Warren Buffett
Editor's note: There will be no issue of The 5 Minute Wrapup on 30th September 2017 on account of Dassera.
Recent Articles